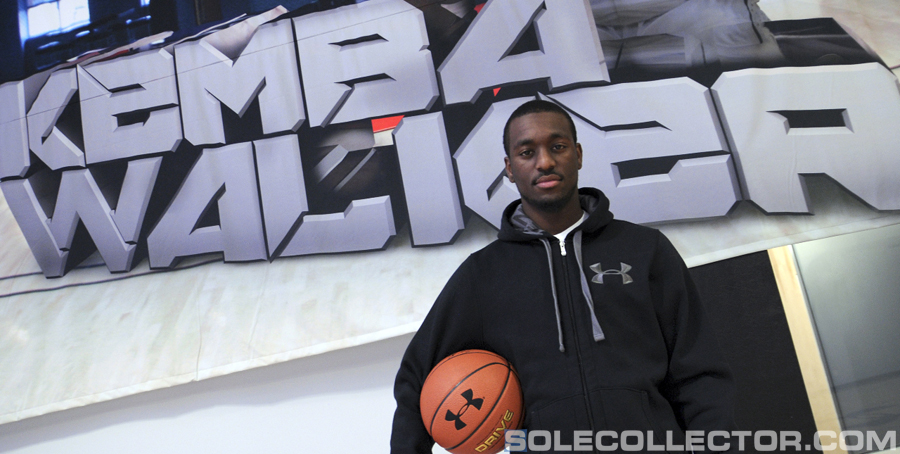 words & interview // Nick DePaula
After making waves in the footwear world last fall with the launch of their first-ever basketball line, Under Armour is once again eager to grow and expand as a hoops category. The first major step towards that goal this year is the signing of the Most Outstanding Player of the 2011 NCAA Tournament, New York's own Kemba Walker.
Known for his winning demeanor and leadership both on and off the court, Kemba Walker is an ideal fit for Under Armour Basketball, according to Kris Stone, the company's Director of Pro Basketball Sports Marketing. I caught up with Stone earlier this week to talk all about Walker, selected 9th overall by the Charlotte Bobcats in this year's NBA Draft. If you're wondering about any objections from his new team's owner, it's worth noting that Walker and Under Armour reached a private agreement even before last month's draft. "That's how strongly we felt about Kemba," Stone says, adding that it didn't matter where Walker was selected.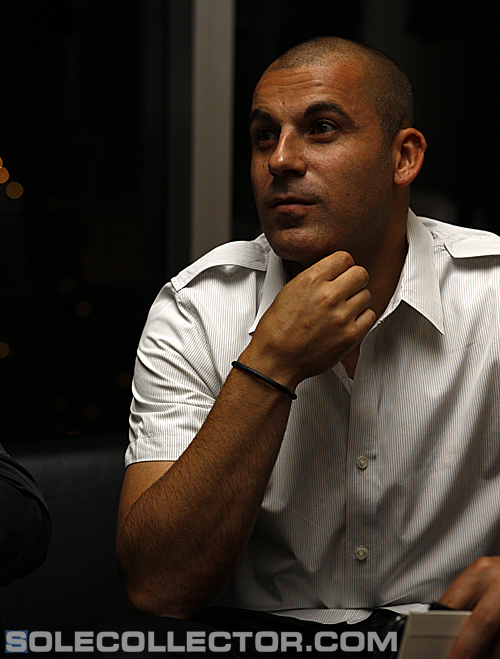 For more on the signing of Kemba Walker, what he looks for in his footwear and what Under Armour Basketball plans to do in the event of a lockout shortened season, check out our interview with Kris Stone below.
Nick DePaula: What was it about Kemba Walker that made him the right fit for Under Armour?
Kris Stone: He's just a winner. He's someone that's overcome a whole lot in his life to get to where he's at today, and there's such a parallel between his road to success and the spirit of Under Armour. He's got that will to win, and Kemba's shown that throughout his journey.

NDP: What were some of the things that you guys presented or outlined to him that you think made him feel comfortable choosing Under Armour?
KS: He really saw that we're really passionate about building basketball and building this category. It wasn't just one corporate executive in the room, it was ten or twelve that really care about Under Armour. He saw how passionate everyone here was about building the category of basketball the right way, and I think that really resonated with Kemba.

NDP: Obviously you guys have Brandon [Jennings] and Greivas [Vasquez] already, and Kemba is yet another guard. Is signing guards a brand strategy for you guys?
KS: First and foremost, we want to look at the person and what they bring to the table on and off the court, from a talent and personality perspective. I think we're looking to expand and grow the roster now with great people and great players, and we don't want to just pigeonhole ourselves with just guards at all.

NDP: Does that include players that you're looking at in this draft, or any other guys who are already in the league?
KS: Yeah, in this draft and down the line.

NDP: What's it say about Under Armour as an emerging basketball brand to have the first marquee signing of this draft?
KS: It feels great, and there were definitely a lot of smiles in the building yesterday. Really, it starts with Kemba and the type of person he is. We feel really good about him and his family and what they represent. We just envision them being a great deal of fun to work with.

NDP: With Kemba growing up in New York -- and you live there too, so you know how important sneakers are for people there -- what kind of impact do you think you'll be able to have there with him being a local hero?
KS: A big one. Obviously, that played into the thought process of signing Kemba. With his impact on New York City and him being a New York prodigy in a lot of ways as such a hometown hero and hometown kid, there's such a passion for Kemba in the city. If Kemba is going to go out there and do the things that we think he's capable of on the basketball court, then the future is going to be extremely bright.
NDP: What are some of the things that he's told you that he's looking for in his shoes?
KS: A lot of flavor. [laughs]

NDP: I like that. [laughs]
KS: If you noticed with Kemba, throughout his high school and college career, he wore multiple, multiple shoes and colors. He's not scared of taking chances, and I think he's going to really push us to stretch the brand and stretch the creative process. [Under Armour Basketball Category Lead] Ryan Drew and him are definitely going to have a lot of fun working together.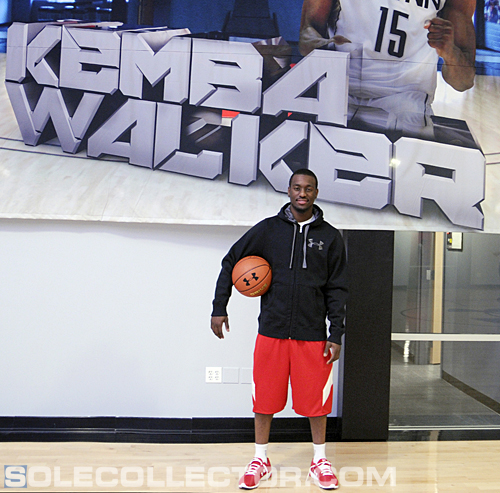 NDP: As far as I understand, he won't have a signature shoe this season, but is that something you guys have talked about for down the road?
KS: You know what Nick, obviously he's such a young player, and if you look at it from our perspective, we really thought to ourselves, "Let's make sure that we don't put the weight of this entire brand on Kemba's shoulders." That's not the idea here. We threw a lot at Brandon the last three years, and not only was Brandon trying to figure out how to play the point guard position and how to lead his team, but he was also carrying the weight of the entire basketball division at Under Armour on his shoulders. That's something that we don't want to do to Kemba, and I think that we learned from that and can say, "Hey, for you to make us a great brand and help us continue down our path, you've got to be a great player." We want him to focus on basketball initially and have some time for us to get to know Kemba and build that relationship with our design team, and then we'll get to that point. The most important thing for Kemba is to play the game of basketball and play it great.

NDP: As you guys met with him and discussed product already, was there anything specific in terms of the cut of the shoe or anything he was looking for from a performance standpoint?
KS: From what I've heard, he feels comfortable playing in a mid cut and likes to feel supported. Lightweight is something that comes into play for him, but it's not a humongous factor in Kemba's selection of footwear. Durability and comfort are the main objectives for him.

NDP: As the category keeps growing and growing and becomes more than on-court basketball, will there will be a lifestyle element to the brand, and are you guys going to be offering him stuff for off-court? What kind of influence will Kemba be having on that?
KS: Absolutely. We've talked with him about several different things, and our apparel team sat down with him for a couple of hours and really got inside of his head. I think the goal as we go to New York City more this summer and meet with Kemba will be to really figure out his point of view on apparel, on-court and off-court sneakers, and also, what kind of on-court shoes can he take off-court? From a footwear perspective, Kemba's main concern when we met with him, was "Hey, I want to play ball. I'm about basketball." He's about trying to prove himself to be a great NBA player first, and that's really his focus right now. I think that really speaks volumes to what kind of kid he is Nick. He always wants to win, and now he wants to win in the NBA.

NDP: Brandon posted a picture online right after the announcement of both him and Kemba together. Do you know if there was anything that Brandon was able to tell Kemba about the brand that helped to convince him that it was a great spot for him to be at?
KS: He told him that it's not just a company, it's a family. You're going to run into Under Armour people three or four times a month, and you're going to feel really connected to the brand. He also said that it's just a brand that's really growing and that's innovating at a rapid pace.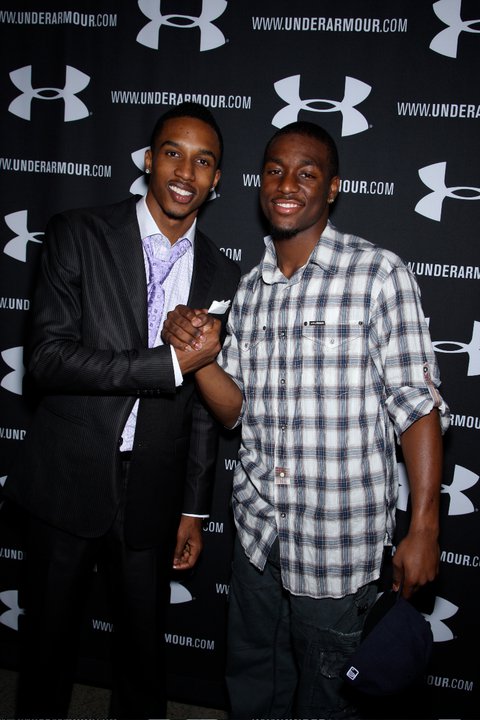 NDP: Do you know if he was able to share any other pieces of advice with Kemba about what joining the league and starting the journey is like?
KS: They haven't really talked about that kind of stuff just yet, and it's been a crazy last couple of weeks for Kemba, but they're going to connect later this month in Baltimore when we do a photoshoot with both of those guys.

NDP: As you guys talk to more and more players about joining the brand, from the player's perspective, how important do you think it's been for everyone to see how well you've treated Brandon with commercials, billboards and his own shoe?
KS: I think with the internet, social media and information being so accessible, players are taking notice. Brandon has been everywhere the past couple of years, and you can't deny that. [laughs] Kids these days are so competitive and so eager to have their own voice that they're looking for a platform like that to express themselves.

NDP: Is the lockout having an impact at all on signing guys? It seems like, relative to past drafts, that the first signing of the draft came later this year.
KS: I don't think so. I don't think the shoe companies, the agents or the players are really thinking about it. All the players are concerned about is training and getting ready, because they're preparing as if the season is going to start on time. We're trying to prepare, and regardless of if there's a season or not, we're going to continue to build our footwear and basketball business.

NDP: If for some reason the season is shortened, do you guys have an alternate plan in place for the fall? Some people are talking about exhibition tours in Europe or Asia.
KS: We're working on something. Maybe we'll take the guys over to Italy. [laughs] Kemba, whoever else the next guy will be and Brandon can all go back to Italy and Brandon can take those guys out to dinner at his favorite spots in Roma and they can all have a great time.

NDP: What's been the sense of excitement that you've gotten from Kemba, as he'll be able to have a different footprint and offering in Charlotte?
KS: Right now, he's on cloud nine. He's super excited about the opportunity in Charlotte. Him and Cam Newton have been speaking on a regular basis with them both being down in Charlotte. Kemba's family should be set with football tickets and Cam's family should be all good for basketball tickets. [laughs] There's a great story there with the Kemba and Cam connection in Charlotte. We have two great guys that are there, and two national champions, and there's a really cool story for us there as a brand. We couldn't be happier.