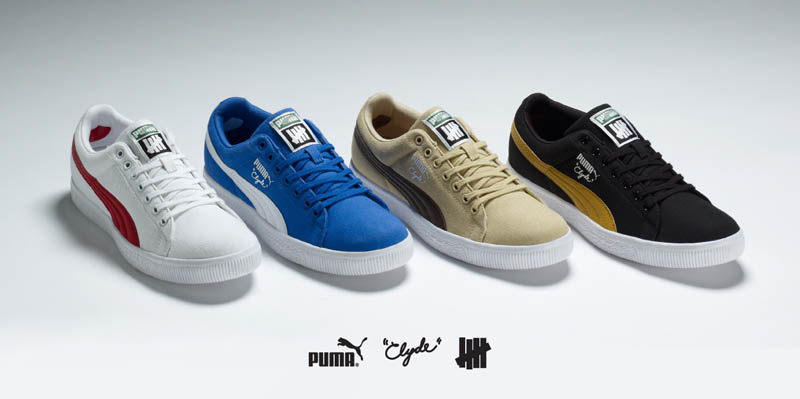 words // Brandon Richard
This Friday marks the official launch of the next UNDFTD x PUMA Clyde Collection - the Cali Canvas Clydes. The new Clydes continue to pay homage to sports icon Walt "Clyde" Frazier and his iconic signature basketball shoe.
Pairs in the new UNDFTD x PUMA Clyde Collection will sport some noticeable differences from the pairs initially released back in April. Suede bases have been swapped out for all-over canvas looks in tribute to the California lifestyle and making it the perfect summer sneaker. The shoe also features an antimicrobial footbed, making it ideal for warm weather, with or without socks. Lastly, PUMA's formstrip returns with this second round of releases, while maintaining an UNDFTD x PUMA twist: the formstrip on the inside of the shoe is tonal, while the outside formstrip pops with a complementary color.
To celebrate the launch of the new collection, PUMA is also hosting 24 Hours of Clyde, 24 hours of partying (two hours at each venue) at 12 of the US retailers who'll be carrying the collection. For more info about the events and store locations, visit puma.com/clyde. Please let me know if you have any questions, or need any additional details!
While you're waiting for Round 2 of UNDFTD x PUMA, check out this interview with Eddie Cruz of UNDFTD:
Q: How would you describe the California lifestyle that you reference as the design inspiration for the Cali Canvas Clydes?
A: California style is very casual, but at same time sophisticated and understated. We wanted a simple, classic fabric story that would be versatile as well. We wanted to let the fabric and color story do the talking.

Q: What was it about this West Coast lifestyle that inspired you to apply it to the Clyde?
A: The first drop we did with PUMA had more of an East Coast feel to represent where we come from. With the June drop, we wanted to represent where we are at today and the time of year of the release. The logical choice was something clean and light, with strong colors.

Q: This is the first time that PUMA has done a Clyde in all canvas. How do you feel this new material evolves the design of such a classic shoe?
A: Canvas is a very versatile material that can be as expensive as you want it to be, from an espadrille to a brown shoe. It's all in the finish -- it's what makes the shoe separate from anything else.

Q: Can you talk a little bit about why you decided to go with the two different color formstrips on the shoes?
A: Like anything we do at Undefeated, we added a sport influence by using team colors (white/red, black/gold, blue/white); then we added the "fashion" khaki/brown colorway.

Q: What do you see people wearing with the Canvas Clydes?
A: Anything they want. It's a really versatile shoe that works with so many different styles.