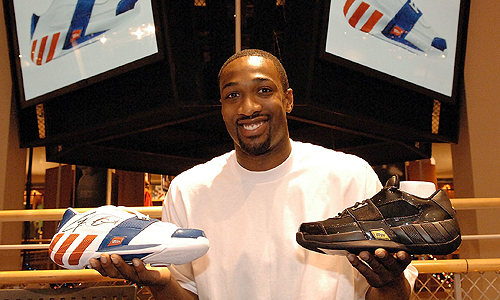 words // Brandon Richard
For the 2010-2011 NBA season, it's hard to name a sneaker story bigger than what became known on Sole Collector as "Gilbert Watch." The Washington Wizards/Orlando Magic guard spent the entire season pulling out pairs of shoes from his personal collection to wear in games and provided us with a piece of news literally every time he stepped on the court. During the course of the season, he wore at least 36 different models from a brand lineup that included Nike, Jordan, Reebok, FILA, Under Armour and...Dolce & Gabbana. Sole Collector even managed to catch up with "Agent Unpredictable" at a game against the Cleveland Cavaliers in December, where he spoke in detail about his collection and why he decided to wear different pairs throughout the season.
If you thought Gilbert was done making headlines with his 2010-2011 game sneakers, you couldn't have been more wrong. After recently rejoining Twitter on his old @agentzeroshow account, Gilbert announced earlier today that he'd be giving away all of the sneakers he played in this past year. By his estimation, that's about 70 pairs plus another 40 unworn pairs that he plans on giving away as well.
The actual contest will take place between his @agentzeroshow and @thesneakerchamp Twitter handles. Every day, between 3-6 p.m. EST, Gilbert will ask mostly basketball related questions and the first one to respond to the @thesneakerchamp account will win the shoes. Sizes range from 12 to 13, winner has the option of signed or unsigned, they don't include boxes and you can win as many times as possible.
What's up for grabs? How about "Space Jam," "Cool Grey," "Silver Anniversary," and "Snakeskin" Air Jordan XIs? Multiple pairs of Foamposites, Pennys and Garnetts. Grant Hill's FILA signature would be a welcome addition to any collection. Player Exclusive Air Jordan XIII, Reebok Question and Under Armour Micro G Supreme colorways will be highly coveted. Of course, there's the Dolce & Gabbana high-tops, which Gilbert says he gave to Earl Clark, but plans to get back specifically for this contest.
So make sure you're keeping a close eye on @agentzeroshow, @thesneakerchamp and Sneaker Champ for all of the details. The first pair given away will be the Bin23 Air Jordan Retro 9 Premio and the contest begins on Friday morning.