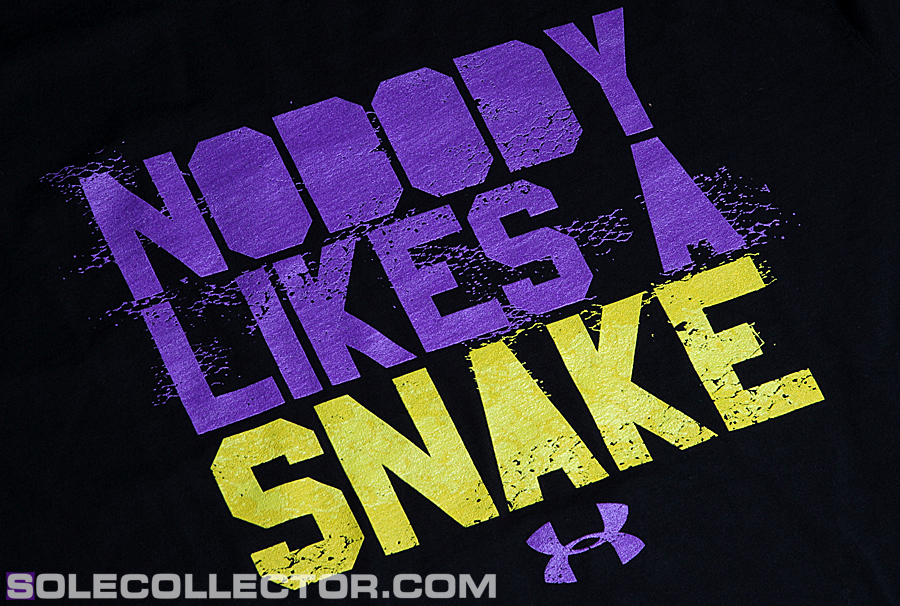 words // Brandon Richard
images // Nick DePaula
Perhaps a little salt in the wound for our disappointed readers in SoCal, we can file this brand new t-shirt from Under Armour under the 'Shots Fired' category. The black cotton tee features unmistakable purple and gold lettering that simply reads "Nobody Likes A Snake," with a little scale detailing thrown in the mix as well. Without saying any names directly, you can pretty much guess the brand and player the shirt alludes to.
Adding to the appeal of the tee is the fact that it does carry value in terms of performance. Constructed with UA's brand new Charged Cotton, the 4-way stretch shirt features alternating hydrophobic and hydrophilic fibers that makes the dry rate fives times fast than standard cotton.
Seen modeled by Under Armour's own Brandon Jennings below, the "Nobody Likes A Snake" tee retails for $24.99 and is available exclusively at Finishline stores starting today.