words & rendering // Ethan Dean
4Cent Friday is a weekly design blog on SoleCollector.com written by a member of the 4Cent Design team. Subjects may range from discussing rendering skills to design inspirations, to thoughts and opinions on the state of footwear design as a whole. For more background on 4Cent Design, check our interview here.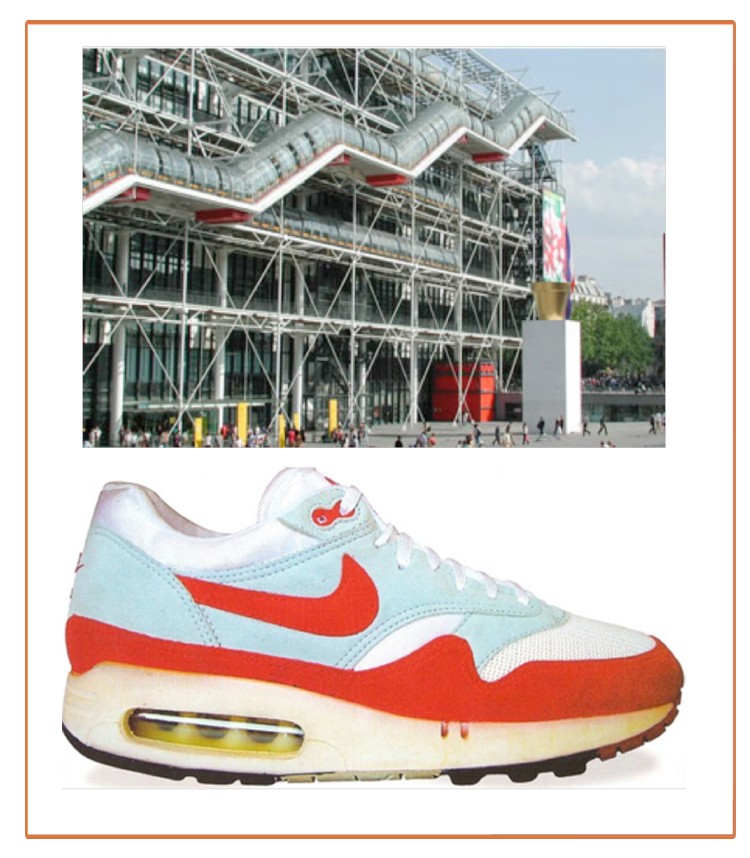 I wanted to go a little bit deeper into the inspiration behind a design that Ben had previously discussed in his post The Process of Getting Inspired. Inspiration can be found anywhere. It's the old cliché, however, some of the best ideas start on a napkin at a coffee shop. The key to finding inspiration is to always be looking for it, and to record your thoughts in a sketchbook, in a picture, or in written words. I personally do not use my sketchbook as often as I like, so to curb my bad habit, I've been carrying it around with a pen in the spine rather than tucking it away in my backpack. This way, my first thought when I see something interesting is to open my sketchbook and record my impressions.

We have all heard the story of Tinker's visible Air idea coming after his trip to France, where he saw the Georges Pompidou Center in all its naked glory. In this case, the Pompidou Center, with its exoskeletal and transparent design, gave Tinker the inspiration and insight to go ahead and show off a great new technology that Nike had developed. In design, visually communicating that something is powerful is sometimes more effective than the thing actually being powerful.

Car design is an excellent example of using exaggerated form and shapes to communicate functional and performance related attributes. For example, a Porsche 911 appears to sit on its back tires, communicating power, acceleration, agility, and quickness. Whereas a Hummer H2 is square, masculine, brutal and rugged. Each car is made from virtually the same materials; however, they are designed according to their needs. Visually the design communicates and adds to those needs.

I recently came across an article in an architectural magazine on Eero Saarinen, a late contemporary architect. Saarinnen is responsible for such designs as the St. Louis arch, the General Motors headquarters in Warren, MI, and many other office buildings. He also dabbled in product design.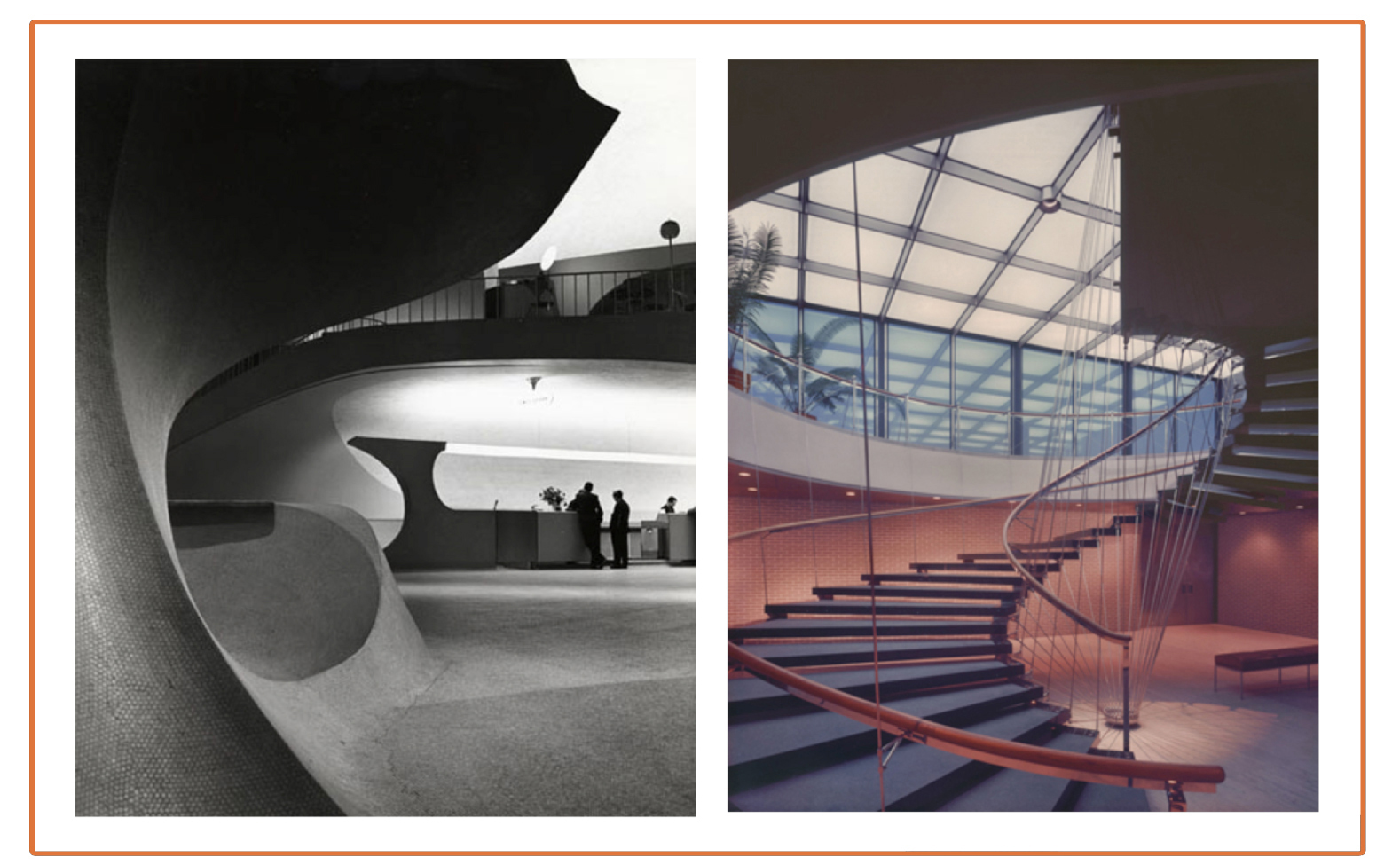 Saarinen was the quintessential communicator. He could make tons of steel seem lightweight and loads of concrete like waves in the ocean. I put together a couple images of his work that I felt were fairly interesting and represented his philosophy and approach to design, and sketched out a few ideas in my sketchbook.

I decidied to sketch a running shoe, because it has broad market appeal, and running is a growing category. I also felt that in order to properly represent Saarinen's design philosophy, it had to be super minimal and integrated. I was inspired particularly by Saarinen's ability to strip away the structure without losing the product's basic function and performance. For this reason I decided on sketching up a sandal runner. The question behind it is straightforward. Can a running shoe accomplish the same task with just the tooling in the lower and capitalize on the current evolving trend of minimalism and natural motion in a Running Shoe? The Saarinen inspiration certainly allows the exploration.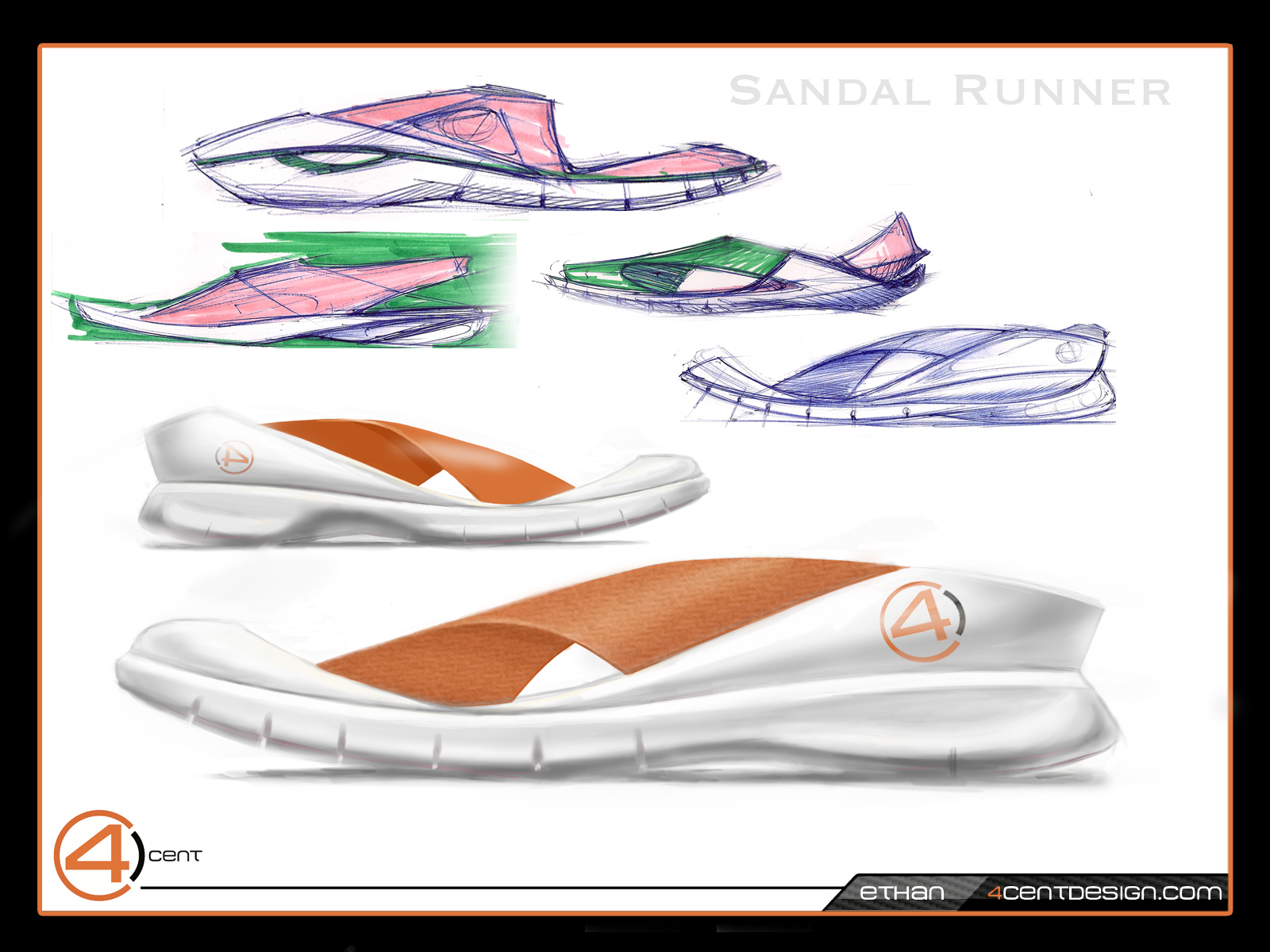 I wanted to use visual cues from Saarinen's work, as well as try to grasp Saarinen's philosophy a bit. I sketched up a few different ideas in my sketchbook and scanned one that I liked into the computer and did a quick rendering. The strap across the top acts to hold the runners foot in place and functions as a compression band to keep the runner locked in on the footbed. The asymmetrical arc is an obvious allusion to much of Saarinen's work. The heelpiece maintains the sweeping gesture from the band, and is necessary to keep the runners heel locked in. I also threw in a varition along the medial view, with a higher heel piece. Of course, the toe piece is necessary to keep the foot from slipping. In some of my sketches, I was envisioning that the tooling could be semi transparent, and may even use Air in some way that would continue the theme of lightness and perceivable weight.

Of course, without a lacing system and a traditional upper, much of the lockdown must be accomplished by the compression strap, toe and heelpiece. It is possible that these may be form fitting, as well as the insole, or there may be a deeper story involved in how the interior of the shoe is designed.

This is a sketchbook exercise, and I could spend many more days fleshing out this idea further, however, for the sake of time and illustrating a process, I kept it pretty basic. The next step would be to explore where it wants to go, and what it wants to become.
Look out for more entries every Friday from my fellow 4Cent Design members, and be sure to check out our site 4CentDesign.com and follow us on Twitter and Facebook. If there's any speciifc topics you'd like us to discuss, please leave some suggestions in the comments section.