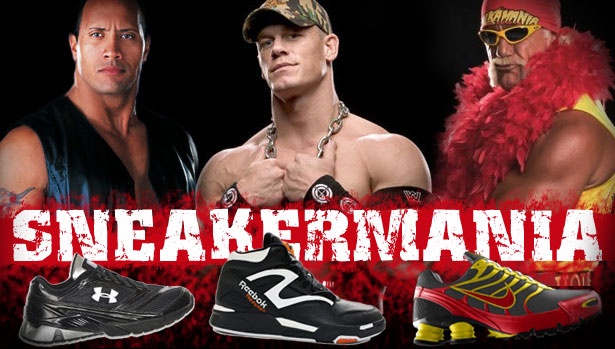 words // Brandon Richard
Throughout the course of history, professional wrestlers have been known to lace up a pair of high-cut leather boots for in-ring competition. Some of the boots have even become famous in their own right. The Iron Sheik's curled-toe Persian boots, Hulk Hogan's bright yellow leather boots and Bret Hart's Concord XI-like patent leather boots are a few that are recognized outside of the world of wrestling.

While the boot is still standard in-ring gear, sneakers have turned up between the ropes more often in recent years. A lot of this started in the late 90s, when wrestling promotions moved away from traditional set-ups for more a more edgy and current feel with their product. You've probably heard of John Cena, a current WWE superstar who has made basketball shoes a part of his usual match get-up. Before him, guys like Kevin Nash and Shane McMahon frequently wore shoes that would be considered "heat" in the sneaker community inside the ring.
We here at Sole Collector can even make the claim of having a hand in blending sneakers and wrestling. Long-time readers of our magazine may recall that we shot WWE Divas for Issues 4 & 5 and TNA Knockouts for Issue 13. Names like Stacy Keibler, Trish Stratus. Torrie Wilson and Christy Hemme are just a few that have graced the SC pages.

Today, the WWE will present the 27th edition of their annual spectacle, Wrestlemania at the Georgia Dome in Atlanta. There's an increased buzz surrounding this year's event due to the return of the People's Champ, The Rock, who will be hosting the show. To celebrate Wrestlemania XXVII and bridge the gap between the sneaker world and professional wrestling, let's recap some of the best sneakers we've seen worn by wrestlers, inside and outside of the ring.
Bret Hart
Shoe: Jordan True Flight
Year: 2010
---
John Cena
Shoe: Jordan Jeter Throwback
Year: 2010
---
2009: Shane McMahon - "Cement" Air Jordan Retro 3
2010: Santino Marella - Nike Air Max Wavy
2011: Lisa Marie Varon aka Victoria aka Tara - Nike Air Max LeBron 8 V/2
2010: John Cena - Jordan Flipsyde
2004: Stacy Keibler - Air Jordan XI Low White/Pink Sample
2009: Shane McMahon - Air Jordan Retro 1 "Olympic"
1998: Bret & Owen Hart - Nike Zoom T-Bug Flight
2007: John Cena - Reebok Pump Omni Lite
2006: Christy Hemme - Sole Collector x Nike Air Max 95 - "Cowboy"
2010: Hulk Hogan - Nike Shox Turbo VI iD
2009: Dwayne "The Rock" Johnson - Nike Air Max 360 III
2010: John Cena - Jordan Flight 9
2000: Kevin Nash - Nike Air Garnett III
2010: Jeff Hardy - adidas Superstar II
2004: Trish Stratus - Nike Shox Turbo
2009: Batista - Nike Zoom Kobe IV POP
2011: John Cena - Jordan 1 Fund 5/8
---
Hulk Hogan
Shoe: Nike Shox Elevate
Year: 2006
---
Lisa Marie Varon aka Victoria
Shoe: Air Jordan 16 Black/Red
Year: 2004
---
Shane McMahon
Shoe: Air Jordan 3 Retro 'Fire Red'
Year: 2007
---
Stacy Keibler
Shoe: Air Jordan 10 'Powder'
Year: 2004
---
John Cena
Shoe: Reebok Pump Bringback
Year: 2006
---
Edge
Shoe: Converse Chuck Taylor All Star
Year: 2010
---
John Cena
Shoe: Under Armour Proto Speed II
Year: 2009
---
Shane McMahon
Shoe: Air Jordan 3 Retro 'True Blue'
Year: 2006
---
Stacy Keibler
Shoe: adidas a3 Superstar Ultra T-Mac PE
Year: 2004
---
John Cena
Shoe: Air Jordan 2009
Year: 2009
---
Kevin Nash
Shoe: Air Jordan 13 'Bred'
Year: 1998
---
Gail Kim
Shoe: PUMA Suede
Year: 2006
---
Hulk Hogan
Shoe: New Balance 8574
Year: 2009
---
John Cena
Shoe: Reebok Pump Show Stopper
Year: 2007
---
The Rock
Shoe: Under Armour Proto Speed Trainer
Year: 2011
---
Torrie Wilson
Shoe: Reebok G-Unit G6 Women's Mid
Year: 2004
---
Kevin Nash
Shoe: Air Jordan 11 Retro 'Bred'
Year: 2002
---
Shane McMahon
Shoe: Nike Dunk High SB 'Papa Bear'
Year: 2007
---
Kelly Kelly
Shoe: Nike Big Nike High GS
Year: 2009