words // Nick DePaula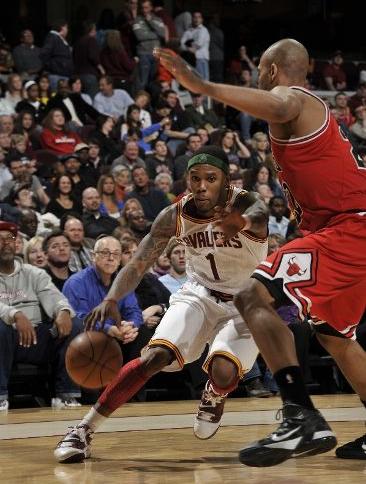 If you had older brothers, you probably at some point of your childhood wore their shoes a time or two. Or, if you were like me, your friends all had "better" shoes growing up, and you couldn't help but borrow them when possible, even if that meant sizing up or down. (I definitely squeezed my size 11.5 feet into my friend's 9.5s once. Hey, the Black/ White/ Gold DT Max was a hot shoe.] Regardless, it's not too often that you see professional athletes with sneaker endorsement contracts having to either cram their feet in a smaller size or roam the hardwood in roomy footwear, but that's exactly what Taj Gibson has been dealing with lately.
He's been wearing the Air Max Fly By, only two and a half sizes too big -- an 18 instead of his usual 15.5. The bigger shoe for his right foot is the result of a right big toe injury that requires additional bandaging, and according to the Bulls medical staff, "more room to operate." As you can imagine, Taj isn't exactly loving life right now. "I hate it," he recently told ESPN. "I hate it. Because it's kind of hard; with [coach Tom Thibodeau's defensive] philosophy, he allows me to switch on multiple positions and it's been kind of rough because the shoe is so big, it has so much room in the front, so I don't really know where to get my [traction], or where to get my steps in balance at, so at times it's rough. The tape job is tough, because it's still painful."
As someone who likes as snug a fit as possible, even an extra half size of volume is annoying to me, and as expected, Gibson wasn't exactly sure what to make of the initial suggestion. "Even when they taped me up and gave me that size 18 shoe, I was like, 'Are you kidding me? I wear a 15½! What am I doing with a [size] 18 shoe?'" he said. "This isn't football where they just stand there. I've got to chase people around and run and jump. But I've been accepting it, and the last couple games have been OK."
Gibson's reluctance to whine since to the team staff, and even more unthinkable, potentially miss a game because of the injury, is simply just another credit to the emerging Bulls team and their tough and gritty demeanor and nature. "I'm a team player," continued Gibson. "I'm there for my teammates. I'm there to show that there's no excuses. No matter what I do, I'm going to put my best effort forward. It's going to take a lot to keep me out of a game. It's my dream to play in the NBA. I'm going to take advantage of every single minute, every single day."