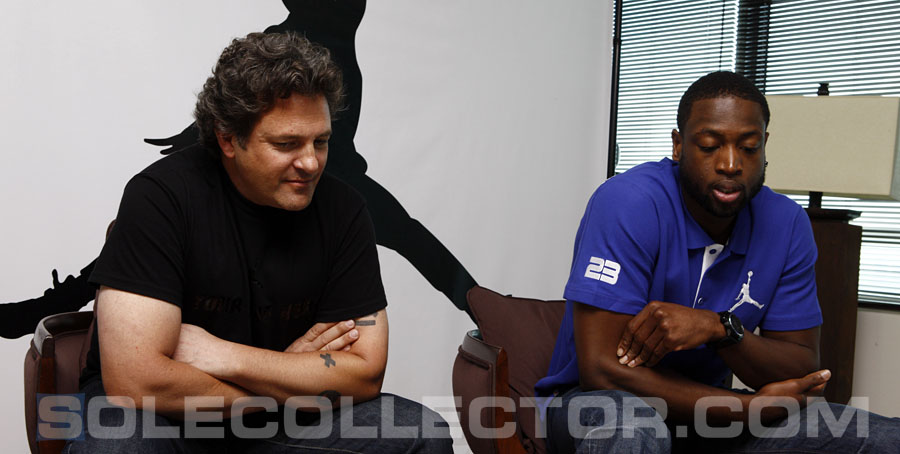 words & images // Zac Dubasik
On Monday afternoon in Miami, at The Setai South Beach, Jordan Brand Creative Director Mark Smith and Dwyane Wade officially unveiled Wade's first signature shoe with the brand, the Jordan Fly Wade. Retailing at $140, the first two colorways of the Fly Wade launch on Thursday, May 5th in the U.S., and Saturday May 7th in China. Additionally, the opportunity to customize the Fly Wade comes to NIKEiD on Sunday, May 29th.
Smith, along with Wade, explained the backstory of the shoe, the technology, and took questions from the media. Check out all the details below.
Can you talk about the starting point for the Fly Wade?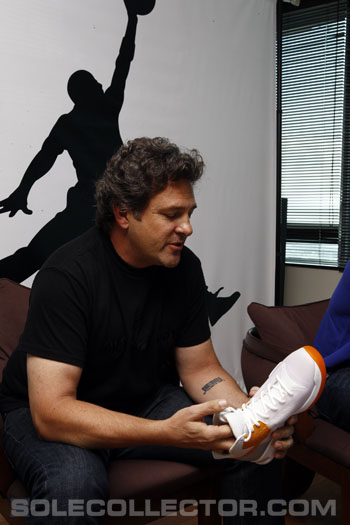 Mark Smith: The shoe started out actually as the AJ2011. That's one of the first things I want to let you know. We really had one goal with that, which was to create the lightest Air Jordan. We wanted to get lighter and better on court. And then we had the fortunate opportunity for Tinker to come in through the process of designing this [holds early sample of Jordan Fly Wade], and said, "Look, we've got this new thing." And we were looking at "Choose Your Flight" through the midsoles, which you saw in the 2011. So we pulled this off to the side and said let's look at doing a signature product for, and with, Mr. Wade.
So, one of the key things that we wanted to make sure was light weight that was still structural. This is a first round sample that we got back. It really started with a very simple inner bootie that was as light and breathable as possible, then we started adding skins for support. That was really the idea at the beginning of this product. Knowing that we couldn't use the skins all the way up [the collar], because of the ability to hold his foot in, we put some synthetics and key support elements in the upper portion. One of the other things we did was took the internal heel cup, and we exposed it on the final version. From the original sketch, to the final product, it went through the natural evolution that Jordans do, through creative process and working with the athlete. And then, getting his [Dwyane's} input, obviously, to start finishing up for stability, comfort, fit and for weight.
Dwyane Wade: The key for any athlete is obviously the performance first of a shoe. That goes with the comfort and durability of the shoe. My style of play is aggressive. Some say reckless [laughs], I say aggressive. So, you need a shoe that will be able to take that. And I felt that working with the shoe, and giving the feedback to Mark, that this shoe did that immediately. And then after that, you start going into support for my ankles. If you see the shoe, they brought an element that was in the [Air Jordan] 2010. We call it the dog bone [the internal molded collar notch]. It's the same element from the 2010 that I felt locked my ankle in. They brought that element into the shoe. And there were a couple things from the 2010 and 2011 that we brought into the shoe, that I'm comfortable playing in. And also, the look. You guys will see when you go around and look at the shoes, and hopefully in the NIKEiD, is the way that the shoe can transcend in colors. And we all know today, everyone wants their shoes to be able to look good off the court as well. And I think this shoe, with different colors and the different ways you play with it can look totally different off the court, and that's a good thing. It's a good shoe.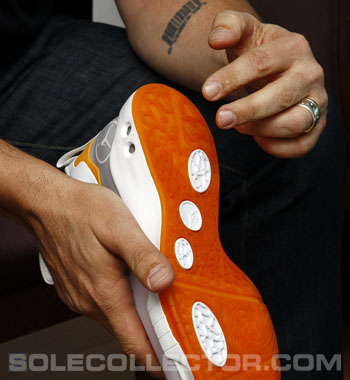 Mark: Some of the technical pieces that we took, that were developed at the same time as the 2011 Game shoe, you'll see the same application of the inverted elephant print that we used to keep it light, but still very technical as far as a traction pattern. So you'll see that that has some similarities to the 2011 Game shoe. Also, you'll see that it's kind of the best of both right now. We've got the heel Air, and then the forefoot Zoom – a little bit of Quick and Explosive. And obviously the weight. We've gotten down to 13 and some change ounces. But really, it's the lightest performance product to date from Jordan Brand. We also kept a midfoot plate in here. It's light, but very stable and very structural. Again, it's to keep him as grounded as possible when he's cutting, and obviously the fit and feel of being able to get as close to his foot as possible with the least amount of material to hold his foot in.

So, you'll see some of the pieces that we started with [holds up early sample parts] were really very simple, lightweight, structural elements. Being able to skin them kept them as light, thin and structural as possible, but then give it the look and feel of a Jordan, and add Dwyane's personal style in there as well.

How is the evolution of support in the bootie? … That seemed to be the knock when people started first going on with that construction. How has this support evolved technologically just in the last couple years?
Mark: We ended up going away from the very first [sample], which was an entire bootie inside. We realized that wasn't going to do the best we could for Dwyane's style of play. It just wasn't going to work. So we took the forefoot and said, "Let's incorporate that into the tongue, and let the rest of it be kind of a standard shoe." So, it's a little bit of a hybrid. With the way he moves, and the way this shoe is constructed, to his very clear point, the forefoot was going to act and react differently that the rest of his foot, like his ankle. So we just wanted to make sure to lock him in around his ankle, and give him enough room in the forefoot, but still the stability that it needed. These skins allowed us to do that. Super light, super thin, but very structural. The best was this inner bootie with fewer layers, and these breathable skins on the outside. I think it was a great marriage of the two.
Dwyane's gone through this before, as far as having a voice in what exactly he wants in a shoe. As more and more athletes are doing that now, how much has that helped the process. You guys know how to make them; they know the exact specifics of what they need at that elite level. Are the two languages now kind of the same?
Mark: We were talking about this earlier. It's a relationship. Like any relationship, the longer you hang out, the better you get to know each other. It's like if I said, "Close your eyes and think of the color green." You've just now thought of six different colors of green. Now it's getting on the same page. This is the first one. We've gotten a lot of information. Yeah, I like to think we've done it pretty well over the past few years. We've been around 26 or 27 years now, and Dwyane gives critical information and feedback, and we do the best we can. But you can always get better, and as we continue this relationship, we will get better.
What's it mean to have your first signature shoe with Jordan Brand?
Dwyane: To have a signature product is always something that you dream of growing up as a kid. Personally, I've always wanted to be with Jordan Brand. I always felt I was a Jordan athlete. To have my first signature product with the brand, right next to MJ, is awesome. It's something that a couple of years ago I never would have thought would happen. It's great, and what makes me more excited is that we have future goals and more signature products.
Is this one of your favorite shoes now so far?
Dwyane: Well it's mine, so yeah. [laughs] I was having this conversation with Mark as you guys were walking in, and I was talking about some of my favorite shoes from the past to play in, or just period. When it's all said and done, your first shoe is always going to be special to me. So, this one will always be special to me, and I would hope that it would be special to others as well.
When you signed with them, you said that you weren't real concerned about the signature line. Was it ever in the back of your mind that you would have a signature product, and wonder how soon you could have it again? Or did it really not matter to you, if this day hadn't come?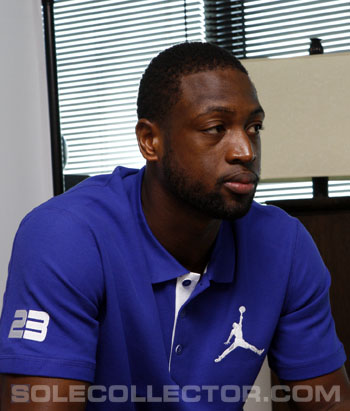 Dwyane: At that time, I really wasn't concerned. I was happy and at peace with moving over to the brand. And I know how hard it was, and how much time it took, to have signature product at Converse. Had some good product, had some bad product, whatever the case may be, but I just was over it at that time. Getting around these guys, getting around the brand, having an opportunity to work with the Mark Smiths and Tinkers of the world, it makes it a little easier to have signature product. This brand has not succeeded because they don't know what they're doing. It's a little different, and it's become something that, now, I'm excited about. But it wasn't like when I came in I was worried about things like that.
You've talked a lot in these eight years, in relationships with other companies too, about it being a global economy now, and you want to be a global name. When it comes to shoes, there's probably nothing more global than this. The fact that this launch is global as well, how exciting is all of that, with this going on, the Playoffs two weeks away, a chance of something big in June. Is this a very, very exciting time?
Dwyane: Very, Very exciting. [laughs] I think for my first shoe to come out with this brand, this is the perfect timing for it. With the Playoffs coming up, with the goals we have in mind, not only as a team, but also the goals that I have in mind as a basketball player and where we want to take this brand, and how I want to take my product global, what bigger stage than now to do that? My shoe comes out in then U.S. on the 5th, and then in China on the 7th. I'm excited about that, and hopefully China is as excited as they were when I first signed with the brand, to have a Jordan/ Wade combination put together.
Not to compare one company versus the other, but is there less pressure on you here because this will never be your brand, whereas Converse, at the time, you carried.
Mark: Not to compare. [laughs]
Is it more enjoyable, not having to shoulder all of the marketing load, and being able to be part of something, instead of being entirely something.
Dwyane: That's exactly what I meant when I came over. I'm just happy being part of the team. And even though I may have not had a signature product, I'm still a part of Team Jordan. The stress on me is totally different.

I'm from engaget.com, so I'm more on the technical side of things. When you test a shoe, do they put sensors on these things to test your vertical? Is there any wiring done to these shoes? Or do you just put on the shoes and play in them? How does the actual process of testing work?
Dwyane: To me, the best way to test a shoe is to put it on your foot. You get out and do what you normally do, and you know what feels right, and what doesn't. Of course, they take a mold of your foot. You do all that stuff prior to the product, but you need to put the product on your foot to see how it feels, how it hugs your foot, what you like and what you don't like. You have to sit down and give that feedback to the designers and to the footwear people.
Do you come back then and say this needs to be changed and that needs to be changed, and then a few days later you get a new shoe?
Dwyane: I wish it was that easy, a few days. [laughs] It takes some time, and that's why you have to get on that in advance. Speaking of that, that's why we are already on the Wade 2, and we are already thinking about the Wade 3. Everything takes time, and you have to be above and in front of it. This shoe right here is shown now, but we've been with the shoe all year and over the summer. This shoe was a shoe that we knew we would move it to, so it takes time to get it perfect.
Mark: To your point, I'll answer about the sensors and all that kind of cool gadgetry stuff. There's a whole lot of work that goes on with this stuff and with new platforms in the Nike NSRL, the Nike Sports Research Lab, and in the Kitchen, so that we don't really need to hook him up while he's out practicing. He's just got to focus on his job. Once we get the critical feedback, that kind of stuff happens back behind the curtain.
So you have a team of engineers assigned to what materials are the lightest and strongest, and you are in direct contact with them?
Mark: Absolutely. That's actually the world I came from originally, the Innovation Kitchen, working in there with all the crazy scientists and biologists – all those guys that make this stuff. And they really came to us and said, "These are some of the latest, greatest materials that you can count on to work." They've been through all the stresses and strains. We are not actually comfortable putting anything on his feet until we know it's going to work.

Will this timeline, going into the Playoffs, continue to be when we will see the Wade line launch?
Mark: We are just doing great product, and bringing it to market when it's ready. This became ready at a great time. Dwyane brought up a great point. It's the end of the season, and he's under different stresses and strains at the end of the season, so it became available at the right time.
Could you talk about the placement of the logos [on the Fly Wade] a little bit?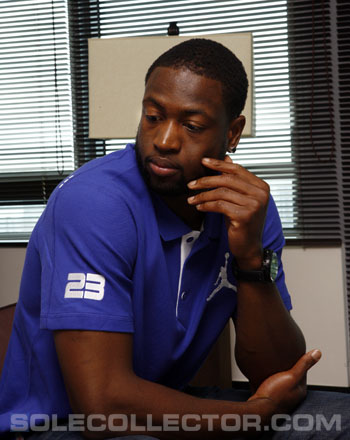 Mark: Sure. We kind of actually went from a confident, tonal branding on this one [holds sample up], to what you'll see on the final one. It's a little bit bigger and a little more bold. Jordans back, on court kicking ass. And Dwyane is the guy who's going to help put it out there. He's part of a team, and this is a great, great brand for a team. [The logo is] high contrast, and we're back. It's a great place to put it, and I don't think you'll miss it.
How about his personal logo?
Mark: As it was transitioned, and an evolution product from the 2010 and 2011, we thought it was best to just continue the graphic from the ad campaign and just incorporate it right into the product. It just feels right and looks good.
Did you [looks to Dwyane] have input on the logo? Did you help design it?
Dwyane: I'm not really looking at it as a logo. That's part of our ad campaign. In that shoe, we've taken something out of everything, from the 2010, 2011 and the ad campaigns. We've put everything into that shoe, and we will keep evolving as my shoes evolve. It's nothing I want to force. Once you make a logo, that's yours. I have time; I'm not in a rush. So, for right now, we thought it'd be great to play off what we came out with the 2011 ad campaign, and the agent, and D3.
So many people still think of the Retros when they think about Jordan Brand. Could you talk about how important it is for you to play in the newest and best technology, as opposed to the Retros?
Dwyane: The Retro stuff is always going to be amazing. It's amazing to look at some of the sneakers that you guys are wearing, and 20-some years later still look awesome. And we're still rushing out to get it. But, eventually, one day this [points to the Fly Wade] will be Retro. [laughs] You want to make sure that you keep evolving. I'm excited to be at this brand at this time. Michael is not coming back, I don't think, this time. It's our job, as the next wave of athletes, to make sure that we carry the brand and carry the torch for the brand that we all love. And for the player and person that MJ is and what he did for us, hopefully we can make just as great a product.

Mark: I want to make a real quick point too. This is one of the coolest things about working with Dwyane. He is anxious about moving the bar forward, and not being so Retro. There's always going to be bits and pieces – we were just discussing design lines and discussing product attributes that are there when you look at the best of, and at the Jordan line. He's been awesome to work with because he's looking to move the bar forward and not rely so heavily on the look and feel of a Retro. But you'll always see a little something – a little nod to it – because it's an evolutionary brand. But still, he's taking the game in new directions and we are going to do the same thing.

Dwyane: I don't want to ride Jordan's coattails too much. I don't want to say, "You know what, for my first signature shoe, let me get a III and an XI combined." [laughs] You've already done it. I want to come up with something new.