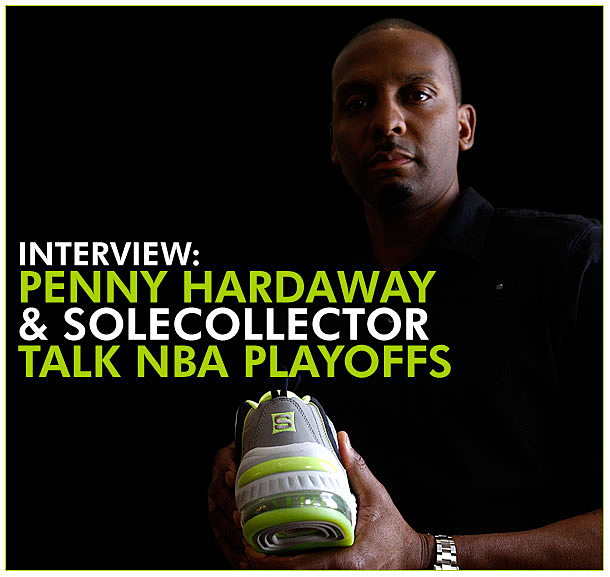 words // Nick DePaula
With the NBA Playoffs kicking off this past weekend, everyone is an expert, and everyone has an opinion. Zac Dubasik and I will text and talk all day long about the contenders out West, why Derrick Rose is hands down the MVP and whether or not the Heat can beat the Celtics. But we don't normally share our hoops opinions here, because you come here to read all about sneakers.
When one of the greatest to ever have his own signature series has an opinion on the league and the teams in the two cities he enjoys calling home, though, that's a bit different. After our interview a few weeks ago in Miami to catch up with Penny Hardaway had ended, naturally, the discussion turned to hoops, and everyone in the room, including Penny himself, Nike Sports Marketing rep Roy Miller, and the SC team of Steve Mullholand, Zac and myself, all had an opinion.
Take a read below through our hoops banter that ensued, and find out why Penny thinks he'd be the perfect facilitator for the Miami offense. He's not retired folks.
Nick DePaula: You had mentioned to me a bit ago that you still play ball about four times a week. Do you still watch the league often and keep up with everything?

Penny Hardaway: Oh yeah. I'm still a big fan. When I'm in Memphis, I go to the Grizzlies games. Well, only the big ones. When I'm here in Miami, I can go to all of the games. [laughs] You know, you're watching the show here in Miami! Up in Memphis, with Rudy going down, it's been hard to go to the games, but they're still playing well.

NDP: I'm waiting for you to chime in Zac….Z-Bo is his guy.

Penny: Oh, I love Z-Bo. You know what, with no athleticism, that boy -- oh my god.

Zac Dubasik: 27 and 12 the other day!

Penny: He's a walking double-double so easily with no athleticism. He just knows how to get position. He can score on anybody -- nobody in the league can stop him.

NDP: He dunked it about three weeks ago, and Zac had to call me about it 'cause it was so rare.

[everyone laughs]

Zac: Well, we were having a debate that week over whether or not he could still do it. I hadn't seen him dunk in a few years.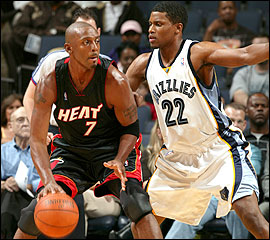 Penny: No, he doesn't jump that high. [laughs] Everything is smooth though. I think they were playing the Clippers and he wanted to show Blake Griffin up -- somehow. [laughs] I think that's when he had it.

NDP: Good memory. That was the game.

Penny: Blake had only eight or nine points that game, and Z-Bo had 30 and 12. Blake is probably thinking, "How in the heck is this guy doing this to me, and he can't even jump?"

Zac: Hey, he doesn't have to worry ever about losing his athleticism.

Penny: No, no. But man, he's just so awkward. Z-Bo is a scoring machine. And he's getting more mature now. You know, early on he was a little immature in Portland. But now, you can tell that by the way he's talking and his attitude -- he wants it more.

NDP: What'd you think when the whole Heat thing went down this summer? Were you around here at the time?

Penny: I was here, and I thought it was great. I thought it was amazing. Man, I tried to get on the team!! [laughs] I go, "Pat, let me come work out! Let me get in on this." I looked at it like, when I played for the Heat in '07, we had Ricky Davis and Jason Williams; DWade and Shaq were hurt.

NDP: Hey man, you just named two of my favorite players to start that off, so it couldn't have been too bad.

Penny: It was fine with those guys, and I was starting, but we just didn't have any chemistry and everyone was all over the place. Pat Riley gave me one of the biggest compliments. He said, "You don't miss anybody. If somebody is open, you're going to find them, give them the rock and make plays." I was thinking [after the Decision], "Well, why couldn't I do that with this team?" It'd be way easier, because they don't have anyone on the team, outside of DWade or LeBron, that are making plays or that can facilitate.
That's taking a lot of energy for them, and that's taking a lot out of them for an entire game to have to create for themselves and have to create for other people, and I was thinking that I'd be a good fit. But, it didn't work. I was here in Miami, and I thought "The Decision" was great. I understood why Cleveland was upset, because they knew they were going to be who they are today. [laughs] We knew that too, but I thought it was great for those guys to connect up.

NDP: Being on teams that have needed time to adjust and get to know eachother, did you expect them to have some struggles out of the gate?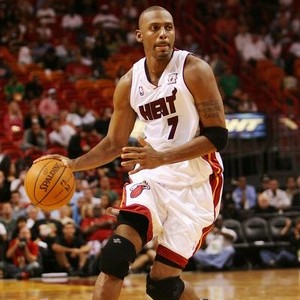 Penny: Oh yeah. It's not going to just happen like that, because it's not 3 on 5. It's 5 on 5. The other guys will have to step up as well, and I just knew that DWade and LeBron weren't jump shooters. They were going to be attacking and attacking, and teams were just going to pack the paint and make them make jumpers and force them into tough shots, versus just getting into the paint. That's why they needed another facilitator, because if that guy can break the defense down and give it to them, now they're 1 on 1 and doing whatever they want to do. When they start with the ball, everyone loads to help their side, and even though they have shooters to surround them, their shooters aren't knocking down shots, so that's making it all difficult for them. They might make shots once the playoffs come around, but if Mike Miller, Mike Bibby or James Jones got hot, it would make things a lot easier for LeBron and DWade to do what they need to do. If you help, they can kick it to somebody that they know is not going to miss, but they haven't had that and those guys are missing a lot of those shots.

NDP: Do you think the Heat will be able to win it all then, or who do you have winning?

Penny: You still have to tip your hat to the Lakers right now. They have the chemistry and they have the closer. Even though Kobe -- and I've looked at him a lot this year -- he doesn't have the same athleticism at all. His legs are not what they used to be. A lot of pump fakes. [laughs] That's when you know that you don't have it. I've seen him miss a lot of layups that he would've just flushed. The only way you can get them though, is if he gets worn down going into a couple of 7-game series and gets a few knick-knacks and bumps and bruises.

With Boston trading Kendrick Perkins though, that took them out of the hunt to me. I know what they were trying to do with [trading for] Jeff Green, but the mentality that they had as a family with Perk made them dominant. Now, I feel like they're going to struggle, because for Jeff Green, he doesn't understand their approach, and he's coming from a team that just played up and down, to a team that's structured. In Boston, you may not touch the ball for eight minutes. Are you ok with that? They're going to Paul and Ray, and there's a pecking order. In Oklahoma City, of course there's Kevin and Russ, but he's still a third option and with their pace, he can get some touches. It's going to be tough for them, and it's hard to say in the East. You would think a team like Orlando could get it done, but they just can't. You'd think that though. They just can't.

Roy Miller: They just depend on the jumpshot too much.

Penny: Exactly.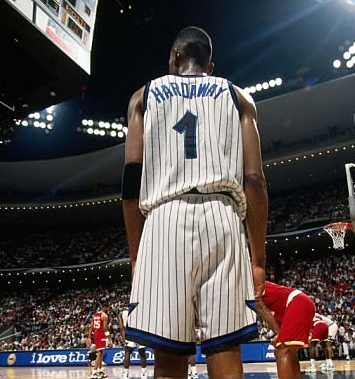 Miller: It's the same thing with the Mavs.

Penny: I'd never rely on that. What about San Antonio? How real are they?

NDP: Well, it sounds like Duncan might not be 100% for the start of the playoffs, so that might be tough. But to me, the Lakers always have their number anyway.

Penny: Yeah, and the Lakers showed them a couple weeks ago, after the Spurs had just blown out the Heat. They went into San Antonio and just took care of business. Easily.

Miller: I hate to say it, but the Lakers now, they're like the Rockets when they won their second title. They aren't worried about having the best record, they just know that they have to bring it for the playoffs. They're confident that they can get a win in your arena. They aren't worried about beating the Bulls' all-time record or anything like that.

NDP: The Celtics have always been the same way to me, and they know what it takes in the playoffs. Ok, I gotta call you out though Steve [Mullholand]. Right after "The Decision" was announced, he bet Zac and I some money that the Heat would go 73-9.
[everyone laughs]

Steve: I was playing with house money though! I won money that he'd go to Miami!

NDP: I thought he was going to New York.

Zac: I thought he was going to New York too, but they made me take Cleveland cause I'm from there.

Steve: They could've done it, or they couldn't have. And they didn't. [laughs]

Penny: Well, if you maybe have Kobe and LeBron together, that's the only team that could do that now, because you'd have a facilitator and a shooter inside and out. That's different. But you get LeBron and DWade together, and together, they're both drivers and need the ball, and that makes it tough.

Steve: Next time, I'm calling you for some advice first! [laughs]

Penny: I'm just saying!

Miller: You know who the Heat should've went after instead of Chris? I would've liked to see them get Dirk. Pick and pop all day long. To me, Dirk is a Robin too. He's still playing great basketball now, but you've got to guard him all over the place.

Penny: You're right. Dirk would've been really ridiculous with them.
NDP: Guess we'll have to wait and see how they do.