words & interview // Nick DePaula
As I've learned in my years of following the sneaker industry, there's no one defined path to becoming a sneaker designer. Graphic artists out of Arkansas have made online connections to have their work seen. Car designers at huge companies have transitioned to the footwear world on the whim of a phone call. And sure, even goofball architects have found their way to working with the sporting world's most accomplished athletes and creating generational innovations.
With their eyes set on making their own stamp on the footwear industry, there's a crew of five rising artists that have recently teamed up to launch their very own design firm, 4Cent Design. Headlined by both Future Sole Design Competition winners, Pensole Design students and emerging artists alike, the all-star squad consists of Ben Adams-Keane, Austin Jermacans, Ethan Dean, Matt DeAlmeida and Brian Moughty. Together, the current college students plan to take on full concept-to-production footwear design projects, incorporating their collective design and development skills and knowledge.
You can look forward to our weekly "4Cent Fridays" featured blog from members of the 4Cent Design team, with subjects ranging from sketch and inspiration details to industry thoughts and much more.
To kick things off, Sole Collector caught up with member Brian Moughty for a deeper look into their background and a broad vision of what their goals are.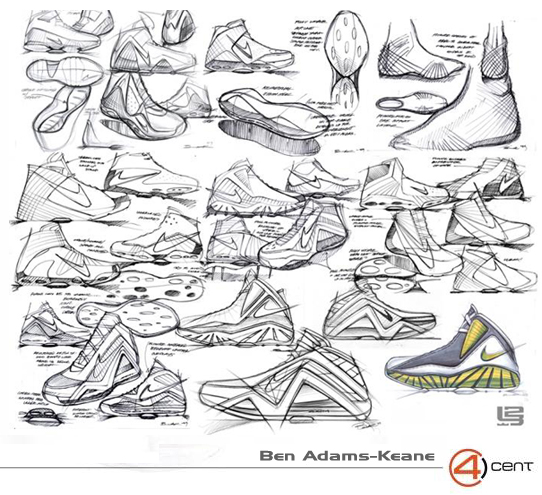 Nick DePaula: Can you share some background on each of the designers that make up 4Cent Design?
Brian Moughty: I'm a 23 year old senior at Wentworth Institute of Technology, studying Business Management and I also have experience in Industrial design as well. Ben Adams-Keane is an 18 year old designer from Arlington, Massachusetts. He's taken classes in Industrial and Footwear Design and has freelanced for a handful of companies including Nike, Jordan and Aetrex. Matt DeAlmeida is also an 18 year old from Arlington, Massachusetts who has done work for Jordan and Fila. Ethan Dean is a 19 year old designer from Rochester, Michigan. He's currently attending Brigham Young University and taking classes in their design program. Austin Jermacans is an 18 year old from Reading, Pennsylvania, and he's currently a freshman enrolled in the Graphic Design program at Penn State University.

NDP: When did you guys begin having initial discussions about starting a design firm? Did this all happen over the summer at Pensole?
Moughty: The whole idea came about at Pensole this previous summer. All five members previously knew of each other, or had already met since we are all very active on message boards and had been posting designs for years. Some of us had also talked over the internet before, offering feedback and helping with designs and such, so we shortly all formed a friendship. The idea happened after one day of class. Many students talked about forming a company, since there was so much talent present. Us five actually decided to do it. We went with the idea of forming the firm looking for freelance work, and with all of the contacts and mentors we have all gained from the industry throughout the years, we saw this as being very successful. Since Pensole, we have all stayed in contact to make it actually happen.

NDP: What are the initial goals of 4Cent? Are you seeking footwear design freelance work immediately from footwear companies?
Moughty: We want to suit any design needs a company is looking for. While we are starting out with a specialty in footwear, we want to leave the window open for possibilities of other projects down the road. This is an opportunity to expose ourselves to a variety of design and give a new option for the footwear industry. Instead of just getting the work of one contracted footwear designer, they get five minds collaborating on the same project. We see this as an opportunity to gain exposure, experience and knowledge of the design community, as well as experience working collaboratively with a team. Most importantly though, we want to bring fresh ideas to the table.

NDP: Have you sought feedback from professional designers in regards to operating a freelance business? What kind of advice have you received and what previous freelance experience do you have, if any?
Moughty: We've talked to D'Wayne [Edwards, former Jordan Design Director and founder of both Future Sole and Pensole programs], among other designers, about the difficulties we'll face in operating a design firm. Honestly, we have kept this on the low. We wanted to put it on our own shoulders, and just use the guidance from others we have learned from the past. We let D'Wayne know, since we basically owe it to him for putting the program together. If we never actually met together at Pensole, this wouldn't have happened, and he has helped all of us for years, so we owed this to him without relying on him. Of course we will then share the website with all of our other mentors and fellow designers who have helped us in the past and look for further input. The design industry is fast-moving and competitive, and most of the design work is accounted for, but I think what separates us is our creativity and energy. We've had the opportunity to freelance as individuals for companies like Jordan, Fila, Aetrex and Aouita - so we've learned some of the ins and outs of the industry - but we still have the same excitement about design that we started out with. That's what's going to separate us from other design firms.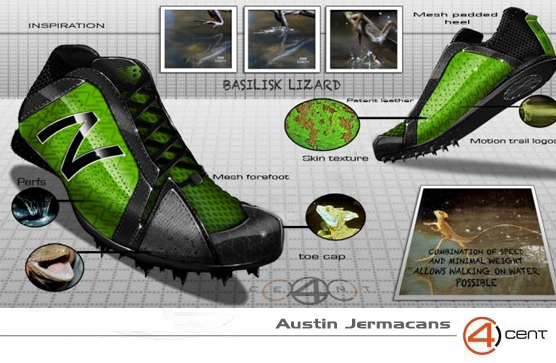 NDP: With each designer still in college, how many projects are you realistically looking at each season?
Moughty: Though we are still in school, we all have experience juggling the demands of our extra-curricular design work on top of our school work. Whether it be for freelance projects with tight deadlines or personal projects, we all know how to make time for our design work. Since we sketch in our free time anyways, the only difference is we our now doing it along with others and for companies. With that in mind, I think our status as students is a non-issue. We're passionate about design, and we're prepared to devote as much time as is necessary to get the work done. As far as the exact number of projects we'll take on each season, I'll only say that we'll keep taking on projects until we're physically incapable of taking on anymore.

NDP: How would you compare and contrast each designer's strengths and weaknesses? Are some members more computer-savvy than others, for example, and has that blend of talents helped to increase everyone's overall skill level?
Moughty: We each bring something different to the group. That is something that we embrace and drives us. Over time we have all learned different techniques and tips from each other. For anyone who has followed our work individually over the years, you'll notice that we have all grown a tremendous amount. We all know the importance of being able to draw from hand, and that is how we all started. Of course, none of us want to be one dimensional. As a designer, Ben is probably the most well- rounded. He has previously done work for different companies and mastered both hand and computer at such a young age. Ben and Austin were the first to start rendering their sketches on tablets, and I then followed.
Most people also know of Austin's Melo M6 FS shoe, and he's already designed a shoe for a high profile athlete. His pursuit of a graphic design degree will also become very helpful. My background is in industrial design classes and also business, which is needed for this. Matt usually sticks with hand renderings and produces dynamic thumbnail sketches. He also has work experience with a couple of footwear companies. Ethan is one of the best all-around artists of the group, meaning the variety of styles he can achieve and he produces very clean sketches. He also comes from a family with a background of design, so it runs in his blood. The different styles blend together nicely and it's a great way to shoot ideas around. We can crank out thoughtful sketches and then bounce it around the group. After another round of sketches we can bring the project back to a realistic level of innovation and style, then dial in the final direction for the client, resulting in a strong viable design.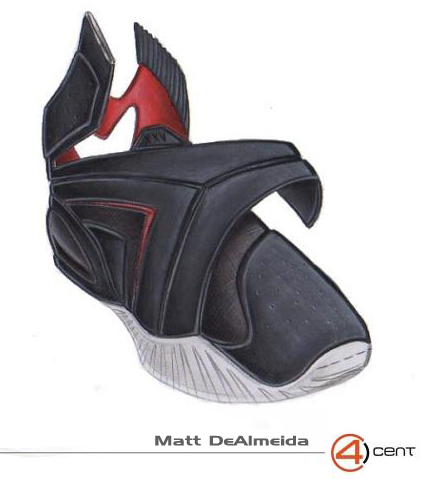 NDP: How has Nike's Future Sole design contest and mentorship, along with the Pensole footwear design class helped improve your design skills and understanding of the footwear business?
Moughty: Although both concentrated on footwear design, they each focused on different aspects of design. Future Sole was more of an introduction. It gave most of us our first brief to work with, and a 4 week deadline with the assistance of our mentor. Pensole, however, required a lot more work within a smaller period of time with just 2 weeks. It taught us how to be efficient with our projects. Pensole really put an emphasis on the research aspect of design, such as knowing your target audience, the specifications for your design, the engineering and price point.
D'Wayne really wanted to enforce the thought process behind design and sketching so that it became a part of our daily routine. As far as learning the footwear business, each program had numerous guest appearances by Nike and Jordan designers that shared their own paths to their current position as well as other useful design insights. The great thing about the business is that a good amount of designers can be contacted easily. Networking is crucial towards making your way into the design field. We are hoping 4Cent is just the start of that process.

NDP: Is 4Cent a long-term project, or will each member be looking for full-time design work at a footwear company once you've each graduated?
Moughty: We are completely dedicated to progressing 4Cent as far as possible. We each have our own ambitions of one day either working for a footwear company, a product design company, or even elsewhere in the creative industry. We see 4Cent as a great opportunity to become accustomed to working with clients at a professional level, and as a means to gain exposure to the industry. Of course, we cannot predict how long it will last, but we are fully involved in making 4Cent happen before any other opportunities present themselves.

NDP: Lastly, what are you each hoping to learn and get out of this project?
Moughty: We are all aspiring designers and artists, and the idea of 4Cent came as a means to combine each of our unique experiences and talents in a way that would be more effective than if we were working individually. 4Cent is a team effort. We feel communication in a collaborative environment is an important quality to have if one aspires to break into the industry. The experience of collaborating together will strengthen our skills as communicators, and team members. We also aspire to expand past footwear, and explore other realms of product and graphic design. We hope to deepen our knowledge of the design industry, and explore aspects of it that we have not yet been exposed to. In the end, we would like to become more pliable and attributed designers; designers who are willing to collaborate and pull from a wide range of experiences to create the best product possible. 4Cent is the culmination of each of our ambitions, and we view it as being an ideal starting point in gaining exposure and experience in the design industry.
Check back this Friday for the first "4Cent Friday" design blog post, and enjoy a look below at several of the talented team's sketches.