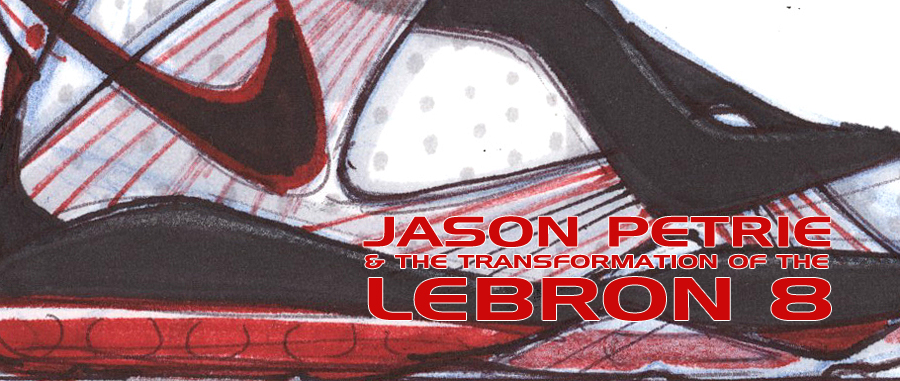 words & interview // Nick DePaula
For most basketball players with dreams of reaching the NBA, having their very own signature shoe is naturally part of the ideal world package. For a basketball prodigy as skilled, hyped and ready to dominate as LeBron James was at Saint Vincent Saint Mary's High School, having three signature shoes in just one season had to even feel like a lofty goal. With his eighth signature shoe from Nike Basketball this season, such is reality.
Building off of Part 1 of our three-part interview series with Jason Petrie to discuss all things LeBron and the LeBron 8, we naturally dove right into the inspiration and design cues that went into the LeBron 8 V/2. First worn by LeBron James during a made-for-TV Christmas match-up against the Los Angeles Lakers, the ounce-lighter V/2 stripped away layers and weight from the 8 V/1, and was seen on the King's feet as he and his new teammates looked to close out the regular season. Once again, Jason Petrie details every last part of the shoe ahead, and I also happened to be curious about where he was to watch "The Decision," his reaction, and where we're headed next year for the ninth edition of the LeBron signatrue series.
NDP: When you went from 8 to 8 V/2, what were the main things that you wanted to have actually transform and improve? Something like the toe even changes quite a bit between the two versions.
JP: You should see the original sample! The toe had Flywire shooting across it and was real crazy. I'll have to find one of those. From that first day of discussing V1, V2 and V3, we had kind of a concept of Attack, Something and Finish, I forget the second [laughs], but it was basically stages of the season and benefits you'd get from each one. Everyone had to be a certain amount lighter. That was the main reason to do it, and we had to get closer to the foot. Once that framework was set out, and you have a plan for what you're setting out to do and you have a tooling that you're building, and we knew that we were going to be on the same tooling for V1 & V2, same Air bag and same midsole, we knew that our weight savings were going to have come out of the upper. At the time, I had seen some samples of the ACG Ashiko, and I was just blown away. Peter Fog just killed it! I love the Ashiko man, and I just think that that's one of the most unbelievable shoes that Nike has ever made.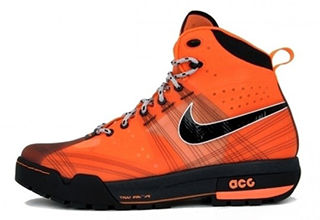 NDP: It was great that not only was it new and different, but it also came out of ACG and brought some attention their way.
JP: Exactly! It just really inspired me to think about how we can build an upper in a different way. We want to use Flywire and show it off, but with the V1, we were masking it with the Skinwire. So, we wanted to feel like pieces were being removed -- but not getting cheaper -- you were just seeing things in a different way. We looked at that package on the Ashiko, and I was just really inspired by the breathability, the functionality and the beauty of how that thing came to life. We had V1 that we were already working on, and I just said, "Hey, let's take an all mesh upper, just shoot the TPU and Flywire in these functional areas…" and that's where the very first V2 sample came from. It had these wide-open areas over the toe and through the midfoot, and I just thought we could get a bit lighter and more breathable. Be more futuristic in the approach that we took.

This part of the season is kind of the doldroms of the season, it's those dog-days, you're in between the beginning and the playoffs, and you have that bright spot of All-Star, but really, it's cold everywhere you go, and how can you maybe bring some life to LeBron's legs and a little energy to the shoe game. There's some pretty hot shoes around that time of course, and if you're going to be introducing a new shoe for a guy mid-season, you've gotta be doing something pretty different and spectacular. With that package, if we could get it to prove out, we knew we could do something pretty special with it. The engineers worked hard on it, and we went through a lot of iterations of the package, because what works for something like the Ashiko won't work to play basketball in. So, we had to come up with our own unique package and basically just build it from there. The goal was always to take as much weight as we could out of the upper, while still keeping it in that family. You want to be able to look at these things and see that they're transforming, but still see that they're from the same soul and the same place. They were all kind of designed around the same time with each other in mind, and we wanted them to all share the same design language the whole time. The V/2 shed over an ounce, I think around 1.3 ounces.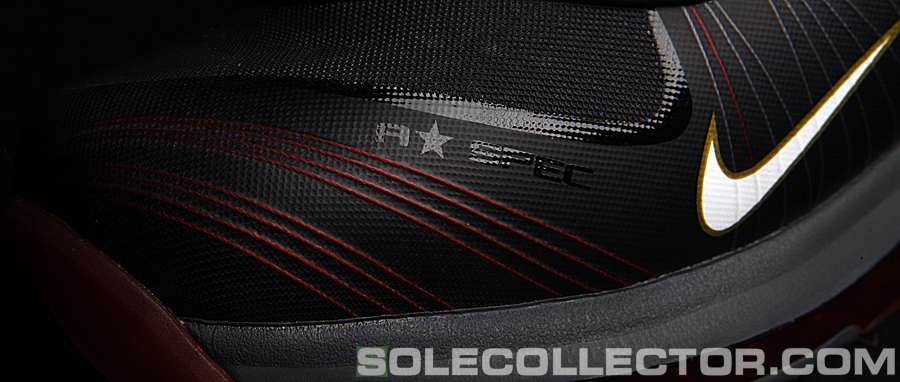 NDP: Where'd the 8 end up at?
JP: Depending on which version you weigh, it's a little lighter than where the VII was. It's around 16.7 or so. The V/2 gets into the low 15s. We were aiming to take an ounce out each time, and we got a little more than an ounce for each version. In between the V/2 and the V/3, there's an even greater jump. We'll continue to push that as we get LeBron lighter and lighter. Not that we want to get featherweight, because that's not LeBron, but we feel like we can get lighter and still give him what he needs.

NDP: And what kind of smaller details are there throughout the shoe? Obviously the 'LJ23' logo is gone and you guys had to use new branding for him. Would you say the Lion head will be his main mark for this season?
JP: Yeah, because of the whole notion of the hunt of the Lion being a big inspiration point for the shoe, and the stalk, the chase and the kill were the monikers for the three different versions, and we just wanted to represent what was really the inspiration and again, LeBron's attitude is just that ravenous lion. It's also a cool part of the shoe where you can show off the transformation of the shoe.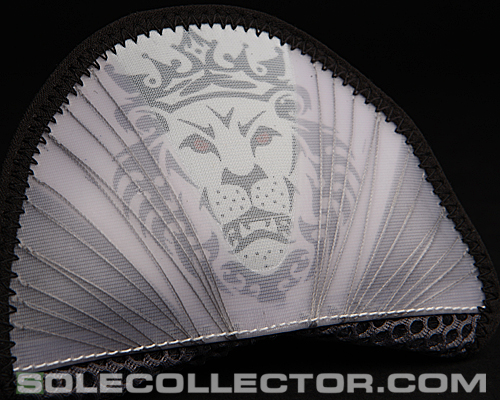 If you look at the tongue, it's a part you can touch and it exemplifies how each shoe's construction is going to transform. The first one is this molded, beautiful detailed leather. The V/2 is under this Flywire shell, and is super teched out, and as we move onto the next one, it's just all a microcosm of what's going on in the shoe. Same thing with the tag on the back of the tongue. The first one is like this tailored, zig-zag stitched-in label. The V/2's label is just this printed shot of TPU that has his logo on it, and it's a technical, seamless approach to it. The tab there on the sockliner stays a synthetic on the first version, and is actually a piece from the eye-row of the shoe. It's the waste that would normally be thrown away, but when you cut these pieces out, you take a piece of that and stitch it into the sockliner. His signature obviously changed about mid-way through, because that's about when his number and everything else changed. A new LeBron logo is going to be forthcoming for him when the time is right, but we felt like we already had a logo for him in the Lion. With the VII, we had a signature on there, and that's something that I've always thought was cool about signature shoes, whether it's the VC or whatever.

NDP: Man, the Pippens and GPs having it was so cool to me. I guess that was a cool Coop thing.
JP: That was sick, and I love that stuff. LeBron's old signature was really cool I thought, and we put it on the VII, because I saw it on the locker room of his old locker at SVSM. It has his old signature on there, and it's "LeBron James 23," and it was just real cool to see that from even back then. That made it onto big time product, and so now, we just wanted to use his new one, because his old signature had 23 in it, and so, in one of our meetings, he just signed a new signature that we could use, and we definitely wanted to highlight that on the heel. You'll only see that on his signature shoes, and it won't show up on Soldiers or anything like that. It's just on numbered signatures.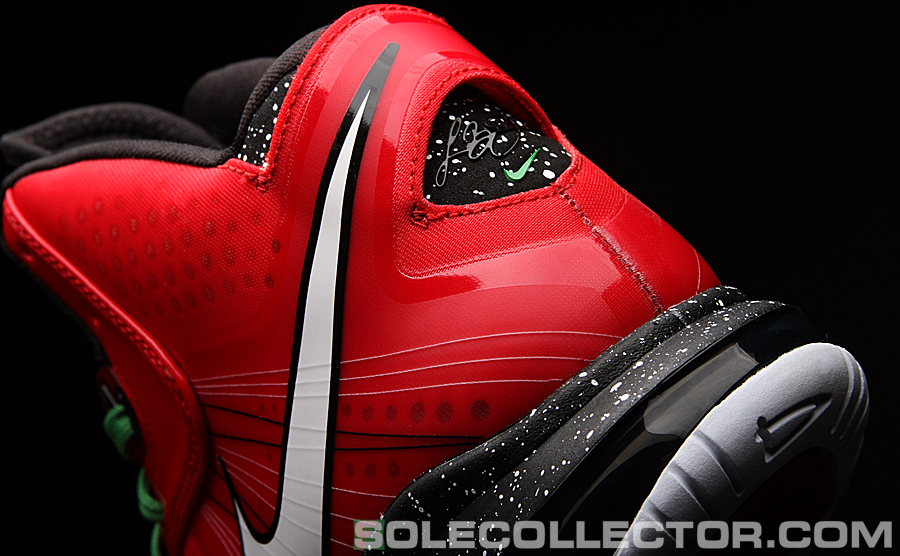 NDP: He was wearing a polo with the new logo in an interview with Matt Lauer just recently…
JP: Yeah, I just saw that the other day. He was doing that interview when we were actually down there last week, and we gave him that polo and some other stuff when we saw him, and that stuff will start coming out.

NDP: Will it officially be debuting on the 9?
JP: With footwear, that's when we're going to debut it. We'll let that be the unveiling from a footwear standpoint, and the story of the 8 is about the lion and its ravenous nature. Some other details that you'll notice on the 8 is some callouts to the 4 Horsemen, some callouts to 330 and his birthdate. The 'L' and 'J' on medial and lateral sides, and that's all built into the traction. We don't often put herringbone all the way out to the perimeter, because it wears out super quick when it's in those high wear areas, so we put this rubber perimeter so that there's a little more rubber coverage with these grooves in it, that allow it to bend and break and give you some bite on the floor, but also hold up a little better. Some of the same details that we used in the VII, like the eyelet being the number, we carried over.

NDP: No welded dubret huh?
JP: No welded dubret this time. [laughs] You don't ever want to give too much of what people expect, and we just did something in that same area with his name, and we felt like that was such a signature thing for the VII. I don't know if it's that the right decision or not, but I wanted to do some different things with it, and that gives you a chance to try new things as we go through the series to have different things come to life.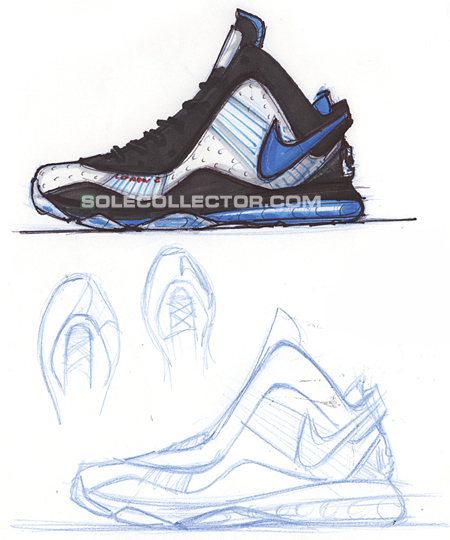 NDP: Colorway wise, I remember with the PS how you talked about Rich [Paul] having a cool pair of Dunks on and that really influenced the all red tongue on the black colorway. Are we seeing that once again here on the 8 with the launch colorway?
JP: And the Veteran's Day version this year too with the contrast tongue. We liked it and thought it could be a signature look, and that's really driven by Eugene [Rogers, Nike Basketball Color Designer] and he's the one who saw that insight from Rich's tongue on his Dunks. I think it looks cool, and some people hate it, but you see it coming, and that's really cool and new and fresh. The colorways always come from discussions with LeBron. We always want to do something different for Christmas, and last year, he thought the Christmas shoe was too dark. So how do we make that better? We really focused on using this Sport Red, so it's brighter and really lets the shoe come out. You can see with the VII, it's kind of dead, and we really had to work a lot to get that package to pop. We had just black laces in it, cause you want to be able to wear it other than Christmas, but LeBron put green laces in his shoes last year, and when we showed him this year's again, he was like, "Yo, but can I get some green laces?" We said sure. Then, he asked, "Well, can you put it in the box for everyone, and have the shoe come laced with green laces?" So it comes with green, and then with black as well, and he inspired all of that.

We've got a Summit Lake Hornets colorway that we try to do every now and again, and it's a great inspiration point for us. When we were in Akron for the More Than A Game Tour, that was my first time seeing all of that, and it was really inspiring to me, and I thought we should include that in this line, because it's just something that I think is cool and can bring energy to it. LeBron is always proud of that and it's part of who he is. We've got a color from one of his favorite TV shows, that is kind of just a fun version that we'll give to some of our urban accounts. It may even end up in the show, so we'll have to wait and see. He always talks about it, and it's a nod and a wink and something fun to do. We've gotta do on-court colorways and cover him on-court, and once the 8 V/1 is done, it's done. He won't be wearing it anymore and we won't be selling it anymore. He'll wear the V/2 Christmas Day and then that'll be it for the 1.

NDP: So there's just the five colorways of the V/1?
JP: South Beach. White/ Navy. All Black. Launch, and the China -- so yeah, five.

NDP: I remember last year with the VII, you were saying how his team wanted to really scale back on the colors that you guys ended up releasing on The Six. Was that the same direction for this year?
JP: Yeah, and I know it seems like there's a lot of LeBrons that still come out, but when you compare it to something like Kobe, there's not really that many that come out.

NDP: Or when you compare it The Six, man.
JP: [laughs] Or The Six right? It always seems like one pops up in House Of Hoops or there's some special ones that show up, but we're not doing a lot of those House Of Hoops versions that we were doing before, so really, there's no more V/1s. That's what we thought was cool about it, and that's what makes you want to get it.

NDP: And that's what he's wearing in the games, and to me, that's how it was always cool with Michael, of course.
JP: That's what we want to get to. You know, we all love color, and as shoeheads, we want to have the craziest stuff out there. I want the Knicks or Yankees ones and everything, but the Michael [approach] is exactly it. Seeing LeBron in those Black/ White and Red ones when he debuted with the Heat, and how dope they looked with the black uniforms, that makes that shoe that much better, even to us. It gave it a whole new life for us, cause we had been looking at it for awhile there. You know, as a designer, I was like, "Ah man, Black/ White/ Red again." [laughs] But, it's a great color, and you can still bring great energy to it. The Christmas version is Black/ White/ Red, it's just done in a different energy. Eugene and [Erick] Goto have been doing an amazing job of coming up with stuff, and you've talked to them plenty of times and know how talented that team is. They really come with more great stuff than we can ever use, which is heartbreaking, cause we see a lot of ill stuff that we can never have -- but Charles [Williams] gets it all cause he's a size 9.

[everyone laughs]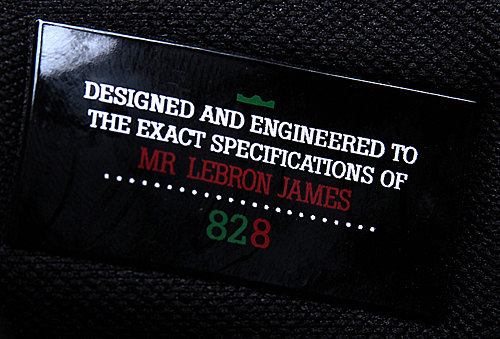 I think it is good though, in the end, for the shoe to have it's main colors and that be it. And now that we have these different versions of the shoe coming out, you can't do seven versions of V/1 and seven versions of V/2, it'd be just too much. The V/2 will have Christmas Day, the Black/ Grey, which will be his away shoe, there's his home shoe with some nice zen grey and red accents on white too. So, there'll be three general release ones, and then two special ones, which was our plan for V/1 also. But I think they're all pretty special, to me, obviously. [laughs]

NDP: And you guys aren't doing SVSM or Christ The King versions of the 8 for them to wear?
JP: No. We ran some, and they look great [laughs], but again, this comes from LeBron, and he wants the schools to be in Soldiers. That's why we moved it to Team, and the signature stuff is his signature deal. That's not to say that we won't ever do it again, but it's just what he's feeling right now. That might change, but we certainly want to do what he wants to do. There are some fun colors, and then there are some business colors for him on the court. And then, of course, there's All-Star, and that one is crazy. As of now, there's no Knick ones or Cleveland ones or anything like that. We'll do the same thing with the next one, some great colors on-court and then some fun stuff, and then, maybe, if they win or they get to the Finals, then we'll start to see some special celebration stuff. MVP, maybe even. We'll have special stuff for moments like that, but otherwise, the plan is set for five colorways each and it'll be pretty tight.

NDP: He'll wear the 8 PS during the playoffs, just like he did last year in the 7 PS?
JP: Yeah, he'll wear those all during the playoffs, and that'll be a whole new expression within this realm as well. It's the lightest one we've done, and it should be great.

NDP: Ok. Million dollar last question.
JP: [laughs]
NDP: Where were you when you were watching The Decision, and what'd you think?
JP: Well, it was on my birthday. We had just gotten back from Akron at his Skills Camp. I came back, and I was at my house with my buddy, and I was probably just getting ready to go out for my birthday. Thursday night, you know. [laughs] My buddy is a big basketball fan, and we've known each other for a long time, and he's a big LeBron fan too. I was just in shock. We were just kind of like….I felt totally surprised and I was thinking something totally different. We were at his camp, and there was chatter, you know. I'm an old school Bulls fan, and I was just thinking, "Man, the Bulls would be CRAZY." DRose, Boozer…it would just be nuts and that team would be so bad ass. [laughs] I'd get to go visit Chicago! [laughs]

NDP: Oh yeah. [laughs]
JP: I just wasn't even really thinking about Miami. Not that Miami wouldn't be great. I just didn't think there was any way that they'd be able to pull that off. I thought with DWade being from Chicago, that could be a lock too. We were watching the guys burning his jersey in Cleveland after, and there was so much anger, and it just all took me by surprise. I was kind of glad that he did it and it was over, and that we could move on, and I just figured, "Well, I guess I get to check out Miami now." I was thinking, "Man, I'll have to hit up Steve [Mullholand] and get on that boat finally!" [laughs] And then, I thought about it to myself, cause when we were at camp, and I need to ask LeBron this just for my own knowledge, but at camp he was wearing Miami Pennys.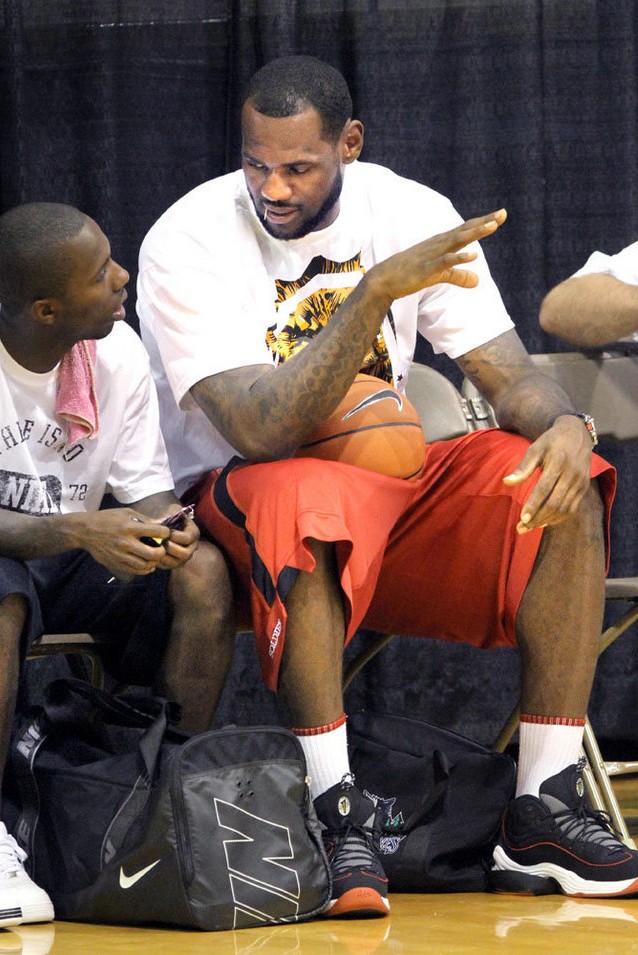 NDP: Miami Penny 2s, yeah. It was on Tuesday at the Skills Camp.
JP: I just wonder if he did that, and just pulled 'em out and wore 'em cause he likes Pennys, or if he did that as kind of a wink.

NDP: He had those, Griffeys and then the all black 8s he was wearing during pickup runs that week.
JP: I don't know what he wore Wednesday casually at camp, cause that was the day I left and went back to Portland.

NDP: I remember pointing that out on Twitter on Thursday night, like, "Well, he *did* wear Miami Penny 2s on Tuesday," and everyone was going crazy like, "Ah man, he knew all along." But, he probably just thought they were cool for the day.
JP: Who knows. It could've been left out by the stylist who might not have even known that was a "Miami" color. Bron might not even know that's the "Miami" Penny, but I just thought that was kind of cool if it was a wink.

NDP: And on Tuesday, you can't even be sure that he was decided at that point.
JP: Exactly. Maybe he wasn't, and it could just be sneakerhead lore. [laughs] If I ever find out, I'll just keep it to myself. [laughs] It'll be an urban legend though. But, I'm glad that's all over, and it's been a bit of a rough start for the guys, but I didn't expect that to happen overnight. People have to be patient and just seeing him, he seems relaxed and happy with the decision, and that's the most important thing. They'll figure out the way to play together, cause they're all too great of players to not figure that out.

NDP: I remember Tracy [Teague, Nike Basketball Creative Director] over the summer beforehand, saying, "Well, wherever he goes, we'll provide his shoes and be excited for him." It sounds like you guys didn't really have as much of an interest in the market or even any input in where he went, like a lot of people try and make it appear. New York would've been great, sure, but he's been having success in Cleveland of all places up until now.
JP: These days, that stuff doesn't matter. Not for someone like him and what we do in footwear. New York would be great 'cause it's New York, and who doesn't love New York? We could do some sick stuff there and he'd be playing in Madison Square Garden, and Chicago would've been the same thing, having fun in the house that Michael built. The Mavericks even came late to the game, and we saw one of the best samples we did was in the Mavericks colors. That shoe looked unbelievable. For us, it would've still been exciting to be in Cleveland again, because it's just exciting working with LeBron. He focuses on something, and it gives us the energy to focus in on something, and it's just easy to rally around great basketball players. Eric Avar does the same thing for Kobe, Leo [Chang] the same thing for KD, and we do the same thing for basketball in general. We have that fervor and it's all part of why we work here.

NDP: Last year you had that real sweet hint about the height and stance of the 8 after seeing him stand out above the crowd in China. What kind of hint can you give me about where the 9 might take us? [laughs]
JP: Hmm. I have some things that I could say, but I'm trying to think of something that I could say to encapsulate it like that. How about, Protect and Propel?
NDP: Protect and Propel, huh? Ok.
JP: Something like that. A.) I'm still working on it. [laughs] It's still early, but there's this enhanced notion of how protection is going to come to life in some really cool ways. That's something I can tell you now, without giving away too much. Plus, I'm going to Asia tomorrow, so it all could change. [laughs]

NDP: Is it safe to say that we'll see the full Air Max bag continue on too in the next signature model?
JP: I can't say anything about that. Who knows.
NDP: Good answer.
JP: It's going to be based on what LeBron is feeling, and we have some new stuff coming down the pipeline, and there's an evolution happening. As you look back, and those who are really wanting to pay attention to it, I think you can see it happening. You'll see an evolution happening that's taking us to a new place, not only in the shoe and in the cushioning, but also in the whole line.

NDP: With him possibly playing point guard, and also looking to post up a bit more, has he talked at all about how his style of play might be changing with his new team, and how that might affect his footwear needs?
JP: Actually, yeah. That's going to be a big component of what the 9 is. That's kind of where the "protection" comes in, and we'll start to discuss how he views himself. It's about being a triple threat. That will definitely inspire the next shoe. He's always been a triple threat, but now, he's got people to be a real triple threat with. Now, it's really scary if he does pass the ball. It's always been scary if he drives, and he's always working on his jumper and that's only going to get better. We're going to focus in on that notion. People were talking about him averaging a triple double, and he said, "It's not about averaging a triple double for me. It's about being a triple threat out there." That was kind of like *DING* for me. The light just flipped on. [laughs] That was the inspiration for his transformation now going through this year. We'll definitely rally around that.

NDP: And there's your new awesome hint. [laughs]
JP: You got me. I guess that's what a good journalist does -- finds a way to get the answer.
NDP: Appreciate it. Thanks for the time again J.
JP: Always!