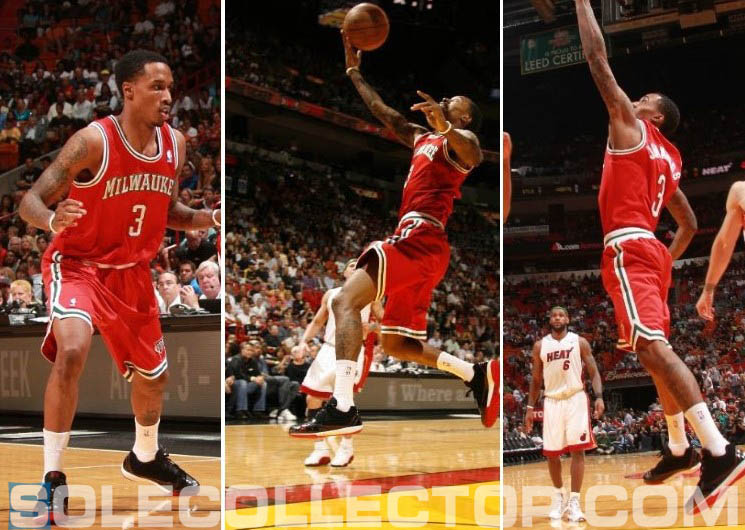 words // Brandon Richard
images // Nick DePaula
Unfortunately, the Milwaukee Bucks will not be making a return trip to the NBA Playoffs, but they're still playing with a ton of heart down the stretch. A prime example was their game against the Miami Heat on Wednesday. Their playoff hopes were slim and the odds were stacked against them, but they turned in a classic spoiler performance.
With a game that came down to the wire and Dwyane Wade out of the lineup with an injury, it was on the shoulders of LeBron James and Chris Bosh to carry the Heat to a much-needed seeding victory out East. The Bucks had other plans though, especially Brandon Jennings, who came up clutch when it mattered most. Not his best start-to-finish outing of the year, Jennings put the Bucks ahead by 1 when he drilled a three-pointer with 3:30 left to play. Then, with just seconds on the clock, Brandon stepped up to the free-throw line to knock down freebies to ice the game at 90-85.
For Milwaukee's big win (and the game in Orlando the previous night) Jennings wore this all-new colorway of his Under Armour Micro G Black Ice Low signature. With a look reminiscent of another classic hoops sneaker, the shoe features a black perforated nubuck and patent leather upper, red branding and contrast stitching, a white MIcro G midsole and a translucent red rubber outsole.
The Under Armour Micro G Black Ice Low is currently available to purchase in multiple colorways at retailers like Under Armour and Eastbay.