words & images // Ben Adams-Keane
4Cent Friday is a weekly design blog on SoleCollector.com written by a member of the 4Cent Design team. Subjects may range from discussing rendering skills to design inspirations, to thoughts and opinions on the state of footwear design as a whole. For more background on 4Cent Design, check our interview here.
The process of getting inspired, throwing down a sketch and turning it into a rendering isn't as straightforward as one might hope it would be. I never sit down at my desk, think of a cool object I feel "inspired" by, and lay down a masterpiece. Rather, inspiration usually finds me when I least expect it.
Some of my best work comes from scribbles I did while watching TV or doodles I did during math class. My notebook pages are littered with shoe sketches -- not just because I hate math, but also because my best ideas tend to come to me while my mind is elsewhere.

The particular sketch I'm about to walk you through started off as a few rough doodles I did earlier this week in Calculus. I was in my perch at the back of the class, attempting to takes notes, when I noticed the backpack of my friend a few seats ahead.
It was an ACG backpack, with some interesting, rugged-looking constructions and material transitions. It happened to be raining that day out here in Massachusetts, and the combination of those two things got me thinking about how an ACG-type approach could be applied to basketball shoes. Maybe I could design a waterproof hoops shoe for outdoor-balling?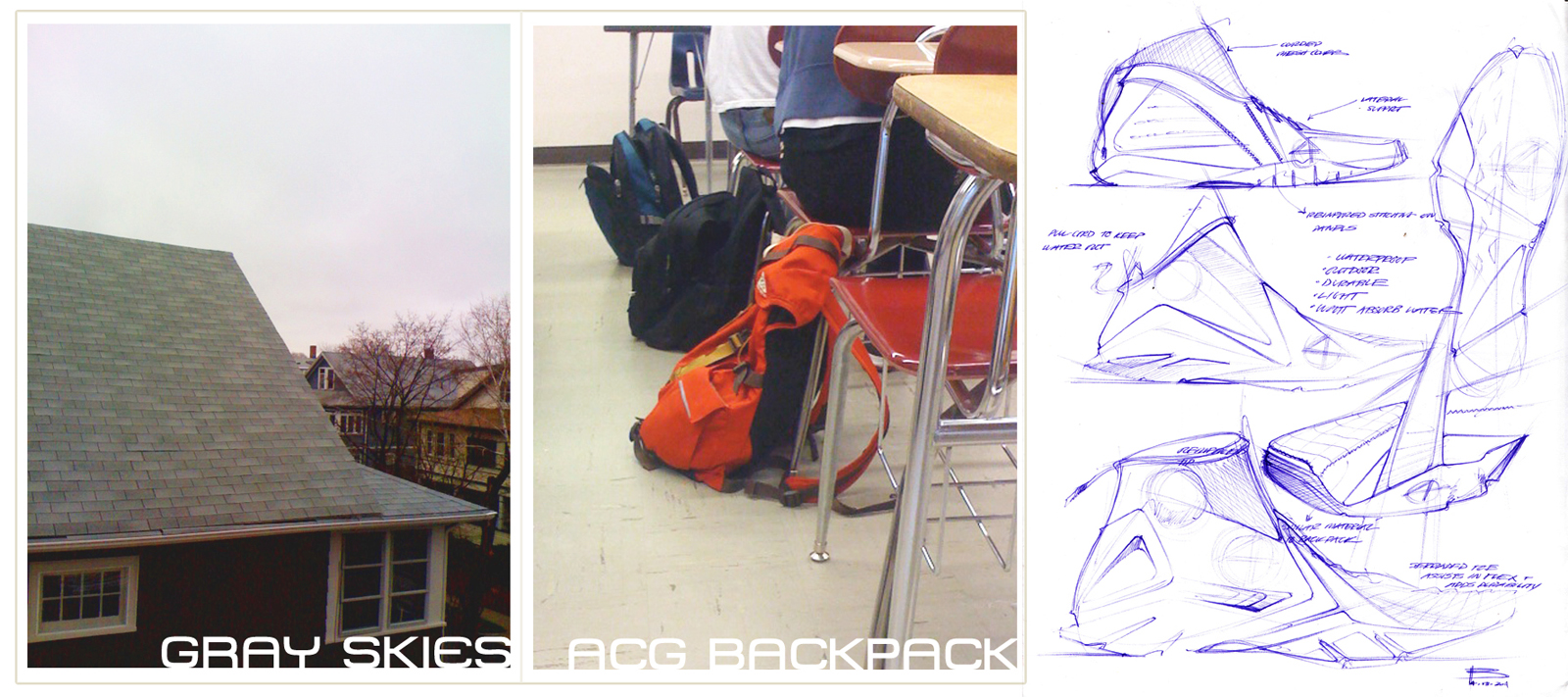 I started throwing down some doodles -- no pressure or expectations -- just pure brainstorming. As you'll probably notice, these sketches are super rudimentary and not the sort of thing I would normally present, but they're part of the process, so I wanted to include them.

After 4 or 5 rough doodles, the bell rang and I packed up my stuff and forgot about the project. The next day when I came back to class, I opened up my notebook and saw the doodles. There were a few things I liked so I decided to get out a fresh sheet of paper (college rule lined-paper of course; that's the disadvantage of working spontaneously) and did a larger-scale sketch.
A few of the things I decided to include were a lateral-support strap that covers the throat to prevent water-entry, and a pulley-system around the ankle that seals off moisture. I included a few hints of the materials I liked from the backpack, and threw in an open-arch to create separation from moisture on the ground.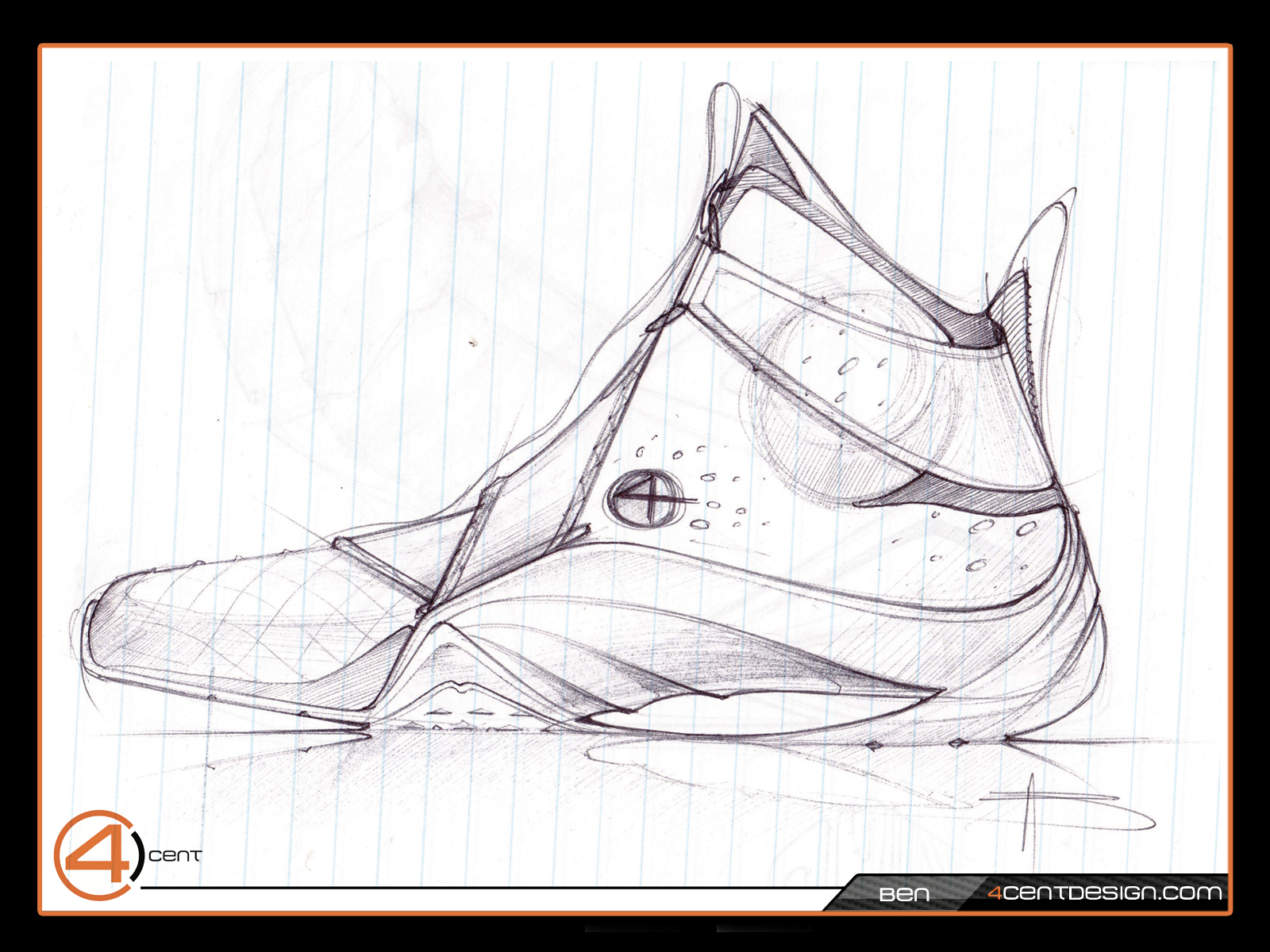 From there, the process became much more linear. When I got home I scanned the sketch in, did my best to get rid of the notebook-paper lines, and started throwing on some shading in Sketchbook Pro: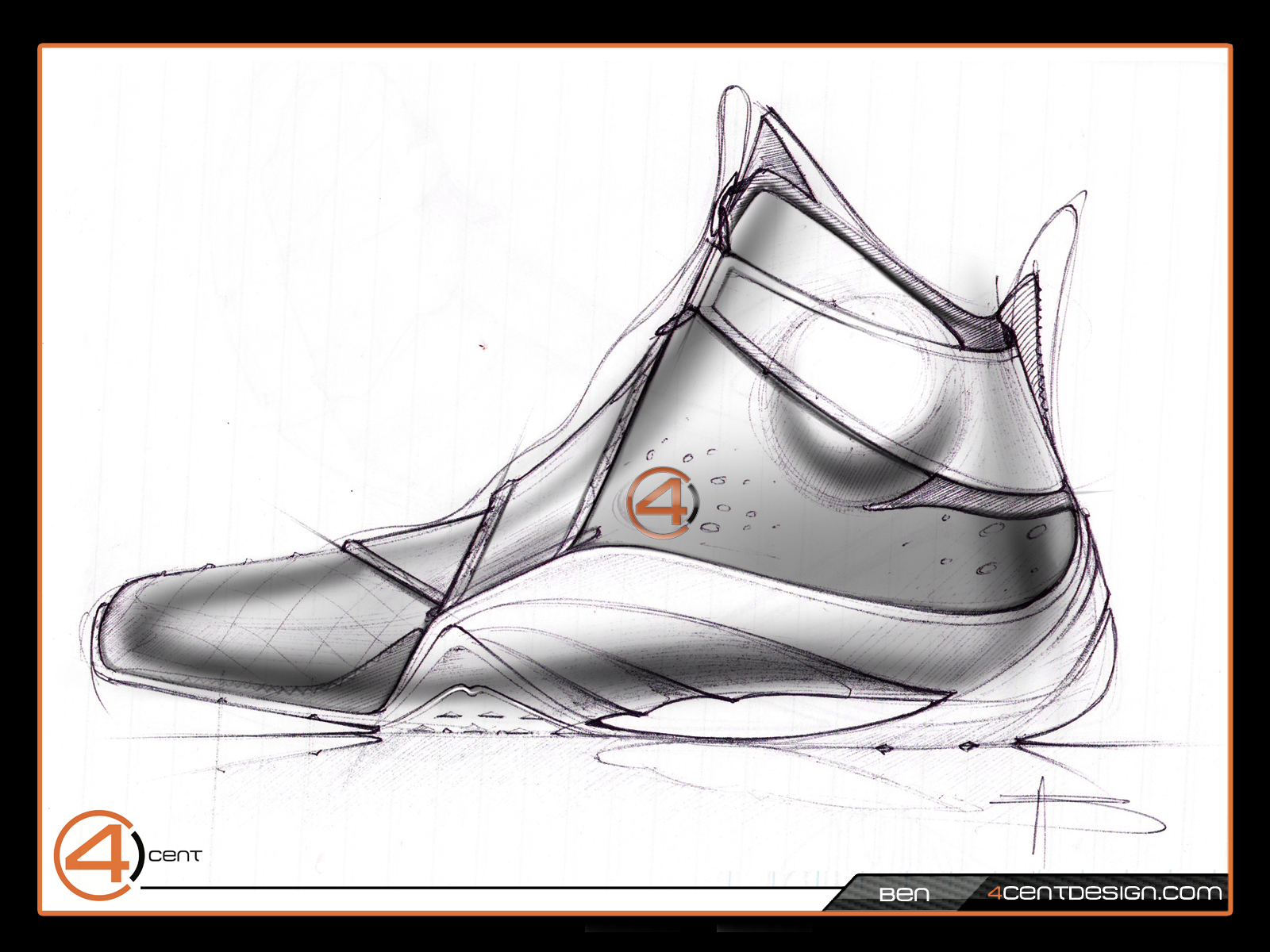 Next, I blocked in some basic color: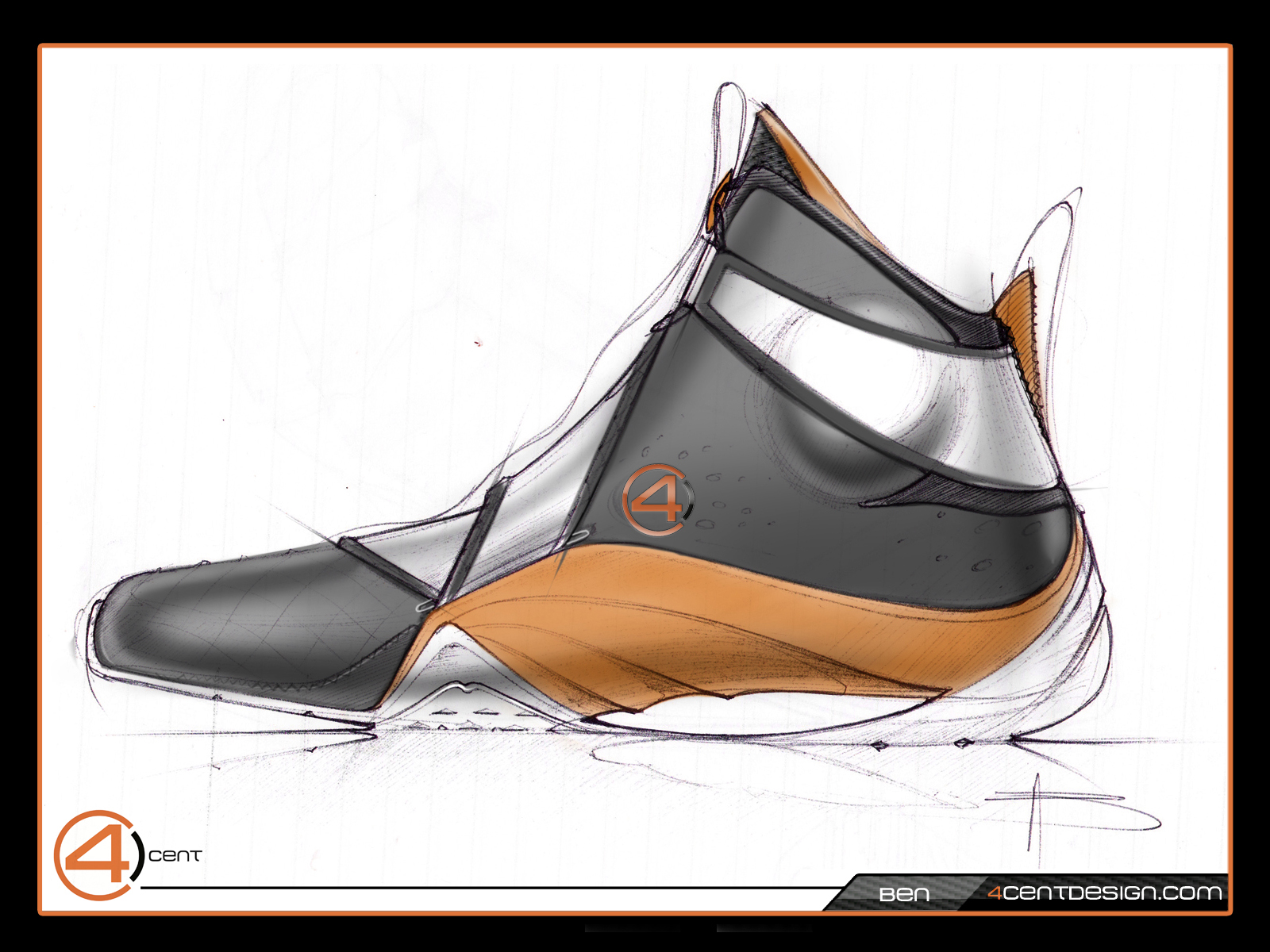 Added some more detailed highlights and shadows to the lateral support structure: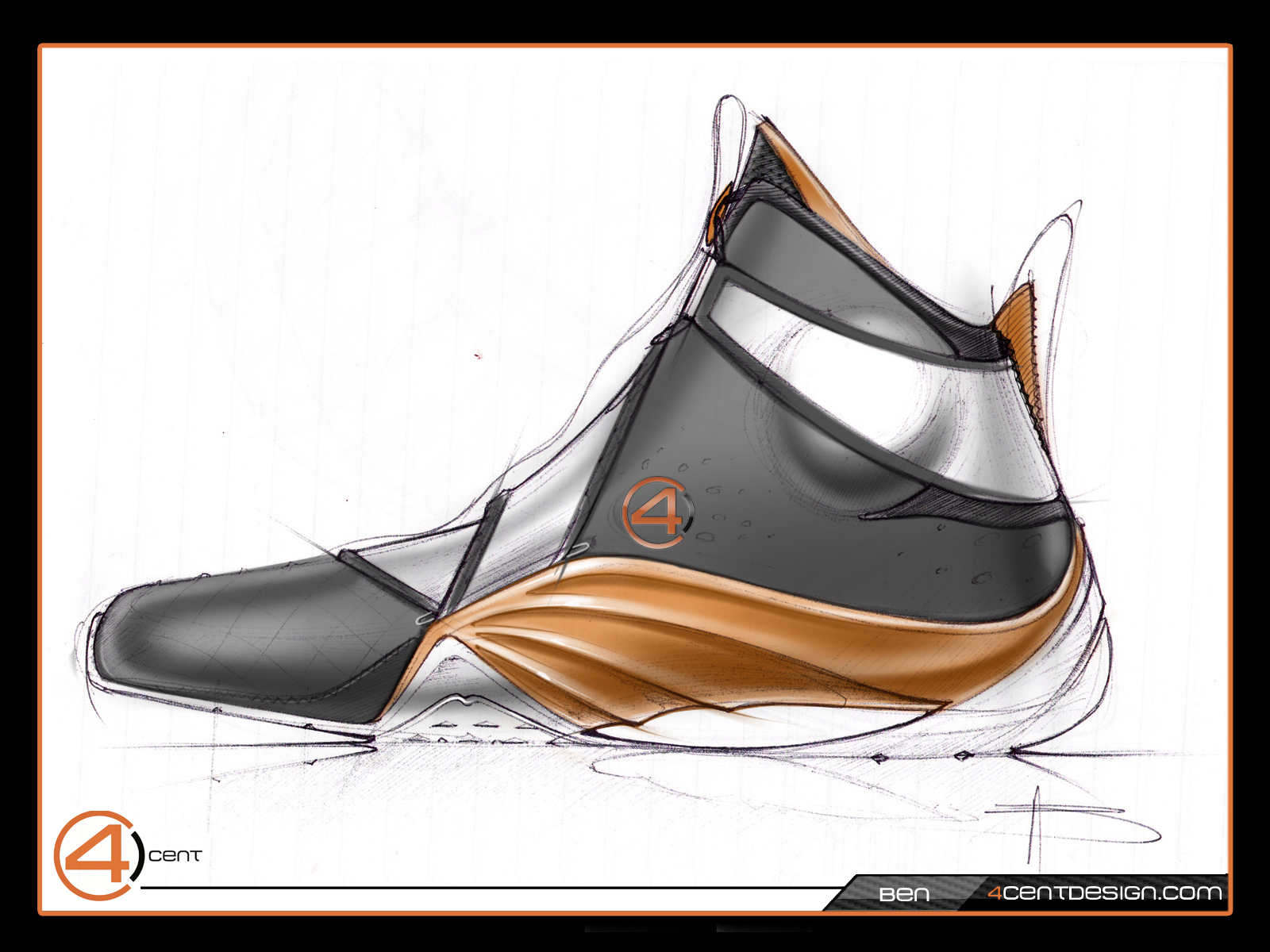 After that, I switched over to Photoshop and started adding texture. This can be achieved in a variety of ways, but a good-old-fashioned google search for some material swatches usually does the trick.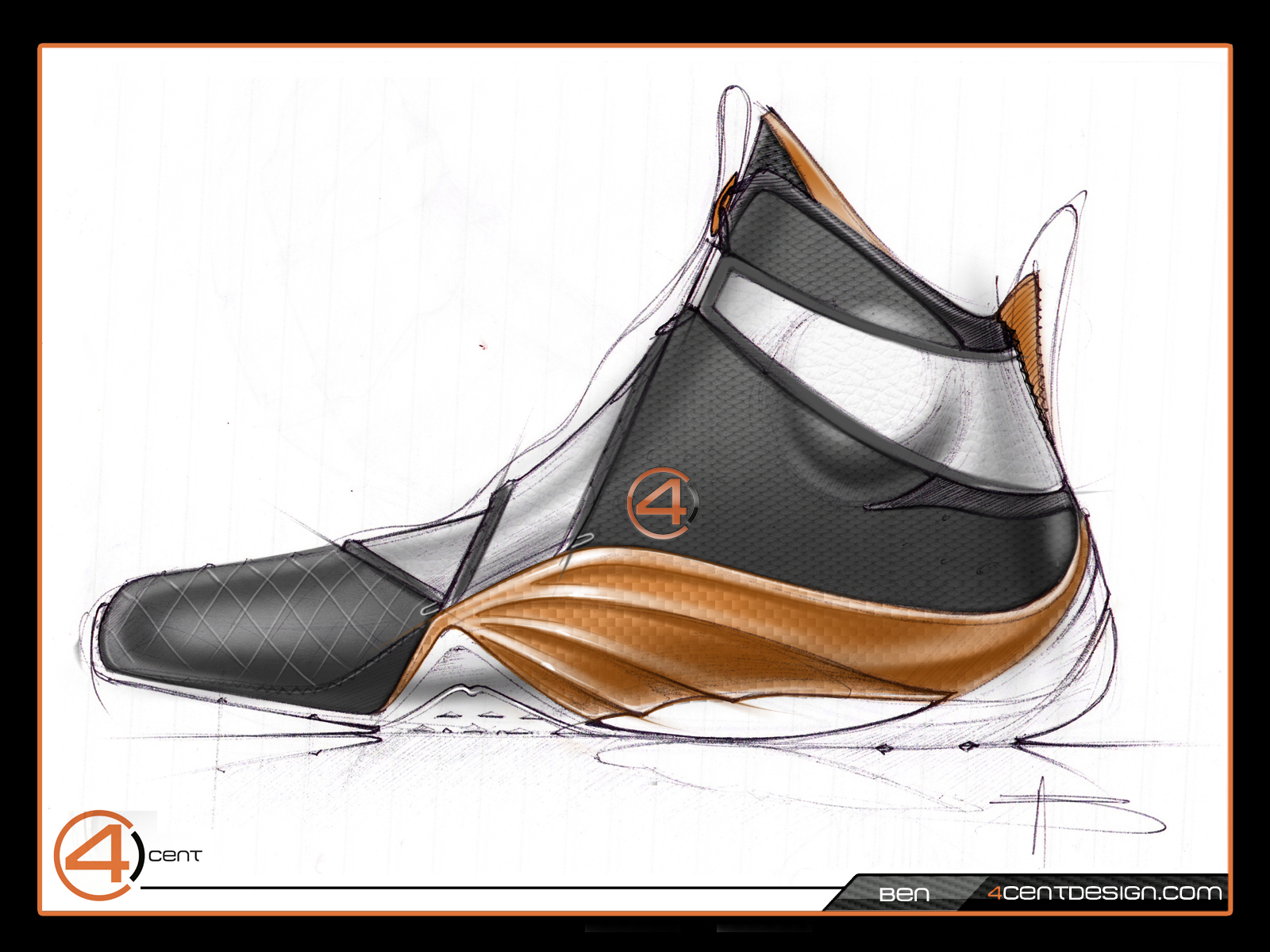 To finish it off, I created some perfs in Photoshop and pasted them over my rough hand-drawn perfs. I also threw in a few final stitching details and shadow pops.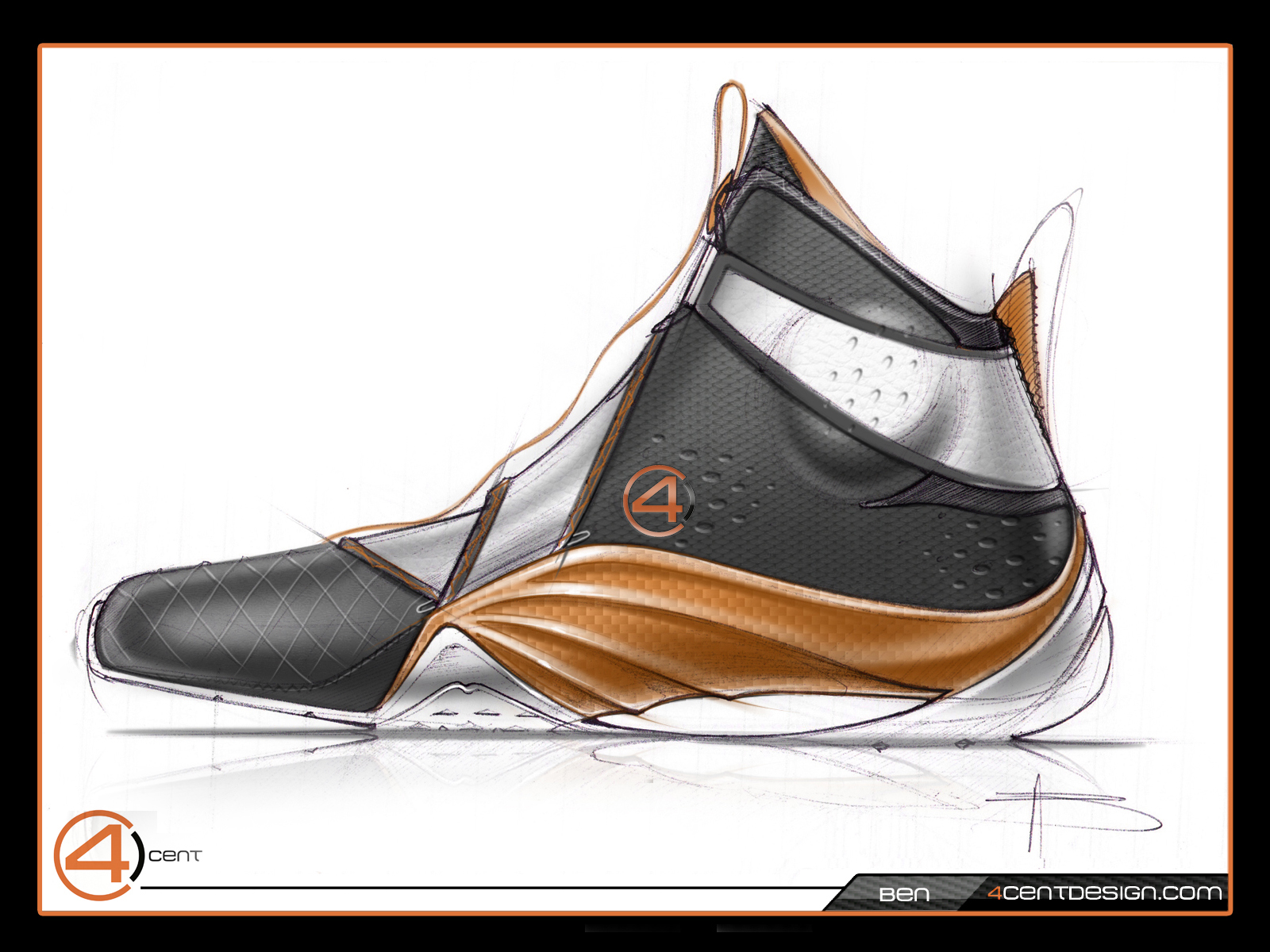 You could take this rendering even further, but for the purpose of quickly communicating the idea to a client, this should do the trick.

That's about it. Hope this gave you guys some helpful insights into my process, which doesn't exactly have to start with the concept of a waterproof basketball shoe in mind. Even if it's a gloomy day in math class, inspiration can be found.
Look out for more entries every Friday from my fellow 4Cent Design members, and be sure to check out our site 4CentDesign.com and follow us on Twitter and Facebook.