words // Brandon Richard
images // Luis Sanchez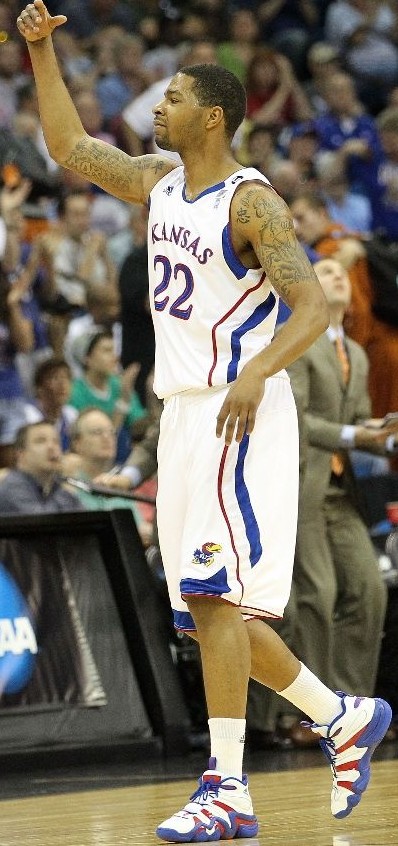 According to our team-by-team breakdown, the Kansas Jayhawks are the lone non-Nike Umbrella club left in the NCAA Tournament. Due to upsets, KU has a great shot to represent the 3-Stripes in the Final Four, but as we've learned during March Madness, ranks ain't nothin' but a number. The Jayhawks will continue to quest toward a fourth NCAA Championship tonight when they play the surprising Richmond Spiders in San Antonio. Fitted in several pairs of adidas sneakers in the team's colorway, one of the models you'll see hit the court is the Kansas Crazy 8.
While bearing no official school logos, the shoe is unmistakably Jayhawks-inspired with a White/Red/Royal colorway. A mostly white leather upper is complimented by red patent underlays, which run down through the midsole. Red also works embroidery on the upper portion of the tongue and the number 8 on the lower half. Royal blue boldly appears on the inner liner, laces, branding, midsole and teams up with red to finish of the outsole.
Check out detailed shots of the Kansas Crazy 8 below and look for them on the court tonight when the Jayhawks square-off against the Richmond Spiders at 7:30 p.m. EST.
You can purchase the Kansas Crazy 8 today at retailers like Shopadidas.