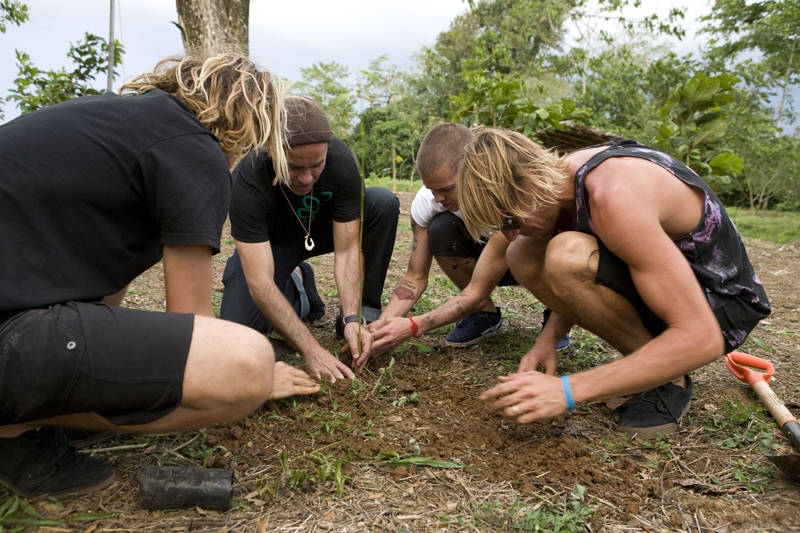 words // Brandon Richard
Last Friday, the global vision of etnies was realized when etnies' team riders and brand leadership, the Maleku indigenous tribe, La Reserva Forest Foundation and hundreds of natives gathered on a patch of deforested land in Costa Rica to celebrate the planting of the first 150 trees of the etnies Rainforest. The project united three different groups of people with common goals of planting trees to sustain the future of the Maleku's traditional way of life, restoring a biological corridor and helping impact global climate change.
The etnies Rainforest project builds on the success of the brand's Buy a Shoe, Plant a Tree program, which promises to plant a tree for every pair of the Jameson Eco 2 that is sold. The environmentally friendly shoe is constructed entirely of natural canvas and recycled rubber.
On hand for the ceremony was etnies Owner and CEO, Pierre-André Senizergues, Alfredo Acosta Blanco of the Maleku, La Reserva Co-Founder Roberta Ward Smiley and etnies' pro riders Ryan Sheckler, Kyle Leeper, Chris Del Moro, CJ Kanuha and Benji Weatherly. They collectively planted the first trees in what will become the etnies Rainforest on the Maleku reserve. With worldwide support for the project, etnies is on pace to plant 35,000 trees beyond Friday's ceremony.
"The name etnies comes from the word tribe. For etnies to have the opportunity to unite with the passionate people of the Maleku tribe and La Reserva on this very important reforestation project is one of my proudest moments in etnies' 25 year history," said Pierre-André Senizergues. "I am incredibly honored to stand beside this amazing group today and not only make history, but to come together to change the future by making our world a better place to live in for years to come!"
Click here for additional info, video and images on the etnies Buy a Shoe, Plant a Tree project.