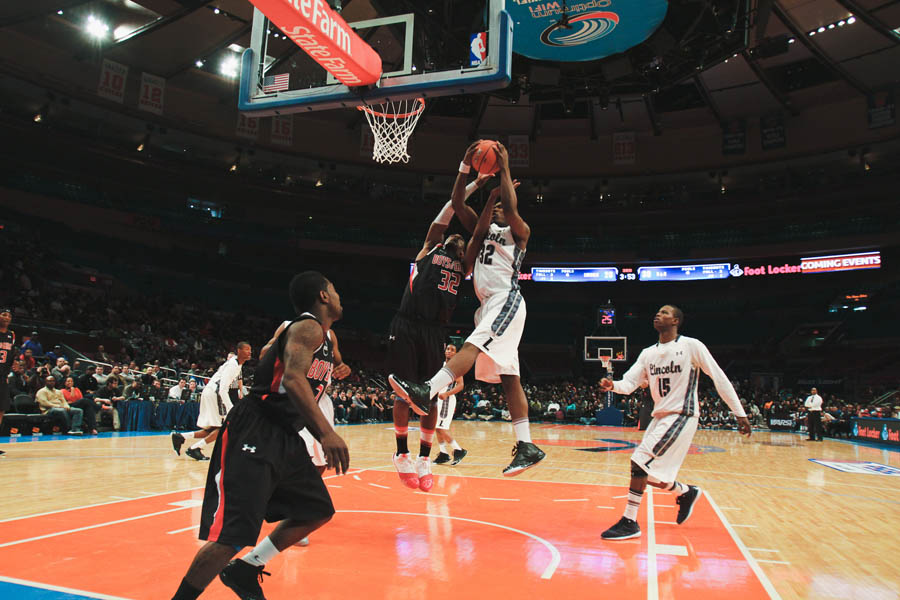 words // Brandon Richard
History was made yesterday as two Under Armour sponsored teams met in New York City's PSAL City Championship at Madison Square Garden for the first time. In a year when there's little-to-no NYC representation in the high profile High School All-America games, Under Armour considered it a huge opportunity to get national exposure in a game of this kind of significance. As we told you on Friday, players from both teams were outfitted from head to toe in fresh Under Armour gear, including 4-way stretch uniforms and Micro G Black Ice and Supreme sneakers.
Two of the most storied basketball programs in New York, Boys & Girls and Lincoln treated the Garden crowd to a thriller. Led by 5'4 point guard Antione Slaughter, the second-seeded Boys & Girls Kangaroos were able to pull off an upset of top ranked Lincoln by a score of 62-55. Slaughter, game MVP, poured in 19 points on the day and dropped a crucial floater in the waning minutes to help seal the deal. Fellow seniors Leroy Fludd and Mike Taylor contributed 19 and 14 points, respectively.
After not winning a state championship since 1979, Boys & Girls has now won two-straight under Coach Ruth Lovelace. Take a look at some of the visuals from yesterday's game.