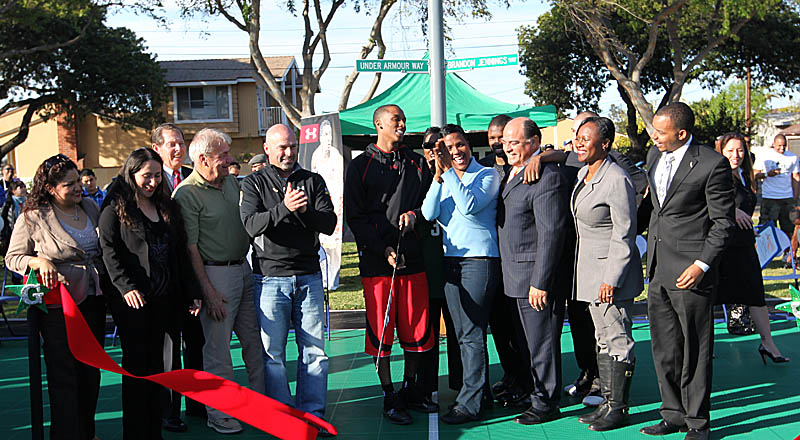 words // Brandon Richard
via Press Release
Milwaukee Bucks point guard Brandon Jennings has recorded the most important assist of his young career - the NBA Community Assist Award for February 2011. Brandon was recognized for his charitable efforts in his home state of California, as well as his contributions in his new home of Milwaukee.
As reported here in mid-February, Brandon Jennings spent his All-Star Weekend giving back to the community in the Compton and Gardena, California neighborhoods he grew up in. Brandon started the weekend by heading back to his old preschool, Double Rock Learning Center in Compton, to refurbish the facility's interior and playground. He then took over his childhood basketball court at Rowley Park in Gardena, giving the court a grand makeover and inviting all of the locals out for a special ribbon-cutting ceremony.
"Being a part of the community is really important to me," Jennings said. "My hometown community in California was always behind me, hoping I'd do well. Now, Milwaukee is my community. It's important to give back to make sure that people know how much you appreciate their support."
Brandon's work didn't stop in California. He's regularly devoted much of his time to giving back at Greater Milwaukee's Boys & Girls Club. When he returned from All-Star Weekend, Jennings and several of his Bucks teammates hosted a basketball clinic for more than 350 Boys & Girls Club members and emphasized the importance of maintaining an active, healthy lifestyle. He also visited a local senior center with a group of high school students and read to hundreds of students during the annual Bucks Book Blast at the Bradley Center.
As an NBA Cares Community Assist Award recipient, Jennings will receive the David Robinson Plaque with the inscription, "Following the standard set by NBA Legend David Robinson who improved the community piece by piece." In addition, the NBA will donate $5,000 on Jennings' behalf to the Boys & Girls Club of Greater Milwaukee.
To learn more about NBA Cares, please log on to www.nbacares.com.