words_Brandon Richard
In one of the most appropriate sports settings ever, Boston Celtics shooting guard Ray Allen took the court at TD Garden against the Los Angeles Lakers just two three-pointers short of the all-time record, which at the time was held by former Pacers sharpshooter Reggie Miller. It didn't take long for the record to fall - with 1:48 left to play in the first quarter, Ray knocked down three-pointer number 2,561, making him the King of Threes. Ray was given a raucous standing ovation by fans and received personal congratulations from several individuals, including Kobe Bryant, Mom Allen and Reggie Miller himself.
Recognizing the importance of the moment, Ray gave us all a little something to drool about with his footwear selections - yes, plural. He warmed up wearing the Air Jordan Retro 9 Premio on his left foot and his golden Air Jordan Retro 11 on the right. We were waiting to see if he'd follow through by wearing both shoes for the game, but then he pulled the ol' switcheroo, wearing a Player Exclusive Air Jordan 13.
Ray's 13 PEs were done in white leather with green suede running along the base and up the heel. His name was embroidered on the tongue and an Egyptian phrase meaning "it is written" was lasered on the side. The shoes were sent to the Naismith Memorial Basketball Hall of Fame after the game.
Take a look at all of the shoes Ray wore on his special night in this installment of Sneaker Watch.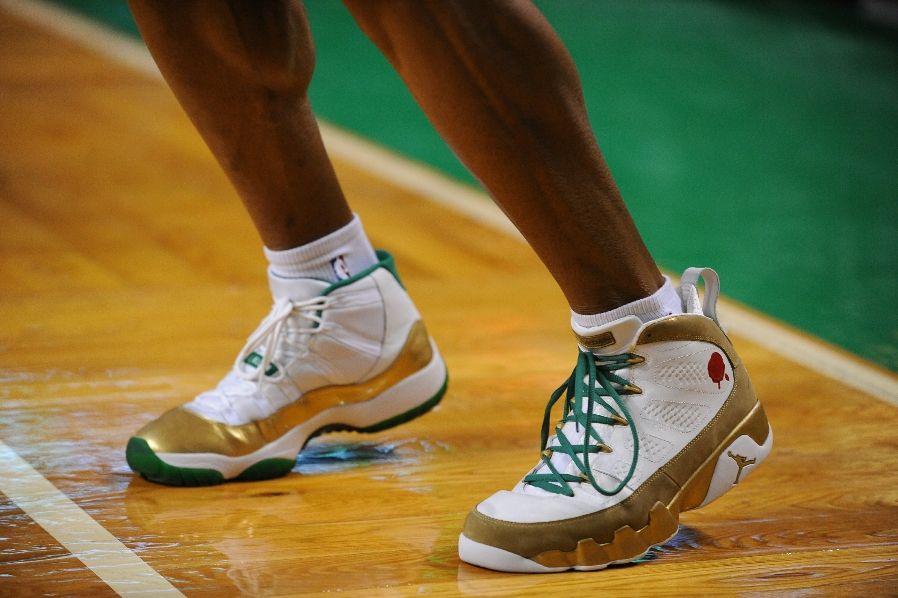 Ray Allen warms up wearing the Air Jordan Retro 9 Premio on his left foot and Player Exclusive Jordan 11 on the right.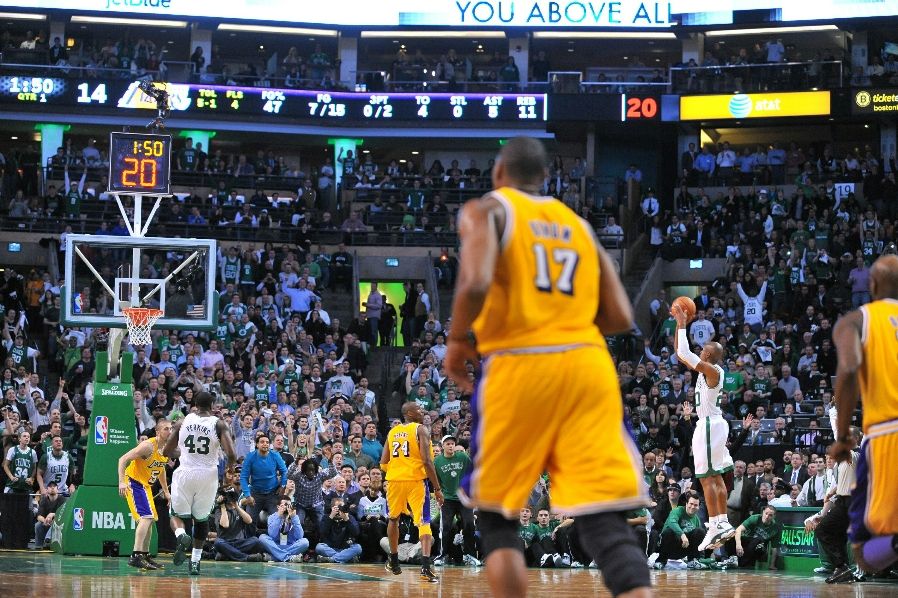 Ray Allen shoots the record breaking three-pointer in a special make-up of the Air Jordan Retro 13.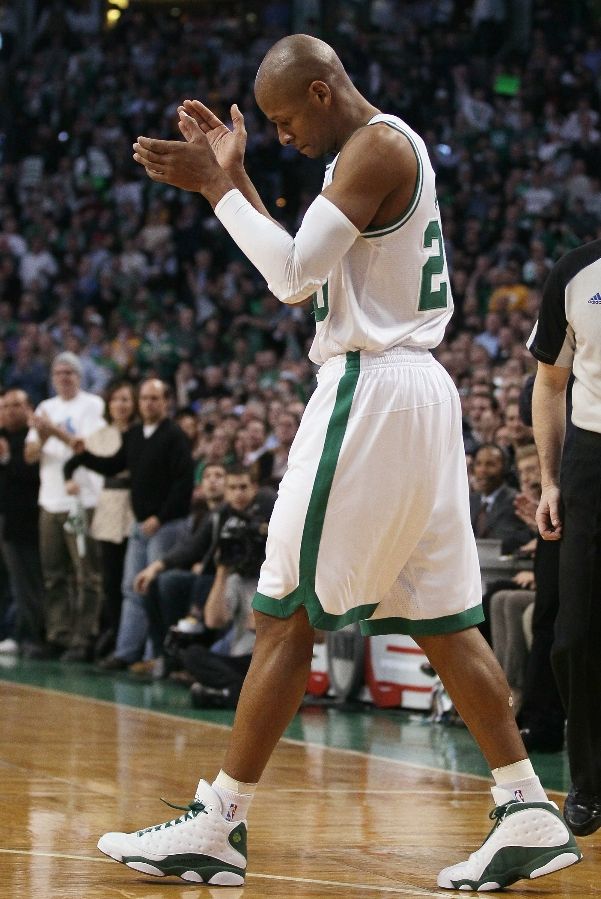 Ray soaks in the moment.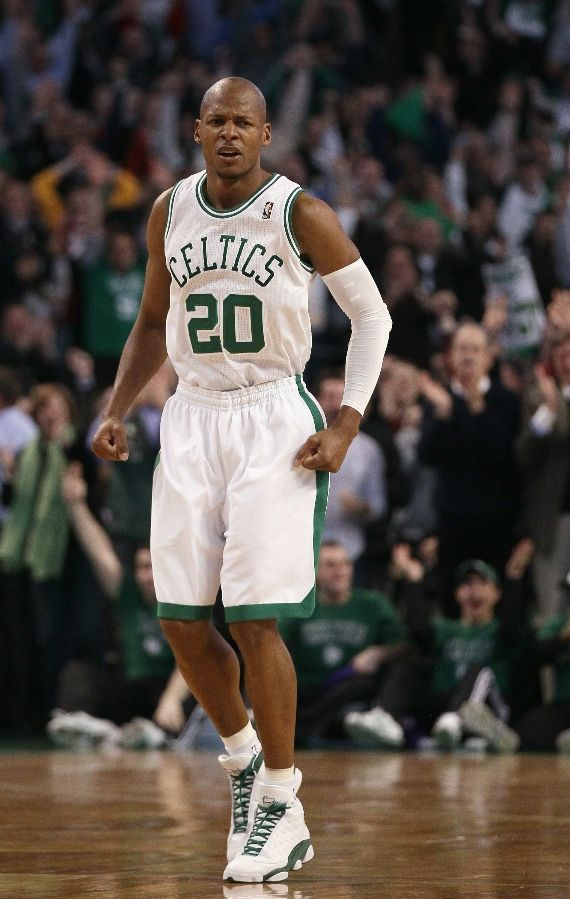 Another look at Ray's Record Breaking Retro 13.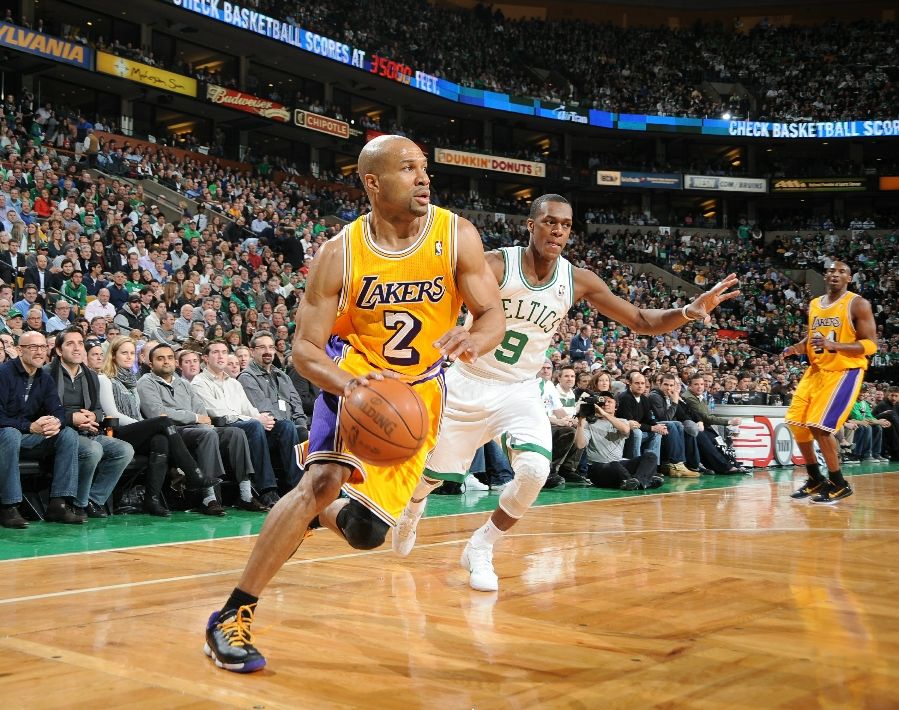 Derrick Fisher finds room in the adidas Low Motion.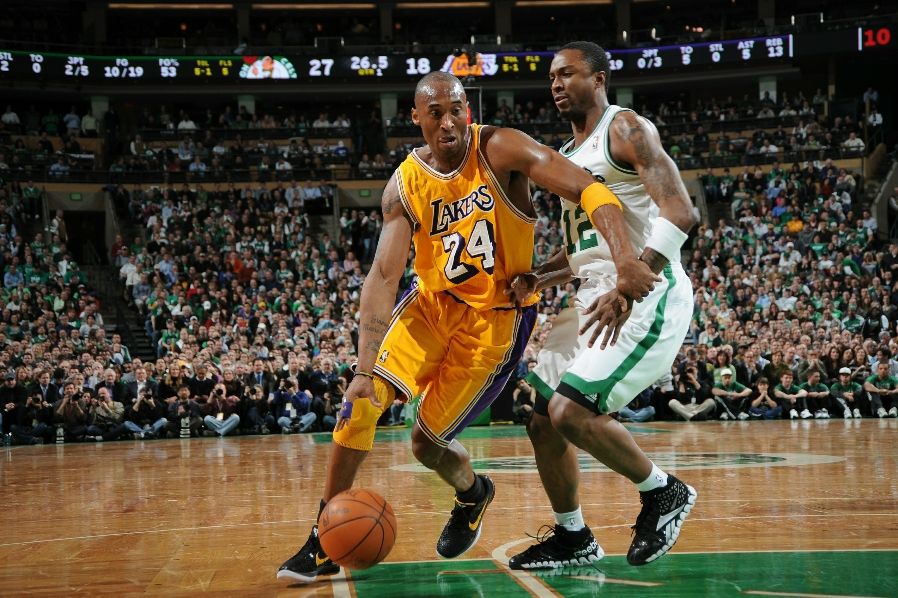 Kobe Bryant drives in the Del Sol Zoom Kobe VI; Von Wafer rocking the Reebok Zig Slash.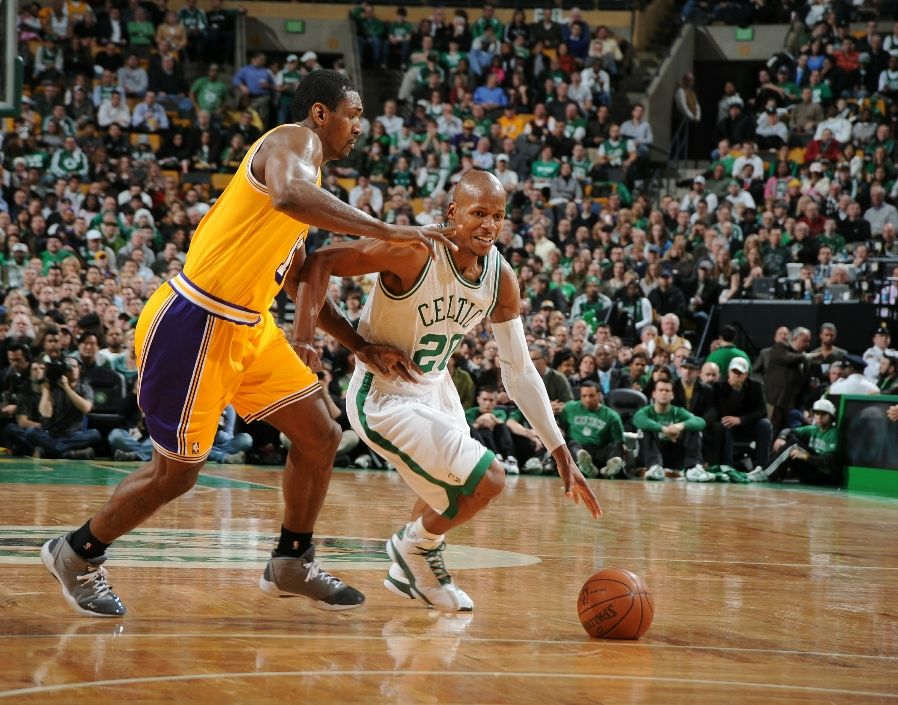 Ron Artest defends Ray in the "Cool Grey" Ball'n All Out.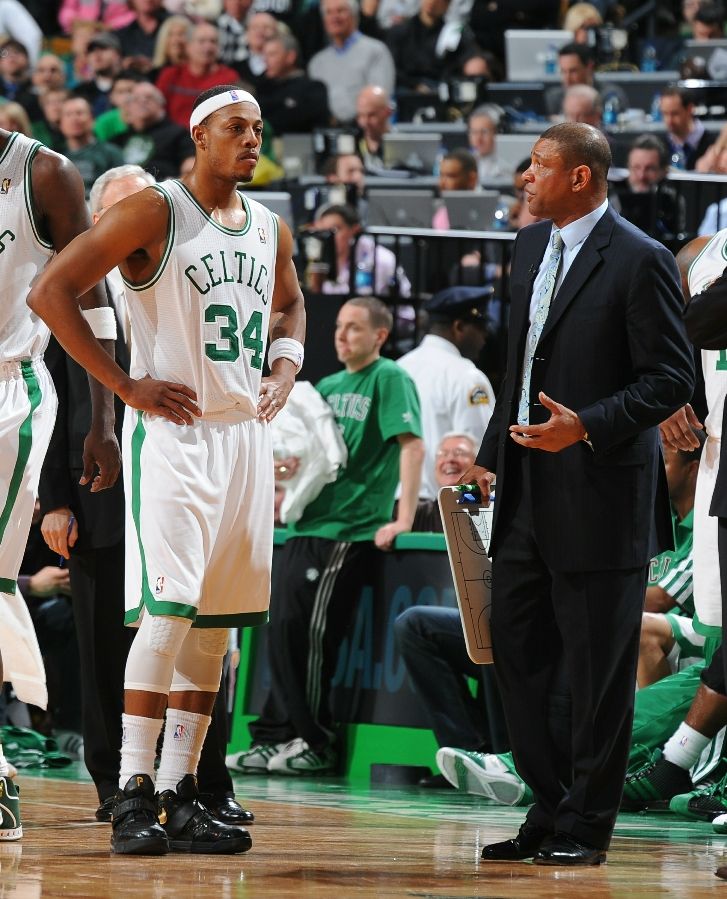 Paul takes instruction from Doc while wearing his Black History Month Nike Air Legacy 2.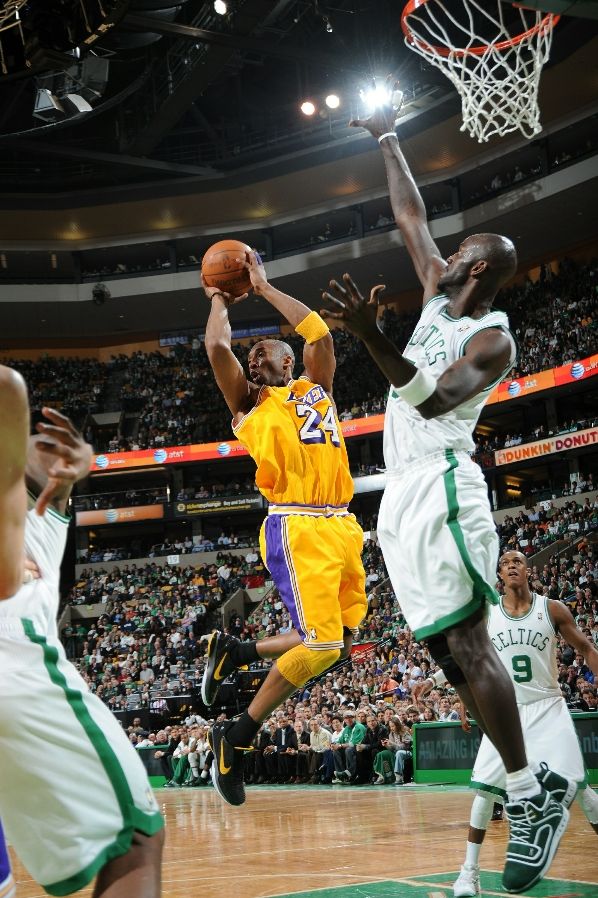 Kevin Garnett defends the shot in a special colorway of his ANTA KG1 shoes.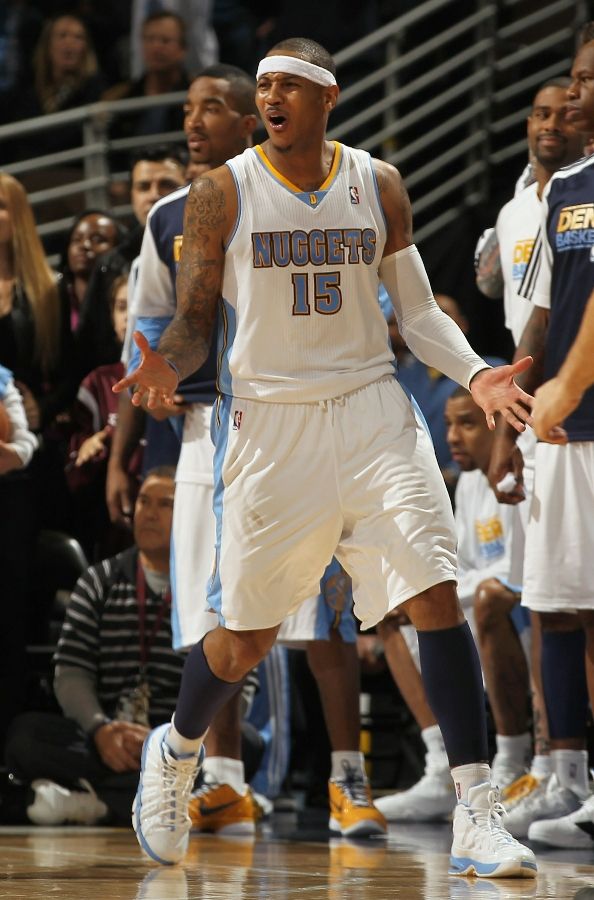 Carmelo Anthony, wearing his own Jordan Melo M7, isn't a fan of the ref's call.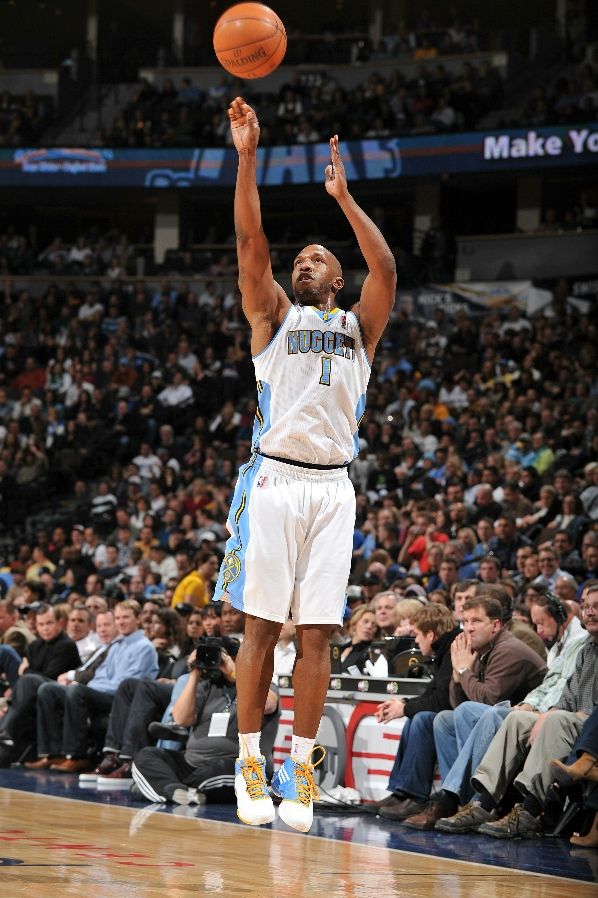 Talk about sticking with a shoe - Chauncey Billups refuses to give up the adidas TS Lightning Creator.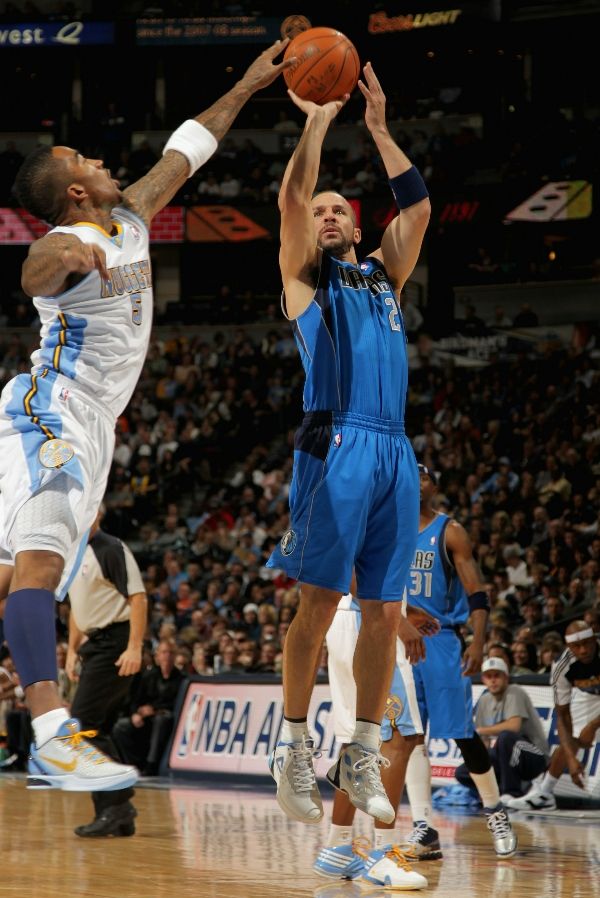 Jason Kidd shoots a jumper in his PEAK Kidd shoes; Earl Smith defends in a Nike Zoom Kobe VI iD.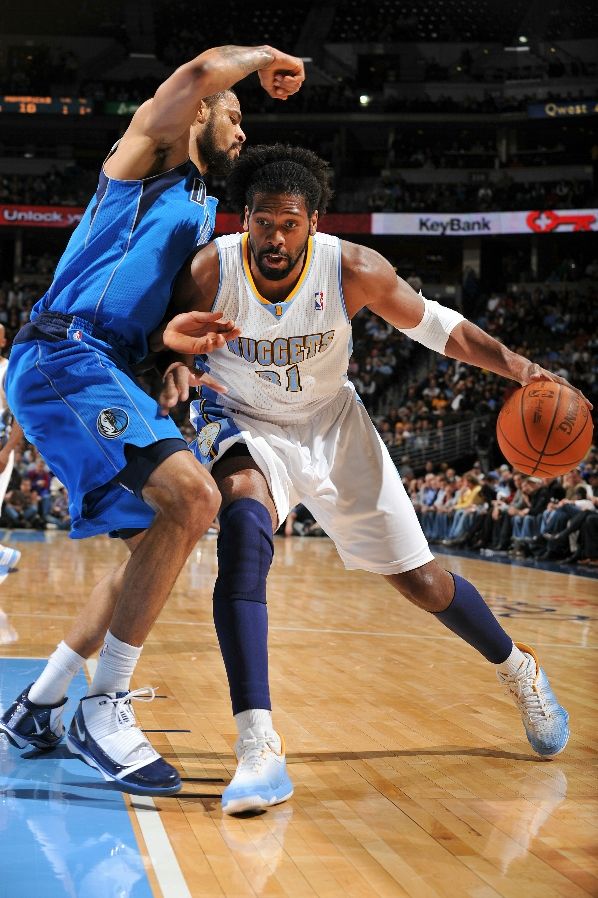 Nene drives in an adidas TS Heat Check Player Exclusive; Tyson Chandler defends in the Nike Zoom Soldier III.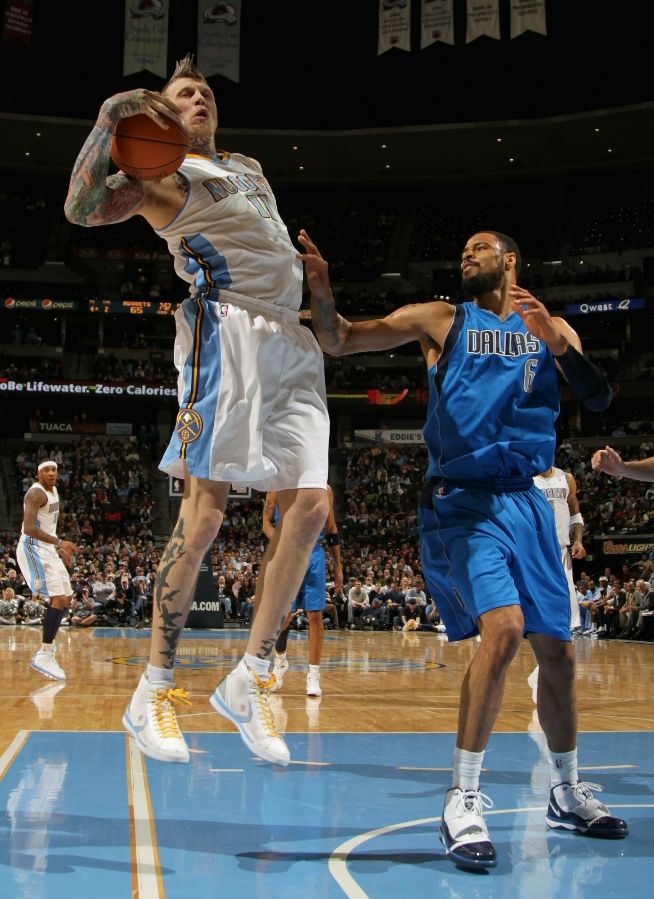 Birdman brings it down in the Converse Star Player EVO.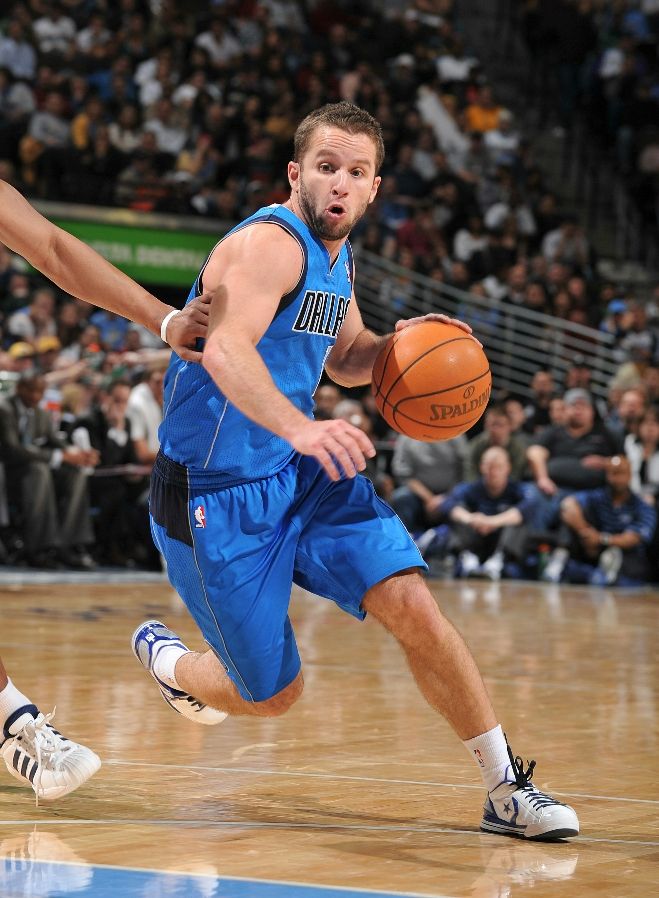 J.J. Barea dribbles in the Converse Star Player EVO Low.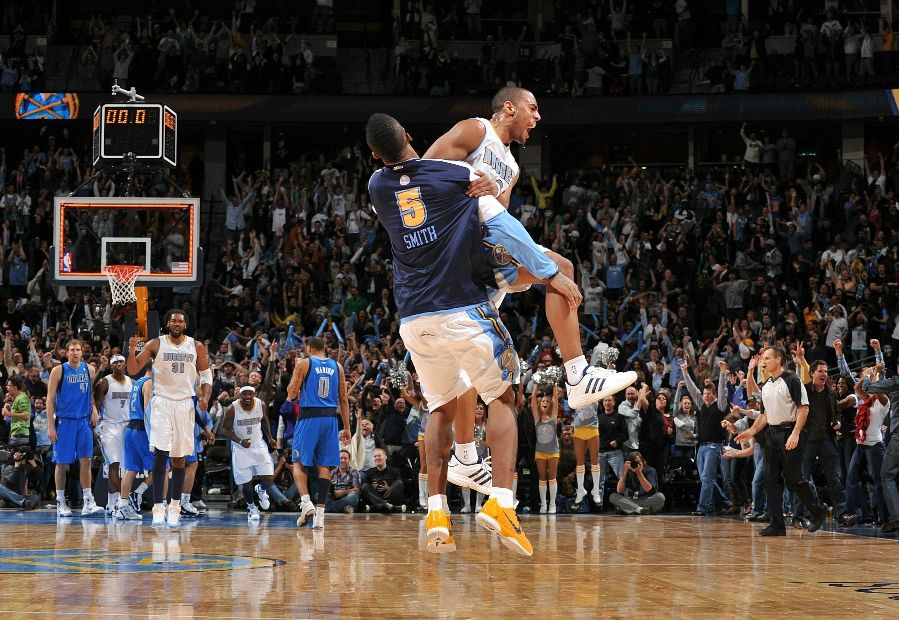 J.R. Smith helps Aaron Afflalo celebrate his game winning-shot; Smith wears another Nike Zoom Kobe iD colorway, while Afflalo rocks the adidas Superstar 2G.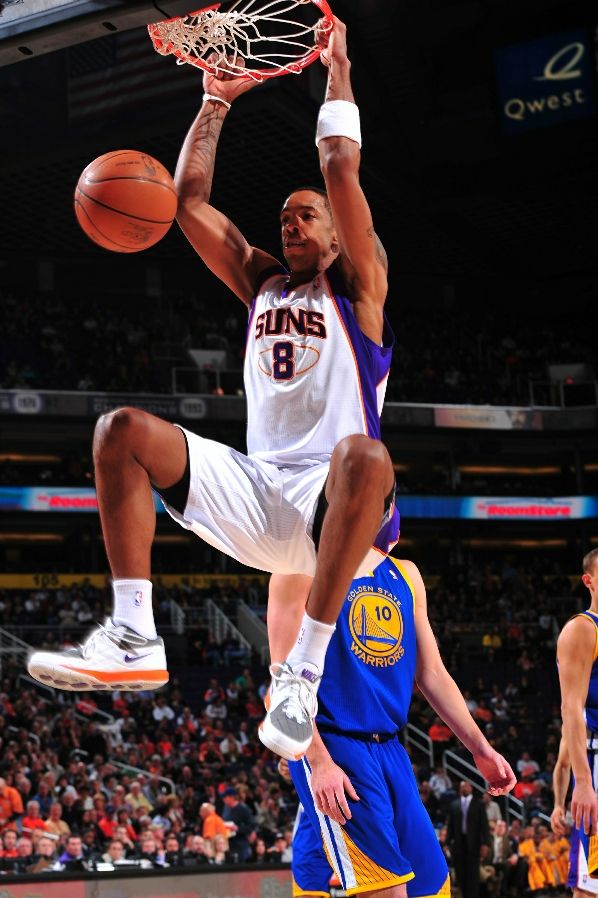 Throw it down lanky fella! Channing Frye puts it home in the Nike Zoom Go Low.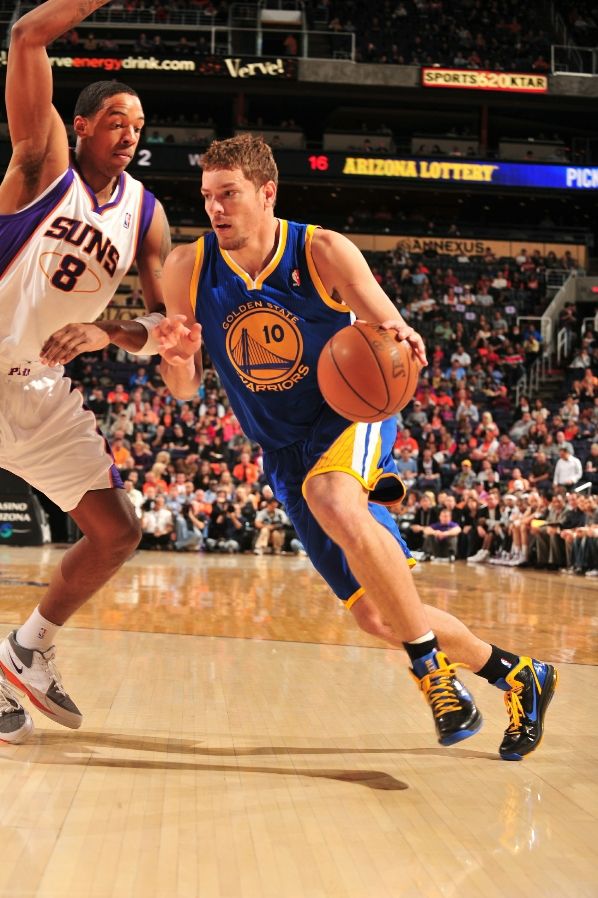 Remember him? Warriors forward David Lee drives in his Nike Hyperdunk 2010 Player Exclusive.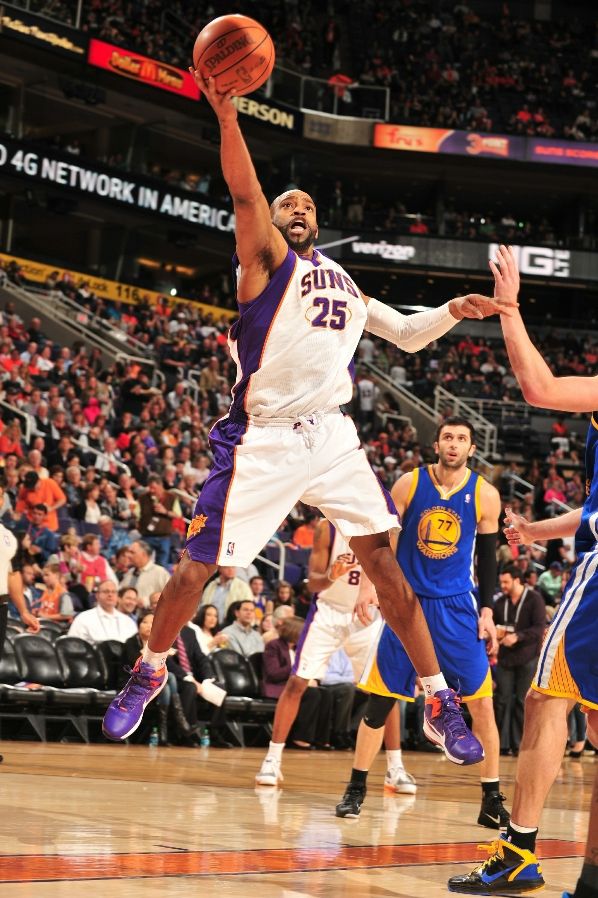 Half-man, half-layup in the Nike Air Max Hyperdunk 2010.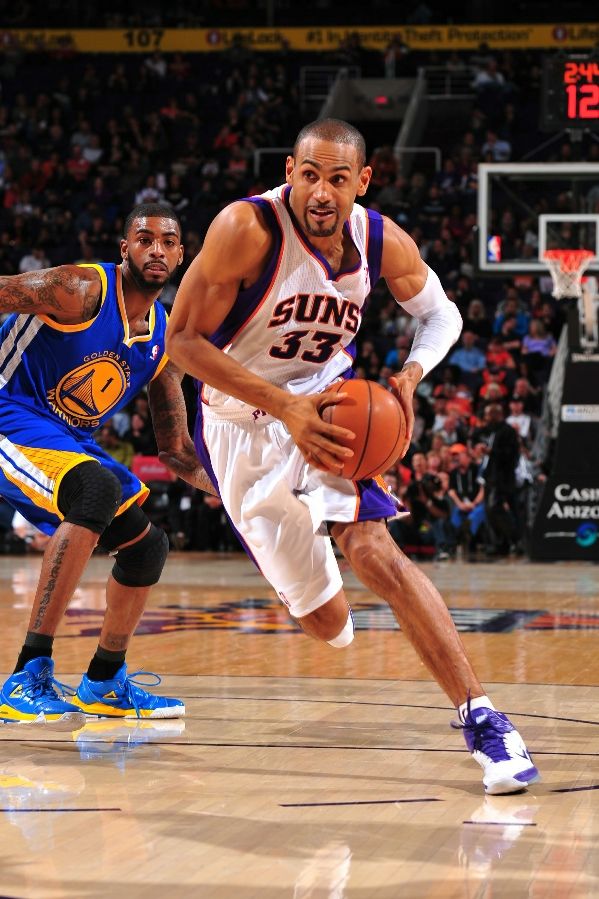 Somehow, Grant Hill is still blowing by defenders; Grant wears the Nike Air Max Hyped, while Dorrell Wright looks on in a Player Exclusive PEAK Team shoe.