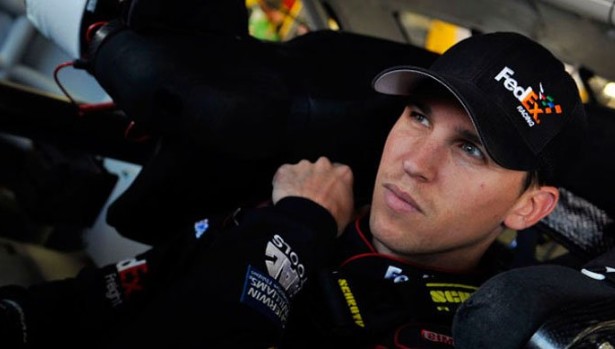 words_Brandon Richard
In a piece of news that is both surprising and intriguing, the Jordan Brand has followed up their December acquisition of Pittsburgh Steelers linebacker LaMarr Woodley by venturing outside of basketball again, inking NASCAR Driver Denny Hamlin to an endorsement deal for the 2011 season.
According to the report from CNBC's Darren Rovell, the deal calls for Hamlin to wear the Jumpman on his uniform belt, back, shoulders and racing gloves. He isn't expected to wear Jordan Brand race shoes, but will wear Jordans off the track.
Perhaps we shouldn't be too surprised about the newest member of Team Jordan. Michael Jordan's infatuation with the speedway is no secret and we're all aware of his Michael Jordan Motorsports motorcycle racing team. The deal is said to have come about from a relationship that has been struck between Jordan and Hamlin.
Hamlin, 30 years old, is from Chesterfield, Virginia. He began driving by racing go-karts at the age of 7 and signed a driver development deal with Joe Gibbs Racing in 2004. In 2006, he was named NASCAR Rookie of the Year, and has won 16 Sprint Cup Series races. Hamlin is coming off the best season of his career, finishing 2nd overall in the Sprint Cup points standings.
via CNBC
image via Denny Hamlin Foundation