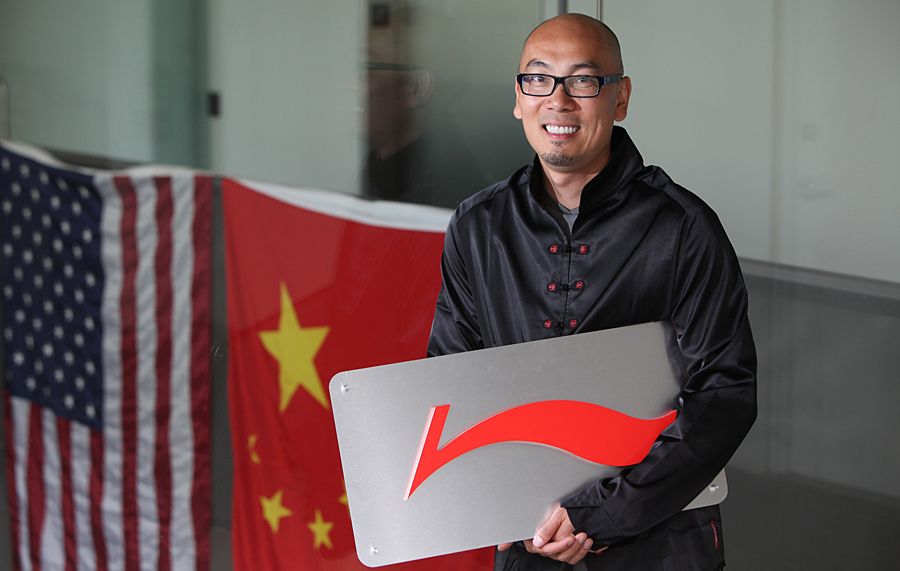 words & interview // Nick DePaula
As published in Issue 35 of Sole Collector Magazine.
As Li-Ning ventured into the U.S. retail marketplace for the first time this fall, the brand didn't merely find its products in two of the biggest American retailers' stockrooms overnight. There's been a strategic plan in place for this moment since nearly the start of the decade, and the man behind much of the company's stateside business planning has been Jay Li, now General Manager of Li-Ning U.S.A.
Jay Li came armed with a deep knowledge of the company's rich history, which he gained at his previous place of employment. His previous place of employment just so happened to be powerhouse New York-based PricewaterhouseCoopers Consulting, where he conveniently led strategy while serving as client manager since 2002 for . . . Li-Ning. He continually impressed company founder Mr. Li Ning and current CEO Mr. Zhang Zhiyong with project planning to the point that he was asked to work directly for the company in a senior executive role. "I'd like to think a lot of the current success of the company had to do with some of the strategies we put together back then," he beams. "You reap the benefits many years later due to properly sowing seeds."
With the brand's sights set firmly on the American market, Jay Li officially joined Li- Ning three years ago and has been leading the company's first-ever U.S.-based office in Portland, Oregon ever since. It's in Portland, also home to the footwear industry's biggest competitors, where he has been wearing multiple hats while leading the advanced footwear team down new roads of innovation as well as setting forth the company's U.S.
business strategy. Since the company's research and design office first opened, it's now taken on the added responsibilities of business planning, public relations, marketing and the soon-to-be newest addition of sports marketing and athlete services. It is also home to the brand's first-ever U.S. retail space, the Li-Ning Portland Showroom.
To further discuss the building blocks that have lead to the brand's U.S. growth and the Portland office's role in that success, Jay Li spoke with Sole Collector at length just weeks after the company's monumental signing of Evan Turner in August, candidly detailing Li-Ning's current place in the basketball landscape, his continual quest for new innovation, and also where Li-Ning is headed in America.
Nick DePaula: When was it decided that Li-Ning would become a more global company and come to the United States?
Jay Li: It's actually two separate questions. Li-Ning wanted to be global, and that was decided many years ago. I believe it started it with the very birth of the company. Mr. Li Ning is extremely well spoken and has a tremendous amount of wisdom as an individual. During the first part of the company's history, the company was compared to Nike a lot. He was in many media interviews, and people would ask him, "You're building China's Nike?" He would always respond by saying, "No, I'm not building China's Nike. I'm building the world's Li-Ning." So, you know that his aspirations were not about copying or emulating the most successful or the currently bigger competitor; it's more about blazing our own trail and creating a very unique sports experience through his brand. The aspiration to be a global brand has always been there since day one. It's just always been about, "Can you actually get it done with the current resources and the current battles that you have to fight?" I believe the company is going through multiple stages of eventually becoming a global company.
I think we started [becoming more global] in the 2002-2004 timeframe when we started to set a strategic plan for the company. Then, we started
associating ourselves with internationally renowned athletes for endorsements, which was a very first for a Chinese company. Today, you can look at Anta and Peak, and they're all doing this, but Li-Ning was the company that started it with a monumental contract with Damon Jones in 2006. This was unheard of. He was a bench player on, at that point, the Cleveland Cavaliers, getting an endorsement contract with a Chinese company, which was monumental. We were that kind of think-outside-of-the-box company that was starting down that path, and we realized that this absolutely was something we had to do to globalize our brand.
We always looked at our globalization as a two-stage event. The first stage is we have to globalize our brand. In other words, everyone has to be aware of your brand, inside China and outside of China, knowing that you have global aspirations and you are being put on by the best athletes in the world in their respective sports. The second stage is you figure out a way to monetize that and naturally have a global business. Today is 2010, and we're probably on the cusp of these two phases right now. We've done a tremendous amount of work in terms of getting our brand to be seen as a global brand, through the Olympics, through our endorsement deals, through very quiet word of mouth and through a tremendous amount of PR that Mr. Li Ning had generated himself, to a point that we can look at that and say, "Ok, where is the opportunity to monetize that? Can we build a global business and be selling our products in the United States and in Europe?"
We are in the transition in between those two phases now, and in some ways, it's almost the most difficult phase, because, as you can see inside of our four walls here, we're a lot smaller here than what a lot of people outside think of us. [laughs] They think, "This is a global Chinese company coming to America," but the reality is that we're still bootstrappers. We realize what we've done is phase one, and now the brand is globally known, so now we're onto phase two, and how do we monetize that, and it's really not that easy for a Chinese company. That's our challenge now.
A big part about coming to the U.S. was also opening the office here in Portland. Why was Portland chosen? Your biggest competitors are right here.
I actually was intimately involved in this decision when I was a consultant, then based in New York. I flew to Portland to meet with Mr. Zhiyong and the delegation. They were here for a few meetings, and during the meetings, the conversation topic of setting up a U.S.-based R&D center came up. It's always been our plan to actually build a product engine that's going to supply the goods and that can make the product global and help to monetize the global brand. The question was not about, "Do we want to do this?" It was, "Yes, we definitely want to do this. Where do we do this?" I remember very vividly the conversation, and we had two finalist cities. We had Portland and we had Boston. [laughs] Naturally, these are the two shoe towns in America, in terms of talent clusters, tradition and heritage. Boston is a much bigger sports town in many ways with the Celtics and Red Sox, but Boston is also four hours farther east. Portland won out eventually because of its relative close proximity to China. We decided on Portland, and I was employee number one here. We set up the corporation, and it eventually grew to the footprint that we have today, so it's pretty exciting. All of this happened just three years ago.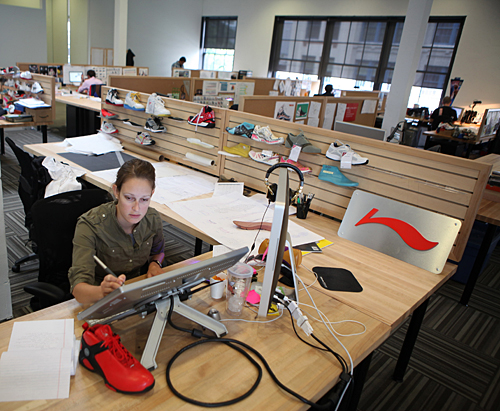 And how many people did you guys have when you opened up?
When I opened up, I had me. [laughs] I was working out of Boyd's Coffee on Flanders and 13th, and that was my office. [laughs] That's where I interviewed the real estate broker for our first office and where I interviewed the first few employees, and then we started operations effectively on January 1, 2008, with three employees, and we started in a little corner office on 10th and Flanders. That was very interesting to be in that kind of environment and then slowly grow the footprint in getting to our new home here.
What was the Portland office initially responsible for?
It was kind of a straightforward charter. The charter was about setting up advanced R and D so we could crank out some world-class product and also be a service point for a lot of our signature athletes. To be able to serve the needs of a Shaquille O'Neal or a Baron Davis of the world with American designers that can have a face-to-face meeting more readily is a huge asset to a Chinese company. It started off very simple, so we set up a team that could start doing advanced R and D and put out some really kick-ass athlete products. Then, it got bigger, and it started to balloon. We started to look at some of the products that were coming out, and we said, "Hey, these are globally viable products. Can we plug some of these into China? Can we get the Training program going from here?" We started to have some Chinese designers then come over and learn under the tutelage of some of the more senior guys here, and vice a versa. We'd send some American designers to China so they can soak in the culture and pick up some of their design language maybe. We started thinking very creatively out of the box about how we can cross-pollinate the two markets. Where we are today is pretty exciting.
How many designers do you have now?
At this office, we have 17 people upstairs, between designers, developers and advanced engineers. In China, we have 48 footwear designers. They're really intermingled and working on initiatives together. Our General Manager for Footwear is a Portland-based hire, and he's traveling back and forth. He relieved me of my last job, when I was the GM of Footwear prior to taking this position. He's now managing the teams on both sides of the ocean, and I think it's a unique setup. Very few companies, big or small, Chinese or international, have that kind of setup, to say, "We recognize our roots in China, but we're also coming to the most advanced market in the world, and we are trying to gather talents from both ends, and while learning the most advanced technologies and shoe design skills, let's not forget about our heritage and where we came from." It's an interesting juxtaposition of the two cultures.
You talked about Damon Jones, and, of course, the following season you signed Shaq. What were some of the learnings you guys got from those first few years that have prepared you to sign more athletes here in the U.S. today?
Initially, we were the pioneers for Chinese companies to start this kind of relationship, and very quickly we realized how big of a service element there is. It's not just about writing a check. [It's about] do you have the right product that you can put on the athlete? Can you make the athletes happy? And then, we very quickly realized, it's one thing to make Damon Jones happy, and it's another thing to make Shaquille happy. [laughs] There's a very clearly defined pecking order within the basketball world, and without those learnings back in the day, we wouldn't be able to pursue a superstar-to-be like Evan Turner today, or even service Baron Davis.
We've learned how to work with them, and how to work with their agent and their entourage of people, and knowing how to create a shoe for them. A lot of it very early in the game was, "Oh, here's a shoe from inline, why don't you just wear it? We'll put your logo on it." Now, we're to a degree where we can actually sit down with Baron way early, 18 months before the start of the season, collaborate and do a sig shoe together. That took a lot of learnings, but we wouldn't have been here if we didn't have Chuck Hayes and Damon Jones back then. At that point, we didn't have a servicing arm, but we had a part-time consultant that was based in New York that was doing all of the servicing. We're building that infrastructure. We're talking about next year, and we'll actually add a sports marketing headcount here in this office, so it becomes more of a full-time thing that can help to service the needs of NBA stars. It's a learning process, but we wouldn't have been here without those earlier deals.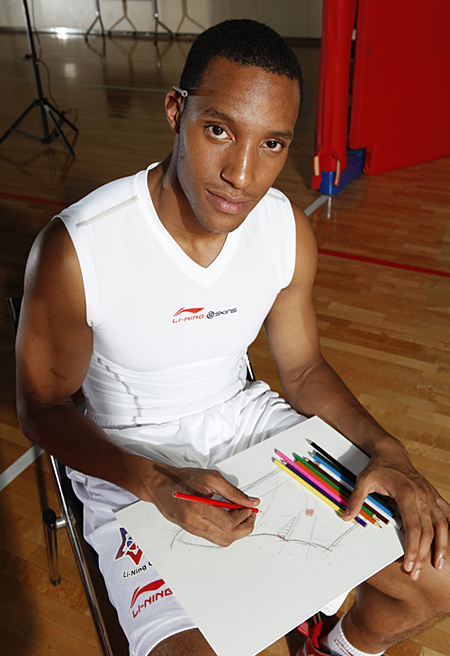 Talk about signing Baron Davis and Evan Turner and how both of those deals even came about.
Before Baron actually signed on, I actually met Baron before, and he came to Portland and wanted to see us. Baron is an extremely unique individual in that he wanted to be involved in the design process earlier. He wanted to feel comfortable with the company that he is working with. He had a not-so-great experience with his previous endorsement deal, and he was very particular about who he would be getting into a partnership with. He flew out here and spent the whole afternoon with us, talking with Eric Miller and myself. Back then, we didn't even have this office; we were still in the old little office. The most interesting thing is Baron walked in, and as small and dilapidated as that building was, it already sent off the vibe that we were onto something great. Baron walked in and said, "Oh, this feels like the Google of footwear." We were like, "Yeah! You hit the nail on the head." That was instrumental in convincing him that he was going to be done justice with this brand and we were going to do the right product for him.
It was the same thing with Evan. Even before the deal was announced, Evan was here in this office, meeting with the designers and the team and just getting comfortable with the people that he'll be working with. Not just the designers, but also the front-end people that will be marketing the product in the States. Having this infrastructure here really helps.
I remember Brian Cupps (Li-Ning Brand Initiatives Director) was joking in New York, before Evan's signing was announced, about how you had to hide him in through the back door because you guys didn't want anyone from Nike or adidas seeing him in town.
Yeah, exactly. We definitely did. And the photo that we actually sent out was taken just downstairs in our retail front.
Now that you have had both Baron and Evan on board for a while, what is the plan for Li-Ning Basketball in the U.S. in the next year from the Portland office's perspective?
What's interesting, if you look at where we are as a company, is the majority of our business is still coming out of China. In my current job, I'm also head of international, and I run all of the business outside of China, which is about one percent of the total revenue. So that tells you how heavily skewed all of the resources are. Everything we do has to be about how we can generate revenue and get a return on investment. Basketball is an extremely interesting category in that although the business is generated out of China, it is heavily influenced by the United States. That's why a brand like Nike can dominate so much. In many ways, it's not just about the product; it's also about the cultural elements that the brand can represent. As much as FIBA and international basketball has evolved, the movers and shakers in the game of basketball are still Americans. The eyes are still on the Dream Team, and it'll continue to be that way with Dream Team 7 and Dream Team 8 in the future. We talk about challengers, but no one is really seriously challenging Team USA when their eyes are on the ball.
For the basketball category, it's very interesting to find out how you balance your return on investment, which is really coming from China currently, with your investment itself, which is in the United States. It's not your traditional model, where you invest X amount of money in marketing, and you reap the benefits out of that right away. It's more like, you invest dollars in marketing in the United States, and how much do you reap the benefits in China? In the meantime, how much does that help our business in terms of growth and traction here in the United States? You almost want to look at a single investment and two different ROIs to see how these two ROIs can be balanced. Brian Cupps is great, and he truly has a world view. He understands the dynamics of the world of basketball and having a team here working with Baron and working with Turner going forward. Also, with additional stars that we're looking to sign, we're doing it both for the benefit of business being generated in China due to these associations and endorsements, but at the same time, helping us get some traction here in the basketball world.
What's interesting is that we're in a completely different position than Nike. Nike's position is it's about Nike first, then LeBron and Kobe second. Nike has such a strong following and such a strong brand presence that it's always about Nike. For Li-Ning, we have to tread that line very lightly, because if we go out there and communicate Li-Ning, the first question that comes out is, "Who?" Versus if you go out and communicate BD, Turner or whoever else comes out of our portfolio of endorsees, then Li-Ning becomes relevant. For us, it's a very delicate balance. It's not all about Evan and it's not all about Baron, and they know that; they are professionals, and nobody has proven that they can be Michael Jordan. Even LeBron. There's a reason why there isn't a Brand LeBron out there, but there's only a Brand Jordan. For us, we almost want to treat Baron Davis and Evan Turner as our Jordan, but we all have to be very careful and very clear about the fact that they are not Jordan and it's still about the brand, and we have to make smart decisions along the way. I think that it's a learning process for us, but we'll eventually get there.
What kind of feedback from the athletes have you gotten, and can you sense an excitement from them now that they have the opportunity to have a more global endorsement as compared to the deals that have been available in the past?
I've had a lot of interaction with Baron, and what I've heard about Evan also is that they're both very unique individuals. Baron is a risktaker. What I heard about Evan is that he is also a risk-taker.
With a very forward-thinking agent.
Yeah, both with very forward-thinking agents! [laughs] One being with Bill Duffy and one with David Falk, and they are the trailblazers. They recognize the opportunity to leave an imprint on something significant. For the players, it's more than about getting the endorsement money, it's more about getting used to the process and can they influence the product creation process and help shape the future of the brand? I believe both guys buy into that, otherwise they wouldn't be signing with us.
Peak and Anta have mainly been signing guys towards the end of their careers. [Note: This interview was conducted prior to PEAK's recent more youthful signings.] Is signing both Hasheem Thabeet and Evan Turner as rookies part of a new brand strategy that you guys are leading here in the U.S. to sign younger players?
Yes. What we're looking at with the competition is, "Been there, done that." You look at Damon and Shaq with us, and KG with Anta, and those
guys have been there and done that. We've done that, and we've definitely learned from that. Shaq is, however, a very unique individual and unique brand. I believe that Shaq is probably the closest thing to Jordan in terms of having longevity beyond his retirement, and he's also got a smart team that's managing that brand very carefully. What's different about him, of course, is that he chooses to go through a very different segment of the market by selling at discount chains and value channels. Nothing wrong with that. But you look at Stephon Marbury choosing to do the same and failing very quickly and very miserably, whereas Shaq has some longevity in that market. You look at where we want our brand to go, and we definitely recognize that we need to skew younger and we need to be with the up-and-rising stars. By doing so, of course you're taking some chances. Hasheem ended up in the Developmental League last season, and even now, he's not the number one center on the team; he's the number three center on the team. But you know what, these are the chances that you take, and you stake your claim on some of the young talent, and you trust your basketball instincts, and you keep working at it and place trust in the athlete. Who knows, Hasheem might have a breakout season this year.
He averaged 15 points, 10 boards and 4 blocks in the D League last year.
Yeah, so you never know; it could definitely happen for him. This is the downside of signing with unknown, unproven stars, but we're going
to get there. Under Armour got there with Brandon Jennings. Are they going to stop, or what's next for Brandon? His style of play is very interesting, though. We were at Bill Duffy's BDA Charity Game in China because Baron was there, and pretty much everyone else was kind of just taking it easy – it's a charity game and nobody wants to get hurt – but Brandon was the only guy really going hard, driving. There's an 18-year-old player on the Chinese National Team that was there, and they were going at each other the whole time. He's a hard-nosed driver, and you've got to love that.
For people that aren't familiar with the Chinese footwear landscape and the brands that are coming to the U.S., where does Li-Ning fit in among those brands in China? I know Peak is also the official NBA partner in China.
We actually were the brand that had the official sponsorship with the NBA first, and after two years, we chose not to renew. We were looking
at it as a return on investment, and our thinking was that we could get more bang for our buck by working with the individual players instead.
I agree with that strategy a lot.
Yeah, and we exited the sponsorship and in turn began partnering with players. Ultimately, unless you can be the official uniform sponsor, being the official sponsor is almost meaningless.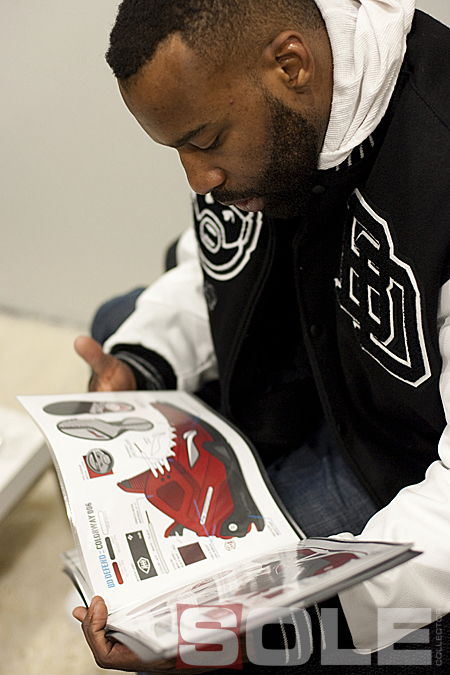 I always argue with friends about those two approaches. Adidas spent $100 million to sponsor the Beijing Olympics, and then Mr. Li Ning lights the final torch himself, and Nike has a monopoly on the Team USA Basketball players. People remember the moments from those events and what the individual players did or were wearing more than whether or not the ref was wearing an official sponsor's branding.
Exactly. Peak is very interesting in China, and Peak made a very strong claim that they are a basketball brand. When you look at the entire product composition, my observation is that Peak is very strongly claiming that they are a basketball brand. Li-Ning has always been a multi-sport brand, and basketball is only but one of our many categories. Anta is striving to be that as well with their sponsorships of the Olympics and the COC and getting into different sports. We're the oldest and the biggest right now, and we clearly watch them and see what they do, and we remain watchful, but we've got to stay focused on us and continue to grow our own business.
Also, I can speculate because I've experienced the pain, but coming to America is not that easy. It's not that easy. Opening up one store is one
thing, and actually having traction here and having recognition and a reputation takes years and years of cultivation. We've been here for three years, and we're just beginning to do more, and for Peak or Anta to rush into this market will be hard, but it depends on what they want to do. The value channel will probably be easier if they want to go there, but I don't think with the kind of money that they spend on sponsorships, they probably don't want to be at the value channel. That's not for us either. We pride ourselves on the craftsmanship, the materials we use and the things that we put into our products.
A lot of people confuse the three brands. How do you plan to differentiate yourselves here as all three are trying to have more
visibility in the U.S. around the same time?
I think it really depends on a couple of things. One is smart marketing and how do the athletes actually perform and how you build a platform around the athletes. Secondarily is through the products themselves. I'm dying to see what kind of products Peak is bringing forward for Ron Artest to be marketed in the United States, or the KG shoe from Anta. I've seen the blogger comments on everything. I think ultimately it's about the product. American consumers are fickle, and basketball consumers are especially fickle. At the same time, they're fair. They're really fair. Get the shoes on them and let them experience it and offer something that's truly unique, and people will come around.
If you recall, AND1 became so big back then because they had a unique product. They were the ones that started the overlasted basketball
look, and they had some smart marketing programs that were very grassroots. Of course, it all fizzled over the last few years, but initially, you look at what they did right, and they did a few things right, and it started with the product. I have confidence in our product. I think our BD Doom and the subsequent Defend & Conquer and the other concepts that these guys are tossing around – the amount of engineering that we put into it is a lot of shoe, and the true ballers will recognize that.
On our Forums, we have an Official Li-Ning Thread, and somebody said, "I wouldn't buy a Li-Ning shoe because Phil Jackson said it was like Ron Artest was wearing boots." That kind of confusion among consumers will be pretty key to overcome.
So he was confusing us with Peak. [laughs] That's tough, but it depends on who is going to eventually break out and be the superstar. Let's
just hypothetically fast forward two years, and Evan Turner becomes the next Scottie Pippen, then everyone is going to remember what shoe he is wearing. Right now, everything is a little muddy, and no Chinese brand has signed a Chris Paul or Dwyane Wade just yet, but it's around
the corner. I think it's around the corner, but someone like KG is not going to be relevant at this point of his career. He's been through three
companies, and as a brand, you have to look at the history of a player and ask yourself, "Do we want to be the fourth brand that will have to pay
huge amounts of money to be the fourth brand in his career?"
Can you talk about the U.S. retail plans for Li-Ning? Champs Sports and Eastbay are so far your biggest partners.
Right now, our priority is to ensure that we continue to get traction in those chains. Starting next year, we'll start looking beyond that, but
right now, and the beginning part of next year, we want to make sure that our partners are reaping the benefits of some of the products
that we have, and we'll put everything that we have into ensuring that our fans rally around to buy the products.

Above: A look at the Li-Ning F2, the brand's foam-based basketball sneaker.
The BD Doom was the first launch, of course, and then the Defend & Conquer will follow that up.
Yeah, the Defend & Conquer will start to arrive in stores beginning in Q4, and then we'll also have the Doom Low going into stores, which is going
to be great. Everything is trending towards lowtop now, and having a performance and also lifestyle shoe that people can rock is going to be cool.
The other thing that we're interested in and will continue to test market is the F2 Foam Frame. We actually presented the F2 to Champs, and
they weren't sure. Most of the mainstream retailers are not big risk takers. They're very safe. But as soon as we leaked the photo of the F2 out, they could see the blogger comments, and it was 100 percent positive. People were saying, "This is how you come to America." We started selling them online ourselves, and we wanted to see how they did, but it's much more of a summer and spring shoe, so when next year comes around, we plan to do something with that whole collection. There will be a follow-up model, and how do we take that and get creative with an alternative distribution model? As soon as the blog comments came out, even Champs came back and said, "We're willing to try it out." We'll definitely be a little more creative in that.
You guys seem to be exploring several different construction methods, and are there key products that you guys already are working on and have targeted in the future to launch new approaches?
Absolutely. There's further concepts, and not just on the F2 Foam Frame, but also further concepts down the road around the overall construction
of a shoe. We're actually challenging our designers. If you look at the F2, what's interesting is not only the shoe, but how that shoe is made, and we're challenging the very notion of what a performance product can be. That's only step one in pushing the envelope. Without revealing too many secrets, we have some major plans to be debuted during the 2012 London Olympics to debut a new concept for performance shoes. For us, it's all about the product, and if you can continue to invest in R and D and invest in coming up with new product, new construction and challenge the shoemaking convention, eventually people will remember you. They will recognize you not as a pretender, but as someone for real. The worst trap we can get into is to follow an uninspired path, which is sign a big endorsement, put a so-so shoe on him, and sell it for cheap. Can we sell a ton of $50 BD shoes? Absolutely we can, and we can probably do a lot better than a $99 BD Doom, but that's not where we're wanting to go. The F2 is $60, but we can justify that because of the new construction. We're still in the concept stage with the F2, and you can even see with the packaging that we're wanting to create a whole different experience. To be honest with you, we haven't gotten everything lined up just right with it, but we
have the product right, the packaging right, and we still need to figure out the retail component strategy for the F2. We even brainstormed things
like maybe working with a vending machine company. [laughs] For people to drop $65 in a vending machine is still pretty far-fetched. But those are the types of innovations and brainstorming that we're always thinking about to try and get ahead of the ballgame.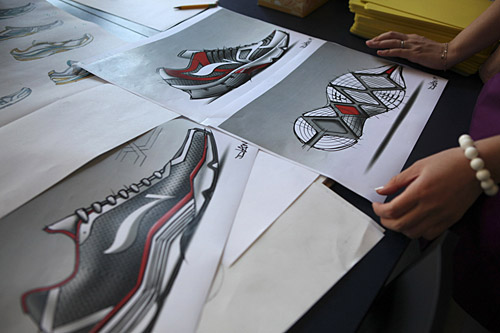 The F2 approach is also being carried over into Running and Training. Basketball has been the key category so far for Li-Ning here in the U.S., but is the long-term plan from the Portland office to have a multi-category presence here?
Right now we're in four sports. We're in basketball, running, badminton and table tennis. Badminton and table tennis are much more specialty, and they're definitely not mass-market products. Basketball is obviously starting with Champs and Eastbay, and [we] expect to see our Running products in specialty running shops in the fourth quarter of this year. We're going to start slow there, and start with two products, or maybe even just one product. Running is a completely different crowd than basketball, but they're equally fickle, and they'll complain about the tightness of the toebox or a heel cup. We want to tweak the product to get it just right for the running specialty stores and appeal to the high-end runners, and it may take us a few years to get there, but we're meticulous enough to work on that.
That is certainly the most loyal and discerning of all footwear groups.
Yeah, and you know what, Nike makes a ton of money in running, but Nike is not making any money off of that group. You go in there, and
Nike is third, fourth or fifth on the list of choices, and people will go to Asics, New Balance, Saucony or Brooks before they even think about Nike. We hope to start to chip away over there and build a following over there.
Three to five years from now, what do you think success for Li-Ning here in the U.S. for the near term will be?
Success in the next couple of years for me is the back of house. The front of the house is still easy, and as difficult as it is to create a strong association of your brand with the product and your marketing strategy, that is still the easier part. The more difficult part is having to build a global supply chain. How do you get the products here on time? How can you be smart about duty engineering? Those are all symbols of a
global company, and we are currently not set up as a global company to be able to do that effectively from just this office. The next three to five years, that's the huge challenge. The front end, I'm not that worried, because if we continue to sign players like Evan and Baron, we're going to get there. We signed Asafa Powell, we signed the American Diving Team, and all of these things are chipping away at creating the overall prestige around the brand.
Sooner or later, multiple retailers are going to be knocking at our door. We have to solve the supply chain problem; we have to solve the product engine, delivery, pricing; and we have lots of things to solve in the back of house. If you think about it, the company is 99 percent about China, so all of the fine-tuning and optimization is done to supply business in China. For them to supply a Champs store, and for the whole back end of the product chain to supply a specialty running store is like pulling teeth. It's not because they're not willing; the machine is just programmed [in] such a way now, and we're trying to go a different direction here. For us, the challenge is, without disrupting that engine, to build a small engine and get that engine to be a little bigger and then start to supply the business over here. Marketing is difficult, but that's the easier part.
So the Portland office will continually get to be even bigger?
I hope so. That's my plan. Right now, our global footprint is that we have a U.S. subsidiary, we have a Singapore subsidiary, we have a licensee
in Spain that is focusing on all of the southern Europe market with Spain and Portugal, and we have the team in Beijing that's creating the global supply chain on the back end. People have a hard time naming a Chinese global brand, and we hope that we can be one of them.