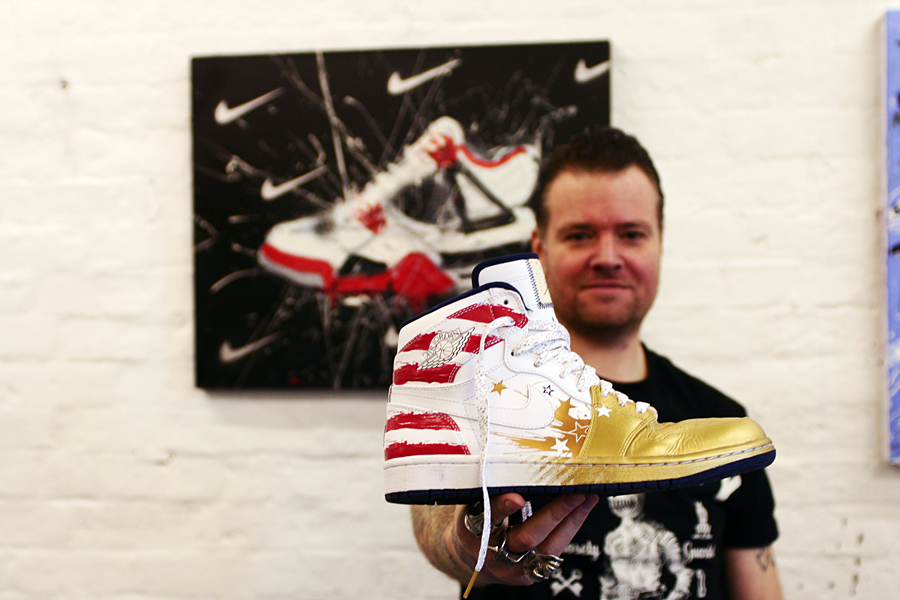 interview by Brian Edbury
images by James Boughton
For a chance to bid on these limited-edition Air Jordan I shoes, click here.

If you've been paying attention to the sneaker world for long, you're probably already familiar with Dave White. Inspired by his love of kicks, this UK artist has been creating sneaker-related art for years. Thanks to this artwork, and his work with Nike, including the recent Size? Air Stab collaboration, he's become a favorite amongst sneakerheads. But after years of painting pictures of shoes, he's teamed up with Jordan Brand for a very special project where he's gotten the opportunity to paint on them. Here is Dave's take on how the project came to be, what it's like to work on something he's so passionate about, and why the cause it's going towards is so important to him.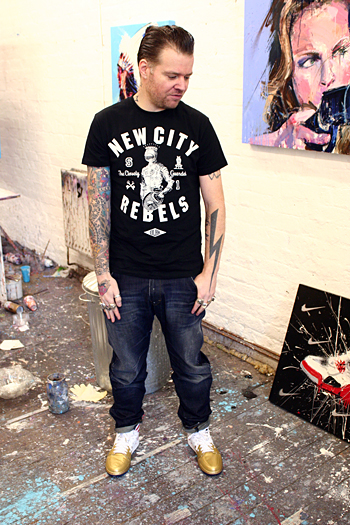 Brian Edbury: How did you become involved in this project and how far back did it begin?
Dave White: Dave Frank, the Jordan Brand Art Director, phoned me out of the blue way back in 2008 to tell me he loved my work and wanted to work together on a collaboration. Since then it's been a logical development of a relationship. It's a crazy honour and a mad delight to be working with Nike and Jordan Brand. I never, ever had a game plan to get here; it's just how it panned out. Working with Jordan has been such an amazing experience and a dream collaboration. Back in 2002 when I started painting sneakers, I never dreamed I would be doing this, and especially on such a bespoke project.

Why was the Air Jordan I chosen? Did the brand have that in mind because it was the model that debuted the "Wings" Logo? Or is it a personal favourite of yours, Dave?
From our early discussions, it was clear that Jordan Brand wanted me to do something with the Air Jordan I – during the planning stages the Jordan I anniversary was coming up. Plus, I'm really pleased we went with this shoe because it's a great blank canvas with a lot of space to work with.

Tell us more about the journey to end up with the final product.
What I wanted to do was create something that was not going to veer off from the beaten track too much. I'm very much a purist when it comes to Jordans and colorways. I wanted to keep it very much black, white, red and grey. What I came up with was the whole instinctual paint splat thing that I'm known for and instantaneously have a nod to what I do show on the shoe. I wanted to create something that looked animated, but without being played in or moved in, and I was very passionate about putting that in there.

Can you detail the many particulars of the early samples and talk about the inspiration and back story behind your designs?
I submitted four designs overall; some things I wanted to do didn't make the cut, but a lot got signed off. The first run samples don't show the true colours – these were Varsity Red, but ended up being a much more vibrant fire red. I was very passionate about putting Cement print that in there. Regardless of how much it's been used by Nike and Jordan, it's still such a special material to me that I had to include it. We went with hits of high-grade canvas on the tongue, on the inner sole and sock liner, which obviously harks back to the material I work on.

We were pushing ideas as hard as we could, and as technology evolves more things become a reality, such as matching the print on the upper to the print on the midsole, which just wasn't available a few years back. The print on the side is very tonal, but also makes it look animated. The stars connect back to me; I have always used them in my work since the very beginning.

Ok let's take a closer look at . . . the All-Star auction shoe.
23 pairs. These will be auctioned at the NBA All-Star weekend in L.A. That aside, the cause is more important than the shoe. All the proceeds from that will go directly to Jordan Brand's corporate responsibility program, WINGS for the Future and Inglewood High School in Los Angeles.

I wanted to create something that was exploding and moving and was completely animated. Something like this was always in my mind. The U.S. flag, and loving the Harlem Globetrotters as a kid were a big influence. I love the way the toe looks like it's been dipped in paint.

It's got that look of a winning shoe.

Yeah, you can imagine Jordan athletes on the Dream Team wearing the shoe on the podium, collecting gold medals.
The red stripes – my actual brush strokes – are printed onto the leather, then paint has been added paint to each shoe by hand to build up a texture. This way each shoe will be slightly different and unique, which is a really nice touch that harks back to the individuality of my paintings.

Again, high-grade canvas was used, and the speckled laces with the WINGS for the Future logo are a nice touch with additional detail by the aglets.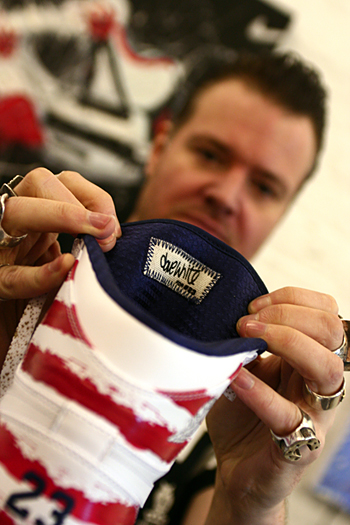 Was being so far away from the Jordan guys a problem?
The process has been long, but such a pleasant one. Working with D'Wayne [Edwards], Brandis [Russell] and Dave [Frank] has been amazing. The distance is crazy, but we've overcome it with lots and lots of conference calls.
Are there any other favourite materials or elements that you wanted to use but couldn't?
I guess I'm older and wiser now, so happy that just enough was put into the shoe without going crazy with the materials.

Such a special shoe deserves special packaging.

The box and packaging we are going to use is the highest grade. I have been allowed to interpret the Jordan Wings logo in my own style – my own version, which is crazy! This will be embossed onto the boxes and UV printed, the colours will tie back to the original Air Jordan I boxes. There will also be an apparel tie in, a very limited run of T-shirts based on my version of the WINGS logo.

Earlier you mentioned Inglewood High; can you explain more about what the charity is doing here?
The Jordan Brand WINGS for the Future program, formally known as Jordan Fundamentals, is a charity outlet. One of the things it works towards is to help fund school programs and initiatives with need. All of the Jordan team are going in and working with the kids, ripping up the old basketball court and building a new one. They're getting new studio Macs, the footwear designers are going in, apparel designers are going in, and there's no other reason they are doing this other than to support such an amazing cause. It's pure giving, and I'm delighted to be involved with that.

I'm working with 10 students and their art teacher. Just before you get to the basketball court outside, there's a wall about 10-foot by 7-foot, where I will be working with these kids on a mural. I will be there advising and helping a bit, but it's their wall we are looking to create. This wall will encompass the dynamism of sport and dynamism of basketball and spirit of friendship and winning. I tell you what's incredible, I have been working with these kids, with emails to them and their art teacher, and their enthusiasm and vigour is amazing. I have seen samples of their work; some of the kids are good at tones, some good with live, so the beautiful thing is when everyone works together, it's going to be amazing. I'm a very firm believer in doing that kind of work. I just love doing it; it gives me so much pleasure. I even said to Dave [Frank] [that] working with these kids and giving something back of that magnitude is better than working on the shoes.