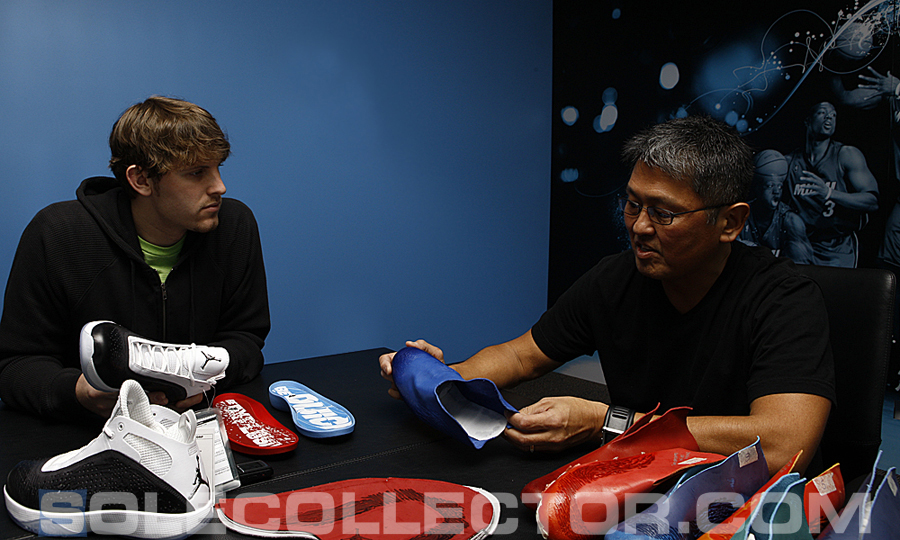 words // Nick DePaula
photography // Zac Dubasik
After diving into the design of the Air Jordan 2011 with Jordan Senior Footwear Designer Tom Luedecke yesterday, today we have a detailed look at the development and engineering side of the process. Real technical stuff, so be warned.
Sole Collector spoke with Jordan Footwear Developer Craig Nomi this past December to talk mostly all about the two biggest stories on the Air Jordan 2011. Namely, the dual sockliner modular system and the hand-burnished one-piece leather overlay along the upper. And yes, we touched on every possible other detail too. Enjoy.
Nick DePaula: What was the initial brief for developing these two cushioning platforms for one shoe?
Craig Nomi: Based on Tinker's guidance, we wanted to re-establish ourselves in the performance realm. This modular story of being able to provide two different technologies in one shoe, it's been bounced around Nike for a long time. There have been attempts at it in the past, but I think we're the first ones that have been able to bring it to market. There's basically two different technologies for two different types of players. We have a Zoom carrier and then we have a dot-welled Air application as well.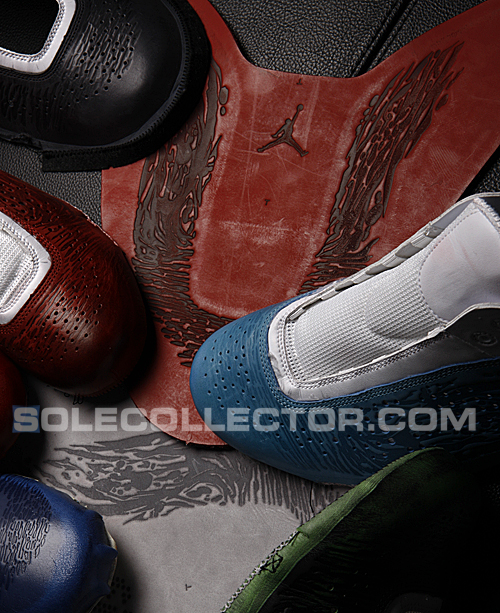 NDP: Would different players be better suited for what you guys have coined the Quick and Explosive options?
I don't want to typecast any players, but it depends on the player's game. If comfort is more of a thing or if speed is more of a preference, whether it's lateral, vertical or direct, straight down the court speed. Weight-wise, there's a negligible difference, and they're pretty close to one another. At the end of the day, there are definitely two very different performance characteristics.

Other than the Air units, they look similar, but they are actually two different materials. There's one type of Phylon, and then a different grade of Phylon. The consumer will open the box and they'll get one shoe with one sockliner in it, and then the other shoe will have the other sockliner in it. At retail, they'll be able to put it on, walk around and pick which one they like better.

NDP: How long ago did you guys begin the entire process, and was it different than previous game shoe timelines?
We had less time, but it was still about twelve months, roughly. Quite honestly, this whole material concept didn't really gel for us until around September. We had the concept, we had the construct, the modularity and the aesthetic, but this main layer didn't manifest itself til almost the end.
NDP: Was that just a matter of sourcing the right materials along the way, or was it something that was just added to the shoe that late?
It's just that we didn't know what we didn't know. We didn't know what we had until we started to play around. Unfortunately, you can't really see it as well on the black version, but when you get to the reds and some others, basically it's a dress shoe leather. You've seen Cole Haans use materials like this, and actually, that's where it started, was with a few Cole Haan shoes. It started with a Cole Haan shoe that Smitty [Mark Smith] had, and basically, we wanted to try and mimic what they were trying to do with the burnishing and the two-toned aspect of a dress shoe. Unfortunately, we couldn't use the Cole Haan material, because I guess it wasn't approved for Nike, which is funny since Nike owns Cole Haan. [laughs] So we had to go out and find our own.
This vendor that we found, has actually been making this dress shoe leather for years and years now, but nobody in the athletic industry had ever adopted it. A.) It's probably more expensive than they could afford. B.) To do this burnishing detail on every single shoe, a worker has to basically touch each shoe. Each shoe is going to be unique to itself. It's all hand done. The worker gets the upper, and they're taking it on a burnishing wheel and taking off the wax finish, and it's a two layer finish. With colors like red and green, you can really see a difference, and the base layer is a different color than the top layer. The top layer is just a pigmented wax, and the burnishing process takes off that top layer of wax. The heat press gives off that burn on the graphic detail, just because the heat, temperature and leather react and give you this nice color differentiation. The shiny to matte to shiny finish is all done by hand.

Above: A look at a "For The Love Of The Game" Cole Haan sample from last August, featuring a similar hand-burnished color treatment along the toe.


NDP: As a more expensive leather, did you guys find through performance testing that there was also more hold? How did it compare from a performance standpoint to leathers that are more often seen in footwear?
Performance wise, leather is pretty consistent, and it doesn't really matter what grade of leather. How we built the shoe is a little bit different, because we're using a few different reinforcers that we're also now adopting throughout the brand into other shoes. Before, we might've used a canvas or a nylon to reinforce the leather, but now, there's a thin, strong resin that you'll see underneath. Once you heat it up, it becomes really rigid, but without sacrificing the texture of the leather above it. Because it's a dress shoe leather, it does have a fair amount of oil content in it, to give it it's suppleness, but the wax is what gives you that difference in color, so you can really see that color shift in a number of these.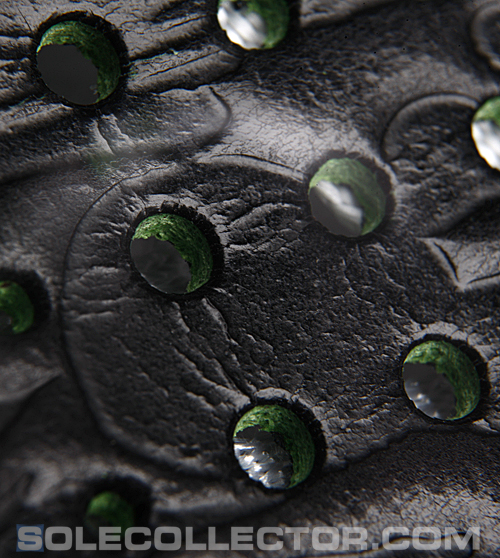 ZD: Is this the form that it's in right here [grabs retail sample] once the finish is applied?
The process is, the leather comes into the factory and it's cut, perfed and in its raw state. The factory will assemble the entire shoe before they add this last piece. We tried to finish it while already on the shoe, but the worker couldn't get enough leverage on the piece of leather. The last has to be in the shoe to give the worker some type of form to work with. We had people from the factory here just last week [at the start of December] to further understand the process. ... The shoes will definitely have similarity, but each will be unique.
I think that's one of the things that Tinker was trying to really drive home. Performance first, and something unexpected that we haven't done before, even in Jordan. It's not something that's easy to do, because it is so labor intensive. There is the material cost, but it's just a matter of time for these guys to have to deal with each pair at the factory. I think we got it down to about 60-90 seconds per shoe at the factory level, but that's for every half pair that it takes that long. ... But, hopefully that's going to transpire into the message going out there that these are really handcrafted.
There's literature in the box that details that this is a natural leather and that these are handcrafted and you should treat it a certain way. We've really tried to tell our consumer that this is something different that they haven't seen before. It's not an athletic leather, it's definitely more of a dress shoe, and we're hoping that resonates. When you see it, you kind of look at it and begin to investigate, because it really is different. When you see the red version and some energy colors that we have coming out, when you see a big difference in the greens along the leather turning to a black, it really stands out.
ZD: Since they're all done by hand, they'll definitely have a bit of a different finish for each one?
They are going to be unique. There's no question. Even on a match pair, you'll see subtle differences between the two shoes, which is part of the story as well.
NDP: To go back to the modular platform, the Air Jordan 2010 had a bottom-loaded Zoom bag --
Correct.
NDP: In building these two sockliner units, did you guys talk about different configurations and different cushioning units altogether? Did you look at the bottom-loaded Zoom that we saw last year?
Yeah, I think the limitation became how to make this structure work and function as a unit once inside the shoe, as opposed to just being a sockliner that you could feel moving around. The last thing that I wanted to do was have the sockliners moving around and compromise performance. The majority of all of the testing that we did up front was to make sure that the idea was even a stable platform and that our guys could play in it without feeling like there was any movement. You could go all the way back to GP with his second-skin Morph shoe, and that was a different concept with a shoe-within-a-shoe, and this is a shoe with two different carriers, but we wanted to look at our experiences in the past and make sure the interface between the two components was stable, and that was really critical. We also wanted to make sure it didn't look huge, so we had to do a new last for this as well, revise the current last and modify it so that the sockliner could function as one piece. The first prototypes, believe me… [laughs] They were huge. It took a lot of refinement.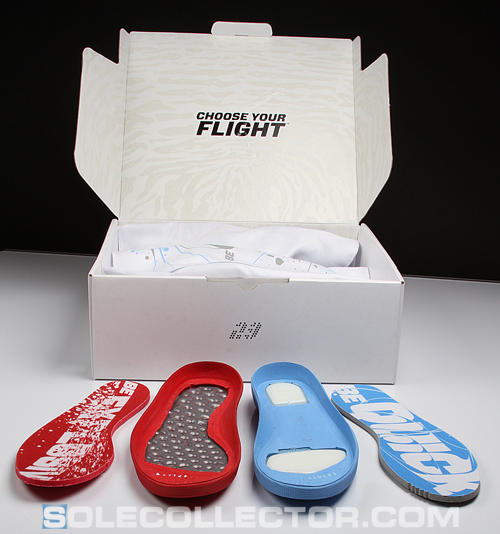 NDP: The midsole is definitely still pretty substantial. How low does the carrier sit and are the heights around normal?
The external midsole is approximately 2.5 mm thick in cross-section, and it's really just a shell. But it's a functional shell, because it provides some buffering from the floor up. The unit as a whole really performs based on the cushioning you choose. We chose not to bottom-load it, because we wanted to protect the bag and we wanted the bag to be closer to the foot in this case. We were fearful that if we bottom-loaded the bags in this instance, if players do take these sockliners in and out, there's a chance that you might harm the unit from all of the movement in and out. This is a safer way to go, and I think we're finding out that Zoom right beneath the foot is probably preferred in general.
NDP: It's certainly tough to beat.
We're definitely finding that even the full-length encap Air bag that we're using is still one of Nike's best technologies as far as comfort is concerned. In terms of heights, if you put the whole package together, we're right at the industry standard of 20/ 10 mm.
[Note: That's 20mm in the heel, and 10mm in the forefoot.]
That was the whole goal, to make it just like our normal QF-8 [last] shoes and a regular basketball shoe. The units are 6mm each.
ZD: Is part of the collar's mesh design to allow for some flexibility to get the sockliner in and out?
There wasn't actually any correlation there. That was just Tinker wanting this iconic, clean look on the court. When you see the shoe on the court, and when we first tested it, we saw the shoe, and if there was a Hyperfuse or something else on the court, it really stood out. That was a conscious decision on our part. ... That's just part of that dress shoe mentality, to try and get that clean, finished look. It does hearken back to the XI a bit, and I think there are some similarities there, but it bridges that dress shoe, work shoe gap.
NDP: Was it a challenge to get the shape of the sockliner to where it could fit in and out easily, but not move around inside?
Yeah, and the texture that's on there helps. That was incorporated into it to better sync up with the internal construction of the shoe. Really, the texture of the textile on the strobel functions as a buffer in there, so there's some friction involved. We did have some versions early on that didn't have any texture, and the main challenge there was audible squeaking. When the guys were wearing it, you could hear the foam between the upper and the midsole rubbing and squeaking. That was the first or second wear-test, and we knew to correct that right from the start.
NDP: How long ago did the wear-test program start out on this shoe, and did you notice certain styles of play or sizes of player start to gravitate towards one sockliner or the other?
I think we went through seven or eight rounds of testing, and we just went through the last round, where we pulled some shoes from production and tested them again. Every step of the way, we did make improvement. Probably around the fourth or fifth round, we determined the correct materials for the "Quick" sockliner. We were using Injection Phylon at the start, and we ended up in compression Phylon, just because we could control the hardness better with compression molded Phylon than we could with injection. Performance wise, we were still pretty much working with the same shoe, but if we didn't control that hardness, you could get one pair with sockliners feeling slightly different than each other, and we're definitely much better off where we landed. We used Cushlon for the "Explosive" sockliner, and there's almost a ten point difference in hardness between the two. The whole experience is going to be interesting at retail, because you'll open the box and have one of each in the shoe, and then the extra sockliners in their own bag, housed inside of the box.

NDP: With the XX1 and XX2, "Interchangeable IPS" was the terminology that you guys used. Is there a term you guys are using for this system?
I don't really think we're calling it anything other than just a modular system. We didn't patent or trademark a name for the technology. In the box, there's a pictogram of how to use each one, so the consumer will have the entire experience. And if the retailer or a sales associate doesn't know what's going on, they can look at that card and learn all about it. It's not the easiest thing to get in and out of the shoe, and that was part of our struggle too. Do we put a tab on it? We were looking at some other stuff, but it was just getting so complicated.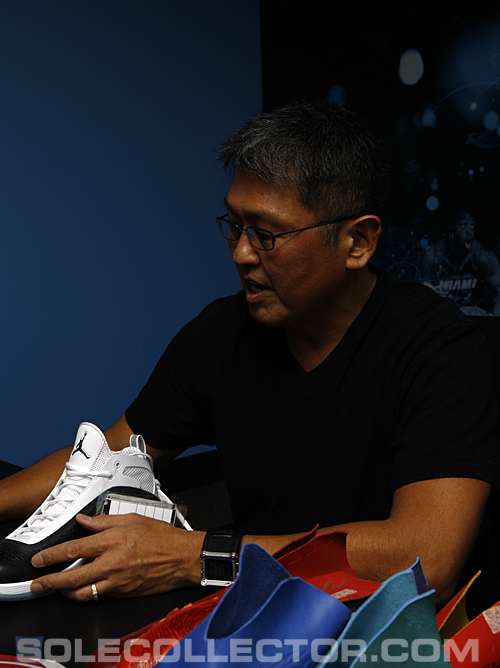 NDP: If it's too easy to get in and out, then it might also be sliding around while you're wearing it.
Exactly.
ZD: My orthotics when I first got them had just a regular foam bottom and they would slide a little bit, so they re-worked them for me and put this non-stick rubber on the bottom of them -- Oh my god they're hard to get in and out. I basically have to jam it in half, get the heel centered and then roll it all into the shoe. [laughs]
NDP: That's a good segueway too, because I was going to ask about people that play in orthotics.
Initially, it was going to be one whole unit. Then, the orthotic discussion came up, and we said, "This has to be just like a regular shoe." So, the top sockliner comes out, so that guys with orthotics can put them in. Now, not everyone's insert is going to fit in here, like with a lot of shoes, but we do our best from that standpoint.
ZD: With the 2010, 2010 Team, and a lot of other recent Jordan Brand shoes, they've used the molded notch in the collar to help stabilize the heel. How come you guys didn't use that here? Was that because of the inner sleeve?
It's just the nature of the design. Because of the full bootie and the free-floating shell, we tried to add that in and it just didn't make sense. We couldn't get them in the right position without adjusting the bootie package for the sockliner to work. We wanted to keep in mind the ease of entry and make it fit like a glove, and adding those notches would've made it a bit more complicated. It's something that's been consistent through our performance shoes and you'll see that in a lot of our other shoes.
NDP: Where'd the 2011 shape up weight wise? Last year was 15 ounces.
You know, we were right at 14.9 in size 9.

NDP: Well, I'm excited to play in it. I really liked the 2010 last year. Did you have a different material in mind, if the leather wasn't going to work out?
Oh yeah. We had to. But most of the samples are sitting in my office, so there hasn't been a chance for anything to leak out since we really didn't have that much.

NDP: Or somebody would've been knocking at your desk.
[everyone laughs]
Yeah! And it's gonna be hard for people to knock it off too, because it's not an easy process. They're probably going to sublimate it, and I don't know how they're going to try and knock it off. I can't see how they'll do it.

ZD: Now that I think about it, when you were talking about the Cole Haan shoes that had a similar treated leather, we saw those back in August at the World Basketball Festival didn't we?
NDP: Yeah, it was in the set that was on display at Atmos that Mark [Smith] did.
Yeah, that was them.

ZD: It's pretty cool to think about it now, and how that was a hint back then.
Once you see the green to black colorway though, you can really see the shift.
NDP: I guess that was Mark's "Gotcha!" moment.