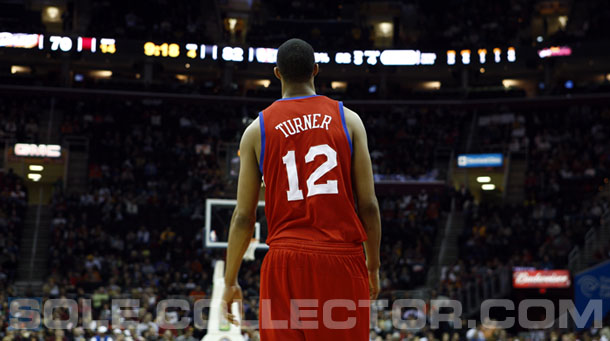 words & images // Zac Dubasik
From strictly a numbers standpoint, it'd be fair to say that Evan Turner's career is off to a slow start. His 7.2 PPG and 4.4 RPG averages certainly aren't setting the world on fire. And moving away from the numbers, he isn't even showing up often in the nightly highlight reels. But in the bigger picture, he's becoming more and more of a contributor to the 76ers rotation, and playing a meaningful role in their playoff contention.
It's that bigger picture that Turner seems to have a solid grasp on. When he needed to stick around for an extra year in college, he put in the work to become National Player of the Year that final season. Rather than signing with one of the established U.S. footwear giants, he chose to go with one that would give him the most exposure in the world's largest emerging basketball market. And rather than getting discouraged that he isn't an overnight superstar in the NBA, he seems comfortable taking a slow and steady approach, confident that he'll be that much better for it in the long run.
Prior to the 76ers defeat of the Cavs on Sunday night, I sat down for a talk with Turner. It just so happened that this was his first night playing in Li-Ning's newest hoops model, the Brass Monkey. After being with Turner in China last summer, and seeing renderings for his colorway of this shoe, it seemed like a perfect time to catch up.
Zac Dubasik: You've had some struggles so far this season. What's your take on how the season has been going?
Evan Turner: It's been going pretty well I think. We are at .500 now and in playoff contention. I've had good and bad times, but I think I've learned a lot. And that's how a first year should go. You're going to have your bumps and your bruises, but I think everything is going pretty well.
Have you changed up any of your routines, or worked on any particular adjustments that you've found helpful?
No, I've just been doing my usual stuff to tell you the truth. I've just been preparing the same way I've always been. And I've just been focusing on being patient.
Obviously the big goal for the rest of the season is for you guys to make the playoffs. How do you like your chances?
The chances are great. The last 40 games, we've gone like 24-and-16. We are one of the hottest teams in the League right now. Some games we've lost in the past were definitely winnable games. Obviously it takes time to put things together and learn how to play as a unit, and that's what we've been doing.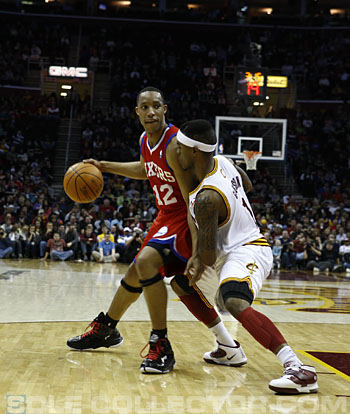 What about personal goals? Have you set any benchmarks that you're working towards?
I want to just keep working towards getting close to a double-double every game – rebounds and points, and then get a few assists. I just want to come in and help spark the team like we've been doing.
I've really noticed that you are a willing participant on the defensive end of the game, and that's not something that necessarily shows up in the box scores.
Most definitely. I try to go out there and play the whole game, and do everything else. One thing I've been knocked for is that people aren't seeing me get many shots, or many buckets. But I think I'm playing great all-around games, and showing that I can play ball. I think that's going to build for the long term.
I'm sure it's tough during your own season, but have you had a chance to follow Ohio State much?
I definitely check out the box scores, and watch when I can. I always have confidence that the game is in the bag when they're playing. They are doing well, and it's a testament to the coaches and veterans there. The young players are coming in, and following the right lead.
How do you think they are shaping up heading into the tournament? Are there any teams you have your eye on that would be a big challenge for them?
I like their chances better now that they've lost a few games and got that out of the way. I think they should take care of business; they're clicking on all cylinders. I think Texas is a great team, and so is Kansas, but other than that, I think they have a good chance.
How have things been with Li-Ning, and how'd you like playing in the Defend and Conquers so far?
They've been working well for me. I like the shoes that they make, and it's been going well.
And tonight is your first time in the Brass Monkeys.
Yeah, it's my first time playing a game in them.
What do you think so far?
They're definitely higher. They feel good, and they fit the shape of my foot right.
There's so much talk about the potential for a lockout next season. Is that something you've put much thought into, and have you done anything to prepare?
Financially I've been planning for it. But I just figure if there's going to be a lockout, I'll just finish up my last year of college. And I'll keep working on my game.