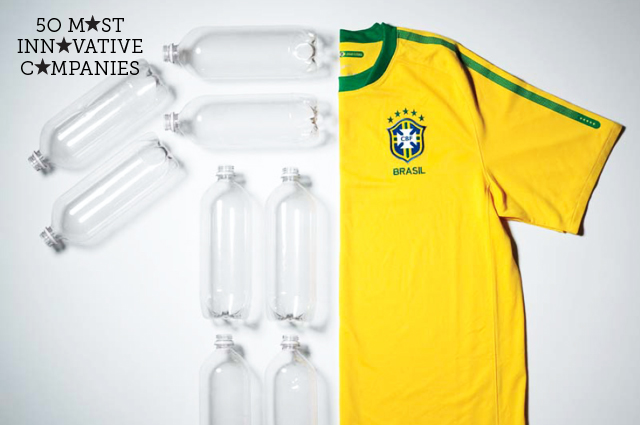 words // Nick DePaula
Fast Company recently unveiled their newest list that ranks "The World's 50 Most Innovative Companies," and in it we see just one familiar name from the footwear industry.
In a list that includes an amalgamation of tech companies like Apple and Microsoft and social media platforms like Twitter and Facebook, Nike Inc. is the only footwear company to earn a slot on the annually released list. Although a noticeable drop from last year's 13th-place rank on the same list, Fast Company ranks Nike as the 23rd Most Innovative Company in 2011.
While we may often cite the brand's performance innovations such as Zoom Air or the company's progressive designs and construction methods, Fast Company felt Nike deserved its ranking this year for its continued Considered efforts. Namely, the way in which they manufactured last summer's World Cup uniforms. "Nike rescued 13 million used plastic bottles, melted them down, and wove them into polyester," writes Fast Company. "Then, they created high-performance jerseys (eight bottles per shirt) worn by nine teams during last summer's World Cup."
For a full list of "The World's 50 Most Innovative Companies," check out the Fast Company website.
Here's a look at the Top Ten:
The World's Most Innovative Companies 2011
1. APPLE

For dominating the business landscape, in 101 ways

2. TWITTER

For five years of explosive growth that have redefined communication

3. FACEBOOK

For 600 million users, despite Hollywood

4. NISSAN

For creating the Leaf, the first mass- market all- electric car

5. GROUPON

For reinvigorating retail -- and turning down $6 billion.

6. GOOGLE

For instantly upgrading the search experience

7. DAWNING INFORMATION INDUSTRY

For building the world's fastest supercomputer

8. NETFLIX

For streaming itself into a $9 billion powerhouse (and crushing Blockbuster)

9. ZYNGA

For being the $500 million alpha dog of social gaming

10. EPOCRATES

For giving doctors and nurses instant drug reference