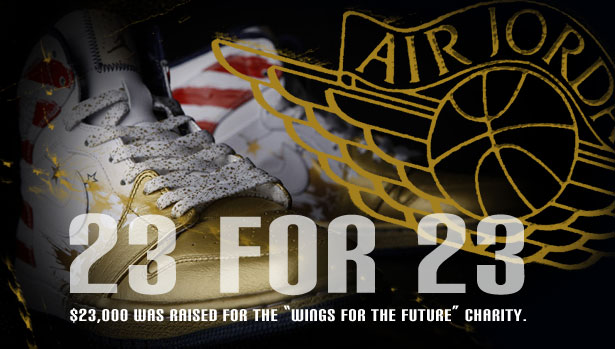 Last week, Sole Collector officially launched the Air Jordan I Retro DW Auction, with all proceeds benefiting the brand new Jordan WINGS for the Future program. WINGS is a self-funded venture by the Jordan Brand that aims to give back more than the company ever has. The program is rooted in three core principles that will be a part of each project they're involved in; education, sport and creativity. Each of those principles was on display as WINGS worked closely with Inglewood High School in Los Angeles, California.
For the education portion of WINGS' project with Inglewood High, they hosted an essay contest, funded one college application for every senior, donated10 Macs for the school's graphics lab and 10 PCs for the senior class. The sport element included the refurbishing of six outdoor basketball courts at the school, as well as giving the students an opportunity to meet and work with Jordan Brand athletes. Lastly, the creativity pillar consisted of a t-shirt design contest and involvement with UK artist Dave White on a set of murals that will be displayed on school grounds.
Speaking of Dave White, it was he who helped make the Air Jordan I Retro I DW Charity Auctions possible. Teaming up with the Jordan Brand, the acclaimed artist from Liverpool lended his brilliance to the silhouette of the Air Jordan I Retro for a limited run of 23 specially designed pairs that would be auctioned off to help launch WINGS. The shoe, which was partially inspired by the United States flag and Harlem Globetrotters, features premium construction and a signature custom Dave White paint job. Custom packaging was also provided with each pair.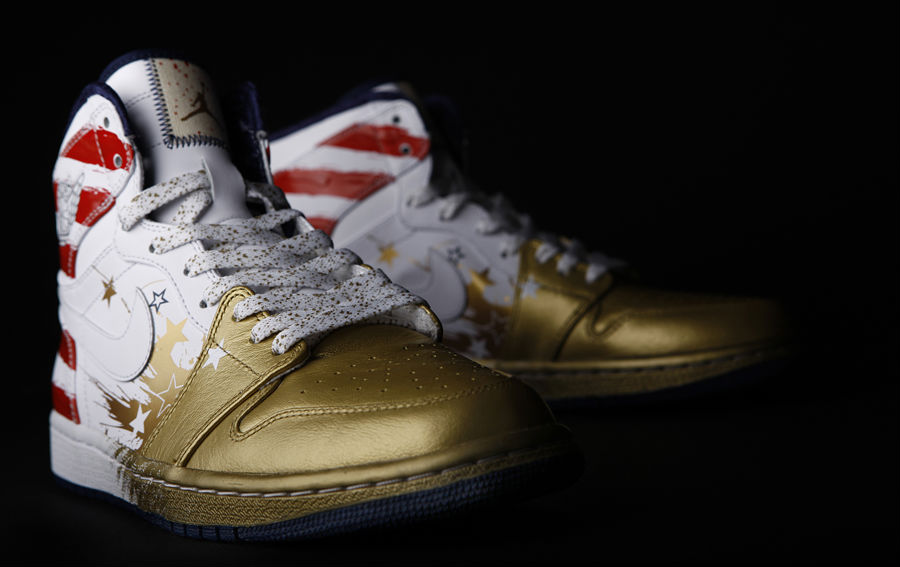 The auction site was the brainchild of Sole Collector CEO Steve Mullholand and software developer Stuart Dawsons. Along with Director of Operations Sara Accettura, the team put in day-long shifts to ensure that the auctions ran efficiently, all user information was authenticated and that bidders were consistently made aware of the top bids.
"The whole process was extremely exciting," said Dawsons when asked about working on the project. "To be given the chance to work on something so huge for so many people was real special. The shoes were absolutely superb to work from a design perspective, as the colors made creating a design so easy. They were simply inspiring."
On Monday, the auctions were closed at approximately 4:00 a.m. EST, which a sleep deprived Steve noted would change if the opportunity were to present itself again. The staff stayed up well into the morning to make sure they final numbers were verified and correctly totaled. Though a little tired herself, Sara was pleased that the hours worked were going a long way to help others. "I am honored to have been a part of the auction, knowing all of the proceeds were going to such a wonderful cause.
In an incredible twist of irony, when the final numbers were tallied, it was revealed that the auctions reeled in a little over $23,000 dollars. Of course, with the number 23 being so closely associated with Michael Jordan, it was a fitting sum to conclude such a unique and exciting charitable process. Steve was very pleased with the result and gave me his thoughts on what he felt when he saw the final numbers.
"I knew one day before the end of the auction that we might hit past $20,000, and in back of my mind I was really hopping we would hit $23,000 or higher," he said. "A thousand per shoe was always my goal, and I think because the shoes are so unique and rare, that what they went for is fair. Just because a shoe is rare doesn't make it expensive. What makes a shoe more valuable to me is the story behind it and how powerful the shoe is. And there is no doubt this shoe is powerful."

The auctions gave Sole Collector the opportunity to partner with the Jordan Brand and Dave White for a very special cause. Being able to say that we took part in the launch of WINGS, which is destined to do great things, will forever remain something that we're proud of. Thank you to everybody who had a hand in this unprecedented event, including the readers and bidders who made it all possible. Congratulations to those who were lucky enough to win a piece of history.