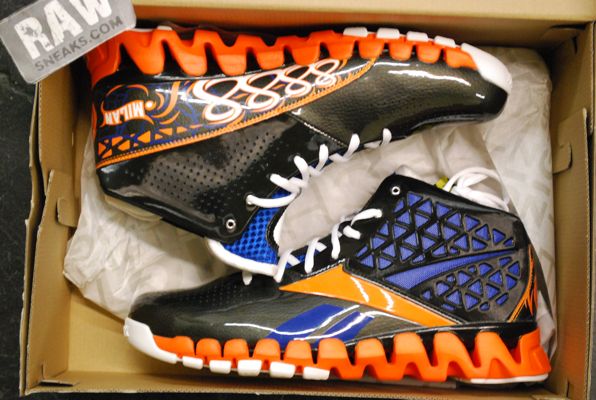 words_Brandon Richard
The New York Knicks are flying high this season and sharpshooter Danilo Gallinari has had a big hand in the team's turnaround. Likewise, he's also one of the young players that Reebok has signed in hopes to resurrect their basketball range both stateside and internationally. This season, Gallinari has been lacing up an eye-catching Player Exclusive colorway of the Reebok Zig Slash. Let's take a closer look at the shoe.
Gallo's Player Edition Zig Slash sports a Knick-themed black, royal and orange colorway with white hits on the tongue, laces and outsole. The extremely personalized shoe also features a graphic print that runs along the medial base. Within the graphic is a repeating number "8," representing both his jersey number and birthday. Additionally, we see mentions of his hometown of Milan and "Rooster" nickname. The rooster logo also turns up on the insoles of the shoe.
The limited edition Gallinari Zig Slash is currently available to buy from raw-sneaks on eBay.
via raw-sneaks