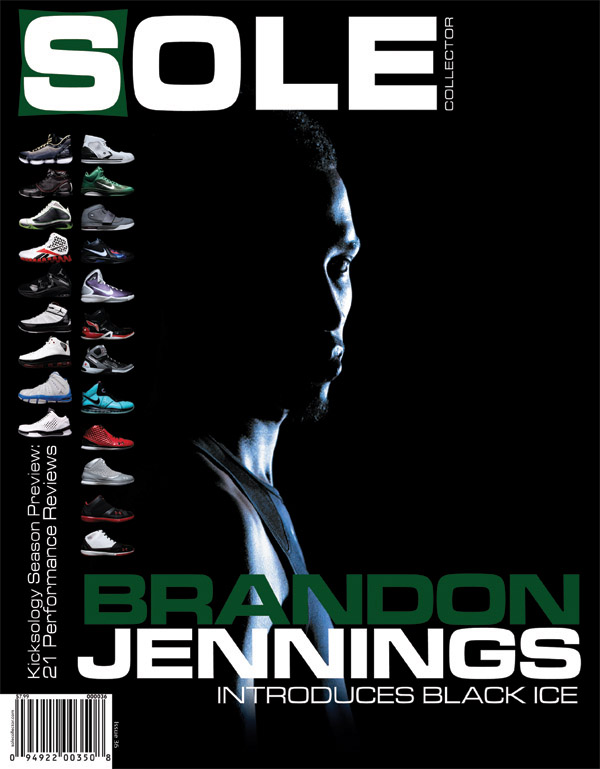 words_Nick DePaula
With the most anticipated NBA season in years already underway and our annual Basketball Season Preview Issue on the horizon, there was really only one cover athlete we had in mind all along.
Brandon Jennings.
As you certainly know, this year is not only important for Jennings on-court, where he's hoping to carry over the success he enjoyed during his stellar rookie year, but there was an equal amount of pressure on Jennings off-court, as he and Under Armour were for the first time ever officially launching Under Armour Basketball at retail.
As the brand's first basketball endorser, it was the moment Jennings had signed up for all along.
With an entirely new cushioning platform in Micro G, and a sleek design language seen across the board in the four debut models, Under Armour Basketball was finally here, after over two years of patiently tweaking their prototypes along the way.
To find out every last detail about Under Armour as the brand prepared for the debut of a new category, we went straight to the source. Meeting up with Brandon and the Under Armour Basketball team in both New York and Milwaukee gave us a chance to see firsthand the unique balance of sport and lifestyle that the 21 year-old has.
We also got to see the behind-the-scenes side of life that can be at times draining for a professional athlete, as we sat in on Brandon's seven hour commercial shoot. It was a 15-second commercial, of course, but also marked a monumental moment in the young career of Jennings, as Under Armour has fully placed its faith in the speedy point and his signature Micro G Black Ice to launch its Basketball division.
After a two year wait, finally, Under Armour and Brandon were ready. "I just felt like we should take our time. There was no rush," Jennings calmly said at the brand's official unveiling party this past August, held on the expansive top floor penthouse of the Cooper Square Hotel in New York City.
Be sure to check out our exclusive round-table interview with Brandon Jennings, Under Armour Director of Basketball Kris Stone and Basketball Category Leader Ryan Drew for a detailed account of the building blocks of Under Armour Basketball.
The rest of our 112-page issue is packed with content and in-depth features, rounded out by our first comprehensive Kicksology Season Preview in over three years, as Zac and I reviewed over twenty of this season's best basketball shoes from every brand. If you're looking for a new playing shoe, look no further than Issue 36 as your go-to performance guide.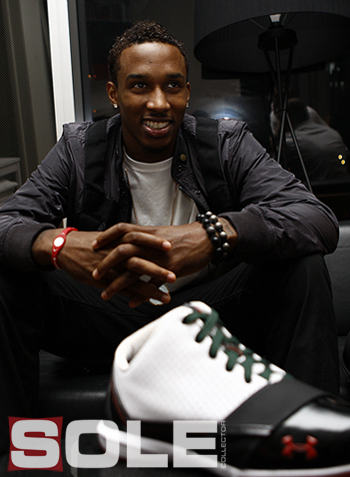 Look for all of these great features and more in the "Brandon Jennings Introduces Black Ice" Issue 36 Cover of Sole Collector, available now at Foot Locker locations listed below:
- Brandon Jennings Introduces Black Ice
- Kicksology Season Preview: 21 Performance Reviews
- Under Armour Basketball: Taking A Lethal First Step
- Evan Turner: The Beginning of a Brand
- Sneakerphile: Li-Ning Defend & Conquer
- Industry Insider: David Falk
- Larry Fitzgerald Talks Training and the new Zoom Huarache Trainer
- PUMA Faas Collection
- House Of Hoops Winter '10 Collection
- Athletic Propulsion Labs: Banned by the NBA
- Portland Teen Designs LaMarcus Aldridge's Air Max Hyperize PE