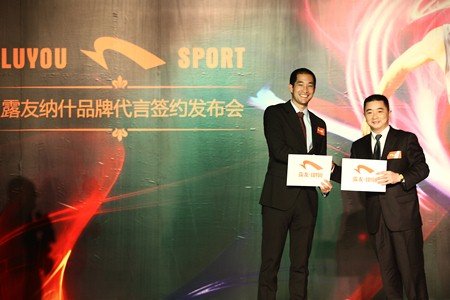 words_Brandon Richard
For the last week or so, there have been rumblings that Phoenix Suns point guard Steve Nash was the latest 'slightly past his prime' NBA superstar to take his endorsement talents to China. Today, new reports have surfaced confirming the move from Nike to China upstart Luyou, ending his 15-year stay with the brand. At a press event held in Beijing, the new partnership was formally announced, with Nash (unable to travel due to his Suns commitment) participating via video greeting. In addition to making plans for a 2011 footwear and apparel launch clear, Luyou also announced the Steve Nash Logo Design Competition, which will soon launch at luyou-nashdesign.com.
In a statement obtained by CounterKicks, Nike issued the following statement about Nash's departure. "We can confirm Steve Nash is no longer under contract with us. We had a great run with Steve and we wish him all the best. We're extremely pleased to work with the NBA's top players like Kobe, LeBron, Durant and Wade, who wear our basketball products, the most innovative in the game today."
Not only is Nash the latest "defector" to leave the U.S. footwear market or China, but is the third NBA League MVP to do so in the last decade along with Shaquille O'Neal and Kevin Garnett. Allen Iverson can very well make that jump as well. However, unlike Li-Ning and ANTA, Luyou is a virtually unheard of brand that is seemingly looking to make a big splash right away. We saw Chinese shoe brands take huge strides on U.S. soil in 2010. How much more progress do you expect them to make before the end of this year?
images via Sports QQ