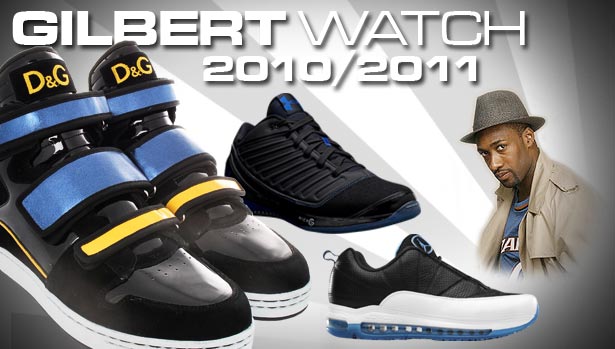 words_Brandon Richard
When Sole Collector exclusively gave you a look at Gilbert Arenas' Under Armour Micro G Supreme Player Exclusives back in November, many were left under the impression that Gil had inked a deal with the company. Instead, Under Armour and Arenas have entered a non-exclusive partnership where he has been supplied with UA product, but is not obligated to wear it on a nightly basis.
It's been a while since we've seen Gil wear Under Armour kicks in a game, but that changed on Saturday night when the Magic traveled to Dallas to take on the reeling Mavericks. For the game, Gilbert broke out a sample pair of Under Armour's Micro G Lite. The black-based shoe featured a large "UA" logo on the tongue like we've seen on other sample Micro G Lites. The generally released pair featured "Under Armour" written out on the tongue badge.
Gilbert was able to get things going against the Mavs, scoring 14 points in just 21 minutes as the Magic beat Dallas 117-107 for their ninth straight win. Arenas also added 3 rebounds and 2 steals, but the night belonged to Hedo Turkoglu who recorded 17 assists to help the Magic prevail.
Under Armour seems to be a good fit for Gil at this stage in his career. We even saw him make a halftime switch from Jordan retros to the Micro G Supreme in a December game against the Nets. Should the two enter an exclusive deal or are we having too much fun with Gilbert Watch?
images via ESPN