words & images_Nick DePaula
Kobe likes Christmas. He gets giddy for it, even. So why be the Grinch?
As it turns out, the inspiration all along was to take a different approach to the classic Christmas accents of green and red, and simply stand out from the rest of the high profile names he'll face off against with the brightest sneaker on court.
Sole Collector recently caught up with Tom Luedecke, the man normally behind the scenes of Kobe's footwear during his time spent working in Nike's Innovation Kitchen, to find out exactly what inspired the limited edition colorway that Bryant will wear this Saturday on Christmas Day.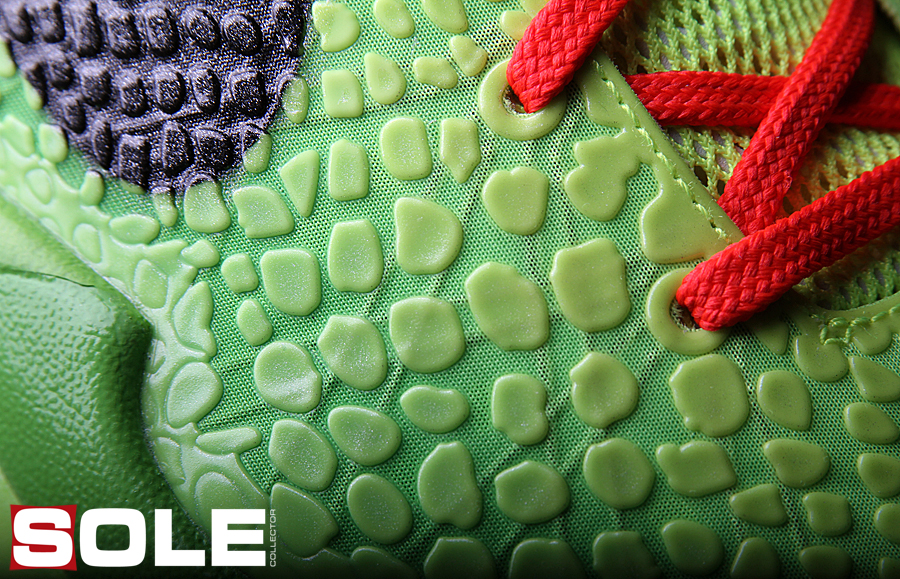 Be sure to check out February's Issue 38 of Sole Collector to learn about every possible detail that Eric Avar and Tom Luedecke have injected into the newest signature model in the performance-driven Zoom Kobe series.
***
Nick DePaula: Where'd the Christmas colorway come from? That thing is bright as hell!
Tom Luedecke: There were a few intersection points of us saying, "Hey, We'd love to do a lot of color. Just flood it." But if you do it all in one green, it could look really boring. So, choosing the greens wisely was the key. You have a neon, almost like an apple green, and then the midsole, lining, synthetic and counter all have a different shade, and that actually gives life to it. "Green Mamba" was the inspiration, and that's sort of tongue-in-cheek to "Black Mamba" of course. We couldn't just do an all-black shoe, or everyone would say, "Oh, that's the Black Mamba, duh." [laughs] We have that in the back pocket, so why play that card if you want to have fun? We had "Green Mamba," and two, it's Christmas! If you hold this shoe up a certain way, it could look like a Christmas Tree. [laughs]
NDP: It's not at all inspired by the Grinch, right? Of course some people online have tried saying that is the inspiration.
TL: When we were talking about it, nobody talked about the Grinch. Why would you? [laughs] It's all about Christmas, and Kobe's got two daughters and they love Christmas. He loves Christmas, and he gets giddy as a kid when Christmas time comes around -- so why be the Grinch? It was more about Christmas being about red and green, and we wanted to do something that was unexpected and do something that was interesting, where people could say, "I did not see that one coming."
You can watch Kobe Bryant debut the Zoom Kobe VI this Saturday as his Lakers take on the Miami Heat on Christmas Day.