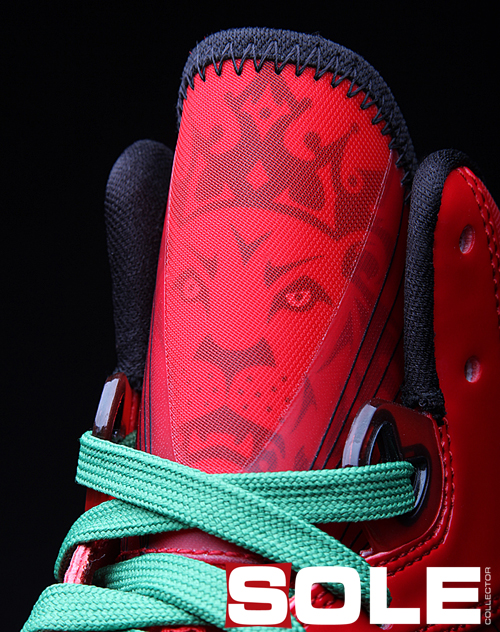 words & images_Nick DePaula
On Christmas Day, LeBron James and the Miami Heat will face yet another test in their roller coaster season, as they head to Los Angeles to battle the Lakers for the first time with the new-look "Big Three." Certainly the game has the makings of an instant classic.
While Kobe Bryant will be in a slightly brighter shade of Christmas spirit, King James will of course have his own special edition pair made just for the made-for-TV matchup.
It'll also be the first time LeBron takes the court in the new V/2 edition of his signature LeBron 8, which sports a lighter, fused upper and greater breathability.
As Jason Petrie, Nike Basketball Senior Designer and the man behind the Nike LeBron 8 series, explains, this year's Christmas shoe takes on a more bold red body, after last year's didn't quite have the pop and glow on everyone's TV screens that they were hoping for.
"It always comes from discussions with LeBron. We always want to do something different for Christmas, and last year, he thought the Christmas shoe was too dark," Petrie admits. "So how do we make that better? We really focused on using this Sport Red base, so it's brighter and really lets the shoe come out. You can see with the VII, it's kind of dead, and we really had to work a lot to get that package to pop."
With a red base locked down, and white splatter along the black midsole conveniently hinting towards the snowy winter season, the last touch -- the laces -- were a direct request of LeBron's.
"We had just black laces in it, 'cause you want to be able to wear it other than Christmas, but LeBron put green laces in his shoes last year, and when we showed him this year's, he was like, "Yo, but can I get some green laces?' We said sure," laughs Petrie. "Then, he asked, 'Well, can you put it in the box for everyone, and have the shoe come laced with green laces?' So it comes with green, and then with black as well, and he inspired all of that."
"Listen to the voice of the athlete," as Phil Knight so famously once said, indeed.
You can look for the "Christmas" LeBron 8 V/2 on the feet of LeBron James this Saturday on Christmas Day, with a limited release taking place Friday night at midnight on Eastbay.com.