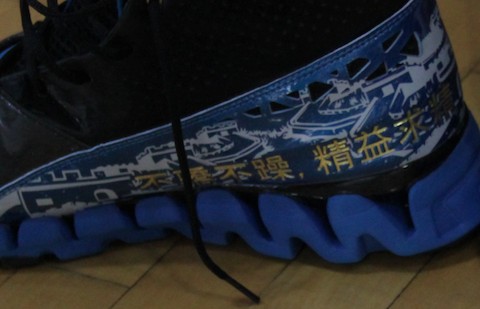 words_Brandon Richard
Looking to mark John Wall's arrival in the NBA, Reebok has supplied the star rookie point guard of the Washington Wizards with exclusive Zig Slash looks for his debuts in New York City and Los Angeles. For New York, it was the Gold Rush Zig Slash, which actually saw an extremely limited release in the city. When Wall took the court in Los Angeles last night, he was wearing a familiar colorway of the shoe with some unfamiliar detailing.
Dubbed the "Great Wall," this player exclusive adds yellow Chinese lettering to the medial mudguard panels as well as yellow upper lace eyelets. In case you were wondering, the Chinese text translates to "Hungry" and "Humble," both attributes any rookie needs when beginning what they hope will be a long and fruitful playing career.
While the Wizards didn't walk away with the win in LA, Wall did have himself quite a game. The rookie poured in 22 points and handed out 14 assists on the night.