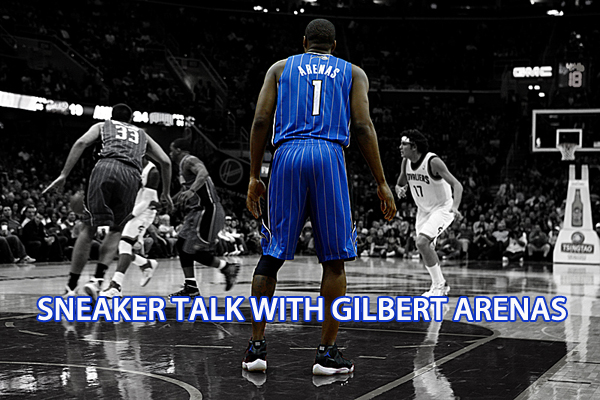 words & images_Zac Dubasik
If you've been paying any attention this season, you already know that Gilbert Arenas has had the sneaker world's attention each and every night. Without a sneaker contract, Arenas has taken full advantage of the freedom he has to wear exactly what he wants. I had a chance to sit down with Gil last night, after his 22 point, 6 rebound, 11 assist-performance against the Cavs at The Q. We talked about his sneaker history, the method behind how he decides what to wear, and how he feels he influenced what's going on in today's sneaker world. Here's a small excerpt from the interview.
Zac Dubasik: On all the forums and blogs this year, everyone has been excited to see what you wear every game. Since you don't have a deal this year, we've seen you in everything from Jordan running shoes, to Garnett 3s the other night, to D&Gs. Being a fan of sneakers, what's it like to be able to wear whatever you want in a given night?
Gilbert Arenas: It feels great. It reminds me of when I was in high school. You just go to the store, and buy the shoes that you like. Since I don't have a deal this year, I just want to wear what I want to wear. You know, I just want to go out there and play in what I feel like, the shoes that I like, and the shoes that I've collected over the years. There've been companies that have been trying to get me to sign, but I don't want to sign this year. I just want to play basketball, and feel like a kid again. If you send me your shoes, and I like 'em, I'll wear 'em!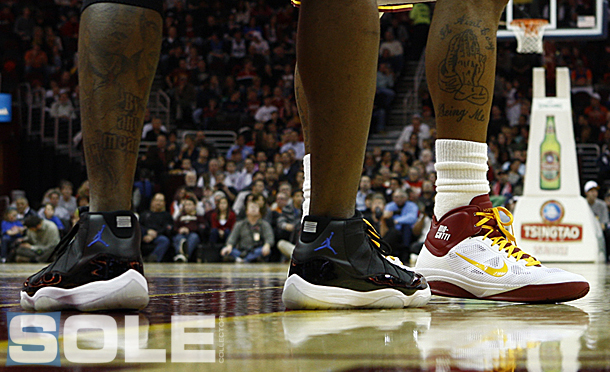 Is that an invitation to anyone that wants to send you stuff?
Yeah! I got shoes that came from YSL. They sent me a shoe to wear. Louis Vuitton sent me a shoe to wear. [laughs] You know, everyone wants to get into it, because I guess I was the first person to wear fashion shoes on the court.
What made you decide to pull out the Space Jams tonight?
I didn't feel like breaking open any new shoes. I've already played in those Space Jams. I still have at least 20 or 30 pairs of shoes that I haven't cracked open, so I wanted to give them some time to try them out.
Keep an eye on Sole Collector for much more from Gil!