words and images_Zac Dubasik
One of my absolute favorite aspects of playing pickup ball is that each and every game, something is on the line. I'm not talking about pride, honor or even bragging rights. I'm talking about something tangible, and for those who love to play, even valuable. I'm talking about "staying on." You win, you get to play again. It's as simple as that. Personally, I don't go to the gym to sit around and socialize. If I'm there, I want to play, and I want to play as long as possible.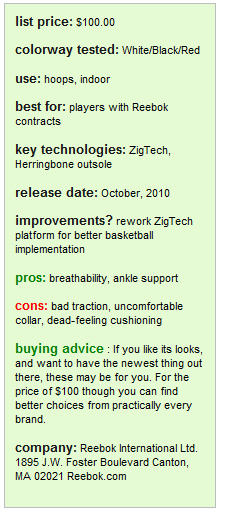 A few weeks back, I got to the gym a little early one night. Fortunately though, runs had already started, and I was able to jump on a team. Unfortunately, that team was quickly dispatched, and it was time to sit almost immediately. This happened one more time, and I was beginning to think it was just going to be one of those nights. Around that time though, a new group of players arrived, and I managed to get picked up on a better team. First game? Win. Second game? Another win. It was obvious that this team was going to stay on for a while, which under normal circumstances, would have been exactly what I'd want. On this particular day though, it was my first run in the Reebok Zig Slash, and over our six-game win streak, I had actually began to hope we'd lose.
I'll give credit where it's due. The Zig Slash has generated more interest in any Reebok basketball shoe than the company has seen in years. With Allen Iverson exiting the League, the signing of John Wall gave them a chance to regain some relevance in the minds of hoops fans, and an opportunity to remain visible on a marquee-level name. It also gave John Wall a chance to become more that just a number, which likely would have happened had he signed with a bigger company, like Nike. When it comes to the marketing aspect of the deal, there have definitely been some positives for all sides. Where I won't give credit though is to the shoe's performance.
Top to bottom, there's disappointment everywhere you look. And starting with the bottom, the first major letdown is the shoe's signature feature, the ZigTech tooling. While being advertised as an energizing experience, it feels quite the opposite; it feels dead. Rather than producing good cushioning, good court feel, or a compromise of both, the ZigTech yielded none of the above. Unfortunately, the cushioning was actually not even the tooling's worst attribute. The shoe's traction was absolutely awful. A major reason for this is due to the fact that much of it is comprised of the same foam as the "midsole." There is rubber attached in key zones of the outsole, but even this doesn't help much. There are a few different courts I play at, one of which is pristinely maintained, and another the complete opposite. Wanting to give these shoes the best chance possible, I stuck to the good court over the course of my testing, and even this couldn't help the shoes stick. This is a design and development issue, not a matter of the herringbone picking up too much dust.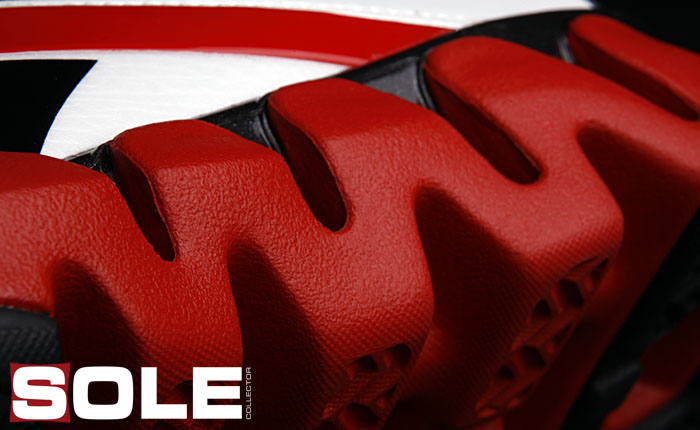 While I'm on the tooling, I'll also address the transition. With this type of deep segmentation in the outsole, the transition would have to be good, right? Wrong. While not terrible, the lack of heel radius, along with the firm TPU plate to which the tooling is affixed, produced a slappy feel. It was even worse when moving laterally. While there are some slight flex-like groves moving up and down the shoe in the heel and midfoot area, the TPU plate and lack of radiuses on the sides of the shoe added to the lack of court feel.
Moving on to the shoe's upper, things get a little better. It was surprisingly light, considering the amount of material needed for something with such a high cut. Also, the large perforations are backed only by a fairly open mesh, which gave the shoe good breathability compared to the low standard hoops shoes have set. The shoe's collar was a bit too restrictive however, and extremely uncomfortable. I'd highly recommend wearing long, thick socks if you decide to give these a run. The shoe's biggest problem though is that there is a major disconnect between the upper and tooling. Truly great shoes have uppers which function holistically with their tooling. Each piece works in conjunction with the other to produce a result that can only happen when the package is so complete. Even aesthetically though, the Zig Slash's two primary parts seem to have nothing to do with one another. So, while the upper itself is decent, the lack of connection between the two parts limits its effectiveness.
In its current form, the ZigTech platform feels like it was simply rushed over from running, without properly adapting it for hoops. With so many other good choices out there, many even cheaper, it's hard to recommend these kicks. While the thought of Reebok getting serious again in the basketball world is great, they have a long way to go if a Zig-based shoe is how they are going to do it.
Who's Worn It? John Wall (Washington Wizards), Jason Terry (Dallas Mavericks), Ramon Sessions (Cleveland Cavaliers), Jameer Nelson (Orlando Magic), Willie Green (New Orleans Hornets), Danilo Gallinari (New York Knicks) & Allen Iverson (Besiktas Cola Turka)