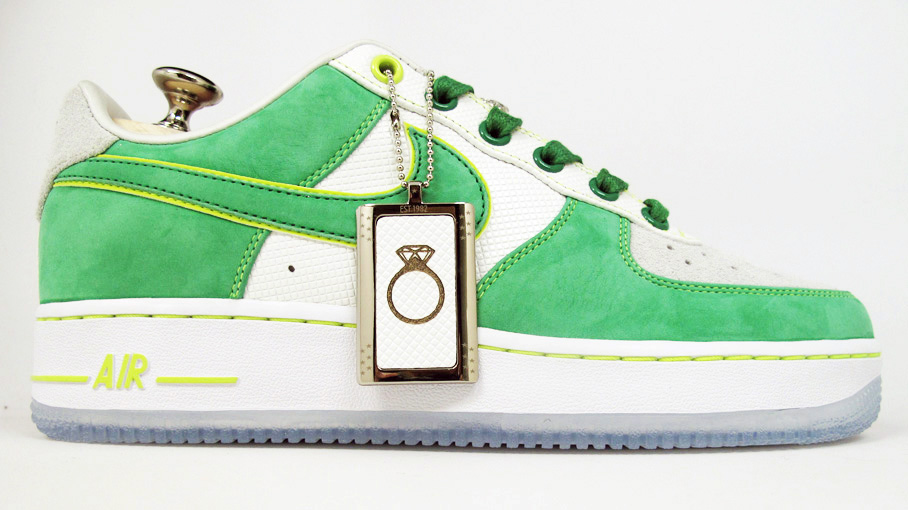 words_Brandon Richard
Most Bespoke Air Force 1 designs have a story behind them, but not many can top the story attached to the latest design we're showing you today. Not too long ago, Brandon Renken of Texas stopped by 21 Mercer to design a Bespoke AF1 for his girlfriend Lindsay as an engagement gift. Last week, Renken returned to the boutique with his girlfriend for what she believed was just a chance to design a Bespoke of her own. While being fitted for her shoe, Brandon presented her with the box of engagement Bespokes that he previously designed to pop the big question.
The "I Do" Bespoke features a green nubuck dominated upper, with textured white leather working the side panels and grey suede filling in the toebox and heel tab. Yellow was used for minor accents and a contrast stitch on both the upper and midsole. Perhaps symbolic of the fat rock he picked out for his girlfriend, Brandon chose an icy translucent outsole to finish off the bottom.
However, the look of the shoe was instantly overshadowed by two things. The lace dubres on the right and left shoe featured the words "Will You" and "Marry Me." In addition, a graphic rendering of the engagement ring appears on the hang-tag. Making the entire process worthwhile, Lindsay did say "yes" to Brandon's proposal. Congratulations to both of you.
via Nike Sportswear