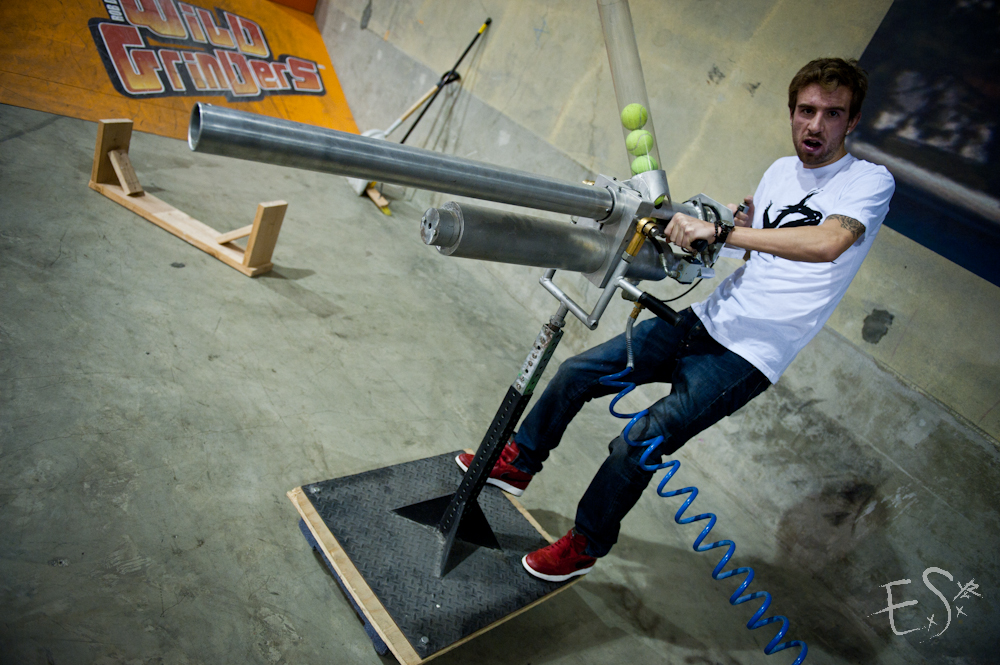 words // Brandon Richard
While doing a little channel surfing over the last four years, you've probably come across MTV's hit show Fantasy Factory. The show stars professional skateboarder Rob Dyrdek, and gives the viewer a little insight into his humorous day-to-day dealings with friends and family. One of those family members is cousin Chris "Drama" Pfaff. Drama is typically the victim of Rob's practical jokes and quirky ideas such as swimming with sharks, jumping out of buildings and driving rally cars. Drama's Fantasy Factory escapades have made him one of the biggest reality stars on MTV. His name also rings out on the music scene, where he's had success as an up-and-coming producer.
When Drama isn't doing his thing on MTV or cranking out beats in the studio, he's busy being a fashion entrepreneur. The 24-year old officially launched his clothing line Young & Reckless last year. Inspired by street fashion, Drama chose the name Young & Reckless because he wanted something that would express a lifestyle and culture that he himself is familiar with. An Akron, Ohio native, he also explained that he wanted to give kids in smaller cities an opportunity to own name brand streetwear that they typically can't find at their local retailers. Current offerings from Young & Reckless include t-shirts and hoodies for men and women, as well as a variety of hats. Also on the way are new accessories such as sunglasses. The upstart brand has been rocked by stars such as 50 Cent, Kevin Durant, Zac Efron, Chad Ochocinco, Danny Way and many more.
Another thing you probably didn't know about Drama is that he's a certified sneakerhead. He's a fan of everything from skate shoes to Air Jordans to runners. His go-to shoe at the moment? Nike's 3.0 Free runner, which he says he nearly wears on a daily basis. The passion Drama has for sneakers is also something he works into his Young & Reckless line. While the designs aren't directly attached to any one shoe, he does keep popular sneaker colorways in the back of his mind during the creative process. We were able to catch up with Drama to talk about Young & Reckless and get a few of this thoughts regarding sneakers.
Sole Collector: When you are designing your t-shirt colorways, what shoes do you keep in mind?
Drama: I can't really say that there is any one type of shoe that I keep in mind. If anything, I'd have to say Jordans. But for the most, part I just reference a lot of the classic shoe and sports colorways to make sure that kids are able to match them.
Which shoes do you find yourself wearing the most and why?
To be honest, I mostly wear the running shoes. Those super comfy [Free] 3.0s. Those things are so comfy, I wear them almost every day.
What is your favorite Young & Reckless shirt to wear with your kicks?
Definitely the plain logo tee. Logo T and Jordan Is. I like to keep it basic.
When you are spending a long day in the studio, what are your preferred grind shoes?
I'll have to go back to the 3.0s for this one. I definitely prefer comfort on those long days and I haven't found anything better yet.
Does Young & Reckless follow the shoe trends in order to match colors?
I wouldn't say I really go that far. Like I said before, I do look at some of the more basic Jordan colorways to come up with some of mine. But for the most part, I just either pick colors that I know will work with a lot of different things, or I just completely go my own way and let people worry about it on their own. Sometimes you just gotta do your own thing.
What is your favorite Jordan and why?
Definitely the Jordan I. I just love it because it's so basic. It's easy to wear with anything and you don't have to worry about having a crazy space boot looking thing on your foot all day.
Which shoes do you recommend to accompany the upcoming Holiday Young & Reckless Line?
Flip it however you want! I don't want to tell anyone how to dress. I love seeing different combos and people with different styles rocking my stuff their own way.
Should we be looking forward to seeing more matching Young & Reckless with J's and Nikes?
Most definitely. It's something that I will always keep in the back of my head. So as long as you're wearing Js, you're always safe with Y&R!!
You can purchase Young & Reckless gear today over at youngandreckless.com. You can also keep tabs on the latest happenings in the world of Drama by following him on Twitter.