words_Brandon Richard
Venezuela born. Maryland bred. After being selected by the Memphis Grizzlies with the 28th pick in the first round of the 2010 NBA Draft, Greivis Vasquez became only the second Venezuela-born player in NBA history and the first to actually be drafted. Born in Caracas, Vasquez moved to Maryland to pursue education and basketball in 2004. There, he attended Montrose Christian School in Rockville, Maryland. School sound familiar? Probably because Vasquez teamed up with a young man by the name of Kevin Durant at Montrose during the 2005-2006 season.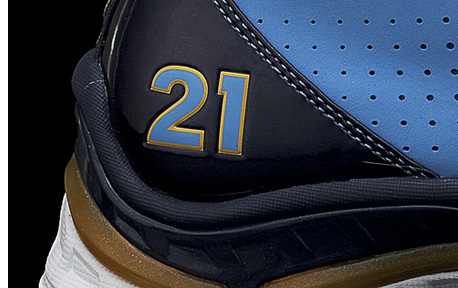 During his senior year of high school, Vasquez committed to play college basketball for Coach Gary Williams at the University of Maryland. His fiery personality and passion for the game made him a fan favorite and one of the most beloved Terps of all time. However, Vasquez's game spoke loudly as well. In his senior year, he was the recipient of the Naismith Memorial Bob Cousy Award given to the nation's top collegiate point guard. He's the only player in ACC history to compile 2,000 points, 700 assists and 600 rebounds. Greivis was also named 2010 ACC Player of the Year and SecondTeam All-American.
Perhaps the biggest Vasquez fans were Kevin Plank and the people over at Under Armour, who continued their working relationship with the Grizzlies point guard after he made the leap to the NBA. Also the exclusive outfitter of University of Maryland athletics, Under Armour signed Greivis to an endorsement deal this past summer. Benefits of that deal include the Prototype I Player Exclusive collection that we have exclusive photos of for you today.
The Prototypes features three distinct Grizzly-inspired looks, mixing blue tones with white, black and gold hits. Vasquez's jersey number 21 shows up on the heel of each shoe, while "Venezuela's Finest" is stitched across the tongue. Two pairs, the black and white-based pairs in the group, go a little further with the salute to Vasquez's home country. The heel-pull and mesh lacelock on both pairs are striped in the colors of the Venezuelan flag. Certainly a successful and fitting tribute to the bond shared between Vasquez and the people of Venezuela.
Look for Greivis' Under Armour PEs on the court as he and the scrappy Memphis Grizzlies look to nail down a playoff spot this season.