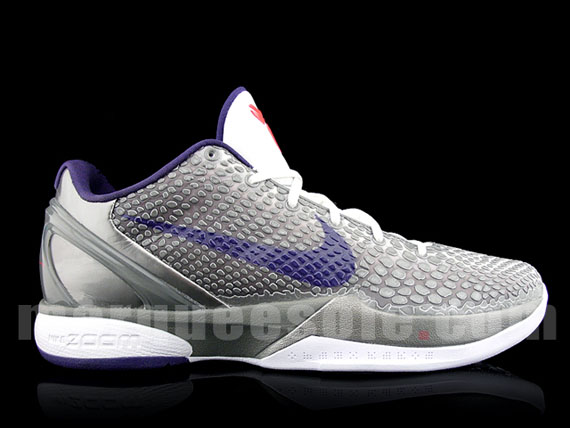 words_Brandon Richard
Chaos is defined as being an extreme state of confusion or disorder. That definitely appeared to be the case when sneakerheads caught their first glimpse of last year's "Chaos" Zoom Kobe V release. However, the 'out of sorts' colorway was quickly explained away as being a salute to Kobe's favorite movie villain, the Joker. Though the shoe certainly sported an oddball colorway that lived up to its nickname, it became an instant hit amongst Kobe fans and collectors. Those individuals will be happy to know that the concept is making a return this year, and the Zoom Kobe VI is the silhouette that receives the treatment.
This time around, the "Chaos" Kobe is a little less chaotic, sporting a cool grey snake scale upper with white mesh and leather working the tongue and laces. Purple returns on the inner liner and side panel Swooshes, while red has been assigned branding duty on the tongue and heel counter. Continuing to calm down the look, white is used for the midsole and outsole, which gets help on the backend from purple and red.
What are your first impressions of the "Chaos" Kobe VI? Would you have preferred that they kept the colors from the "Chaos" Kobe V, or was the Grinch-inspired Christmas shoe enough lime green for you?
via MarqueeSole