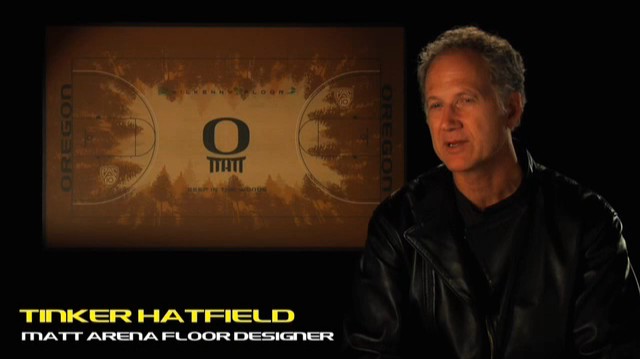 words_Brandon Richard
When the University of Oregon Men's Basketball Team opens up Pac-10 play in January, they'll do so inside a newly unveiled Matthew Knight Arena. The arena is named after the son of chief donor and Nike Chairman Phil Knight. Matthew tragically passed away at just 34 years of age after a scuba diving accident in 1994. To really take the new arena over the top, as we all know the University of Oregon loves to do, they enlisted the help of Nike Vice President for Design and Special Projects Tinker Hatfield to design the arena's new basketball floor.
With his design, Hatfield wanted to pay tribute to the tree covered region and the "Tall Firs," Oregon's original championship basketball team from 1939. The stencil graphics, which were completed by United Services in Idaho, represent the view from beneath a forest full of fir trees. It took over 2,500 man hours to complete the graphics on the court.
In addition to the "Tall Firs," Hatfield wanted to salute long time supporter Pat Kilkenny and his family. Kilkenny also served as the school's Director of Athletics from 2007 to 2009. At the top of the floor is "Kilkenny" Floor text. In between are three graphics that tell you a story about the Kilkenny family. The first graphic on the left represents Morrow County and Heppner, Oregon, where Pat Kilkenny grew up. The middle graphic is a 70s style interlocked University of Oregon logo adorned with shamrocks, symbolic of Kilkenny's education and Irish heritage. The last graphic to the right represents the San Diego Sunset, where Kilkenny became an entrepreneur and still resides today.
Centered on the court is the Matthew Knight Arena logo, designed by Todd Van Horne. The logo is inspired by the innovation spirit of the University of Oregon and elements of Matthew Knight's life. The first source of inspiration came from the architecture of the arena itself. Also saluted is Phil Knight's affinity for Japanese symbolism, which explains why the logo is shaped like a Torii Gate. The Matt Knight logo in relation to the Oregon "O" represents the arch of the arena, as well as Matthew's famous smile.
Another intriguing element of the court's design is the "Deep in the Woods" text seen below the Matt Knight Arena logo. Not just a catchphrase, the "Deep in the Woods" text is meant to give visitors the sense that they're out of their element.
The court itself is Connor Sports Flooring Quicklock Portable. It is made of 6,944 square feet of Northern Hard Maple from a FSC Certified Forest. The floor consists of 225 interlocking panels that weigh approximately 45,000 pounds.
Take a look at a few photos of the new cutting-edge court below, as well as a video interview with Tinker Hatfield.