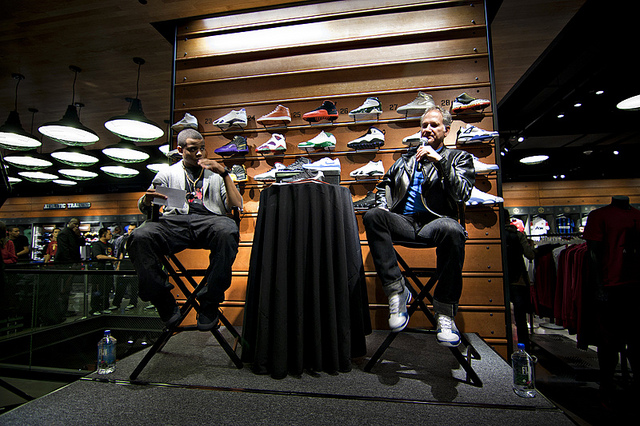 words_Brandon Richard
Just a week ago, we here at Sole Collector celebrated the release of our first collaboration with the good folks over at Jordan Brand. The result of this partnership was the Jordan CMFT 11 SC Premier, a shoe that pays tribute to the original Air Jordan XI by making use of a carbon fiber overlay rand. The CMFT 11 SC was released in limited quantities at Niketown Chicago, Nike Santa Monica and Nike Roosevelt Field. To coincide with this special launch, Sole Collector hosted special events at the Santa Monica and Roosevelt Field locations. Those fortunate enough to gain access into the Santa Monica event were blessed with the presence of a special guest.

In the sneaker world, there are few names that command respect on the level of Michael Jordan. One of the exceptions is "The Architect" Tinker Hatfield, who stopped by the SC Santa Monica to meet, greet and speak to those on hand. Introduced by Tristan Wilds (of "90210" and "The Wire), Tinker came out to an ovation and several audible "Tinker, you're the man" chants. He spoke about the history of his relationship with Steve and the Sole Collector team, even touting Sole Sole Collector magazine as "the best one out there. Tinker also spoke about his start at Nike and designing both the Air Max 1 and Air Jordan XI, giving a little detailed history of what went into the creation process of each shoe.

Tristan then invited the crowd to ask Tinker a few questions, and the crowd didn't pull any punches. He was hit with questions like, "What should we expect from the Jordan 2011?" "What's the least favorite Air Jordan you designed and why?" and "How do you feel about Jordan Fusions?" The highlight of Tinker's answers probably came when he was giving an in depth answer in regard to the Air Jordan 2011. Recalling some of the athletes he's worked closely with in the past, Tinker mentioned LeBron James, but also noted "until his entourage pissed me off!" That moment obviously drew a lot of laughter from the crowd due to how many publicized issues there are surrounding LeBron's "entourage."

Find out how Tinker answered the rest of the questions by watching the clips below.

A special thanks to Mr. Tinker Hatfield for taking time out of his busy schedule to hang out with Sole Collector for the evening and our own Forum Admin MJO23DAN for sharing his videos.
videos via MJO23DAN
image via quickster