APL Concept 1 | Yes. And It's A Good Hoops Shoe.
words & images_Zac Dubasik
Chances are that if you've clicked on the post, it's to find out one thing. And the short answer is "Yes," they do work. Now that that's out of the way, there's obviously a lot more explaining to do.
I don't personally have much use for a shoe that can make me jump higher, that I can't actually play basketball in, and put to any practical use. I can always put a trampoline under the hoop, and dunk all day. But that does zero good in a game. So, it's important to first examine and analyze the APL Concept 1 on its merits strictly as a basketball shoe; this is a performance review afterall. And as a performance basketball shoe, the APL Concept 1 excels.

Before you even open the APL box, you start to get a sense of the attention to detail the product exhibits. The box is a slider style, and although I don't think the graphics live up to the level of the materials and construction, the quality is immediately evident. The thick walled box is almost more reminiscent of a sneaker from a luxury brand than your standard, or even more deluxe (such as the LeBron line's boxes) standard sneaker box. The box is far from relevant when it comes to the shoe's performance, but it is nice to know that for $300, you are getting a premium experience from top to bottom. Another nice touch as far as the presentation goes is the included shoe bag – always nice to have when putting shoes in a gym or travel bag, and another area of added "value" for your money.
Moving on to the shoes themselves, you'll immediately notice that the materials and construction are all top notch. The synthetic upper's carbon fiber look gives the shoe a high-tech appearance, and is also a light alternative to leather. Unfortunately, it's not very breathable, and the wire mesh-like vents at the collar did little to help disperse heat either. What you can't immediately see is even more impressive in terms of the shoe's quality. A high-rebound EVA was used for the entire midsole, and provides for a well-tuned level of impact protection – not too soft and not too firm. Even the sockliner features extra-premium construction, incorporating even more high-rebound EVA, along with APSPOX and Poron. These materials are not cheap, and while the $300 price tag may or may not be worth it to you, it's nice to see that no corners were cut in terms of quality.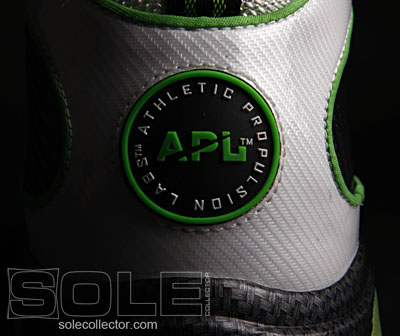 The shoe's step-in comfort is excellent, thanks in large part to the aforementioned insole. I can't think of a better one in a hoops shoe that didn't actually contain the primary cushioning in the insole, such as the Zoom Air found in the sockliner of the Flightposite series, for example. Step-in comfort is one thing, but it has to translate on-court. And for the most part, it does. I have no complaints in the heel cushioning. It's soft, yet supportive enough for players of all sizes. The forefoot cushioning however is a bit firm – no more firm than any other strictly foam based midsole cushioning, but not as soft as I'd like. Part of this stems from the fact that the shoe's jumping apparatus (more on that later) sits within the midsole, directly below the ball of the foot.

The shoe's outsole is made up of a clear, green rubber that appears to have a traction pattern that couldn't possibly provide for secure footing. Its looks are deceiving though as far as traction goes, because on a clean court, it's rock solid. A dusty court quickly exposed its shortcomings though, and I found myself turning corners wider than a '97 Volvo. [Nick's note: "Shots fired!!"] It was no worse than most non-herringbone outsoles, but still necessitated much more frequent hand swiping than I like to be concentrating on.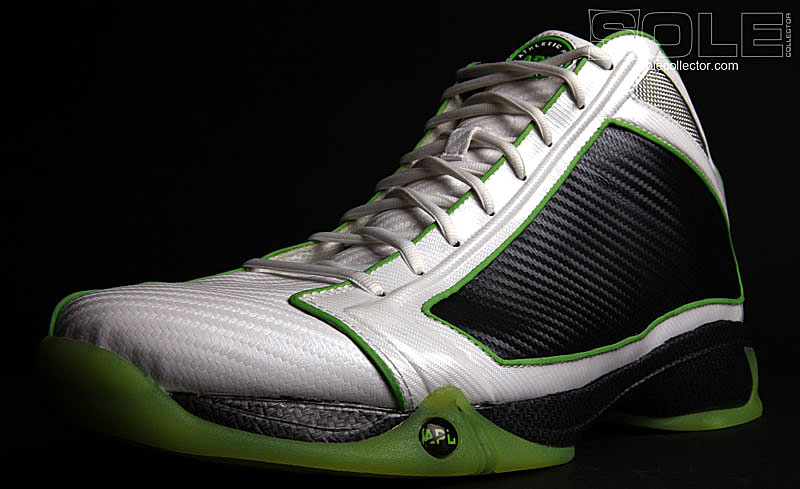 Fit is always one of my most important criteria in a shoe, and the Concept 1 excelled here thanks to two reasons. For one, the design of the upper is very well shaped. Before I even laced up tight, I felt that the contours of the upper closely matched the shape of my foot. The second contributing factor is that the flexibility of the synthetic upper, combined with the generous amount of lace holes (eight), provide a real sense of security when snugged up. The upper just hugs the foot when fully laced. Thanks to this, a solid level of heel lockdown is possible. More molding in the collar padding would be nice to help hold the heel in place a little better, but the fit of the upper mostly makes up for the difference. One area of possible concern on the upper comes from the overlay near the little toe. I experienced some rubbing directly under this area. It wasn't horrible, and I was able to continue playing in them, but for those with very wide feet, it could definitely become an issue.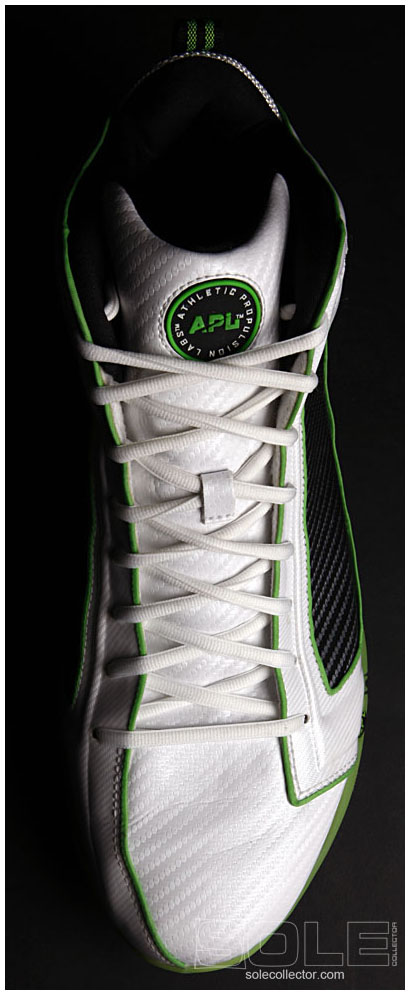 As a whole, the shoe's upper, midsole and outsole work well together. In fact, it plays pretty much just like any other good shoe would. It's not the fastest shoe I've ever worn, not the lightest, not the most breathable, and certainly not the best value. But I thoroughly enjoyed playing in them, and think they are comparative, and even favorable, among many standard hoops shoes from a performance perspective. If all you want is a good hoops shoe, there are definitely much worse choices among this season's offerings.
But if all you want is a good hoops shoe, you'll probably want to look elsewhere. You can find them for far cheaper than $300. If you are in the market for a pair of APL Concept 1s, you are undoubtedly interested in the brand's promise of increased jumping power. This is where things really get interesting.
According to the brand's website, the shoes work like this:
"The Athletic Propulsion Labs Concept 1 Basketball shoe technology is centered around a revolutionary patent-pending propulsion device, which is implanted in a cavity under the forefoot, in front of the ball of the foot and the flex zone. Further back on the outsole of the shoe lies the unique high density Thermosplastic Urethane Load 'N Launch™ shank, which provides another level of engagement in the compression-propulsion-liftoff response. The propulsion shank provides a level of stability between the forefoot and the heel while also absorbing shock and enhancing the transfer of energy to the Load 'N Launch™ forefoot device to maximize vertical leap performance."

What that basically means is that a TPU shank helps guide the foot's power toward the "jumping device" in the forefoot, which in turn provides that much more energy return, and, in theory, an increased vertical. As for how that device works exactly, APL is being pretty quiet about the specifics, due to the process of obtaining their patent. As for what the shoe feels like when engaging this device, it's subtle, but noticeable. It doesn't provide for the best court feel ever, but it's surprisingly decent for the amount of "stuff" going on in the midsole. The midfoot shank's feel is actually very familiar to any shoe with a firm shank – you can feel it flex when stressed, and almost "bounce" back when you push through. As far as the feel of the forefoot device, that's a little harder to explain. It's definitely firm, but also very responsive. The harder you push, the more it feels like it gives back. I really was able to feel some additional spring in my jumps, not only evident from the increased hang time I felt I gained, but from how high I was able to reach. Consistently too.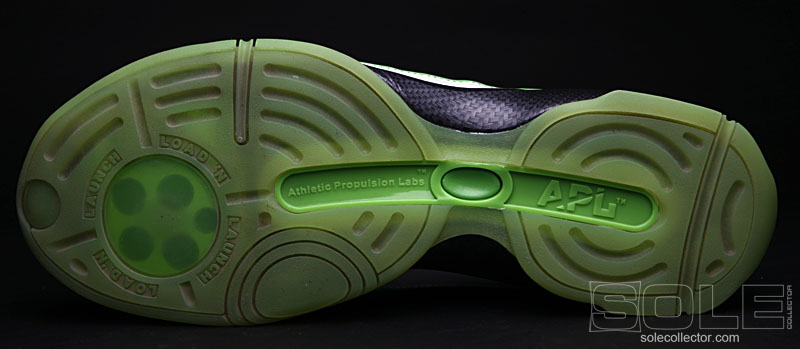 Seeing how high you can touch is not the most accurate way to gauge vertical. But it is the most practical. The time your feet spend off the ground isn't going to determine if you block the shot, but how high you can reach your hand might. And from my experience, I was able to regularly get from one to two inches higher with the APL Concept 1s than without. Being skeptical, I tested this out on multiple hoops, and with multiple comparison pairs. And every time, I found similar results. So, based on those results, the only thing I can conclude is that yes, they do in fact "work."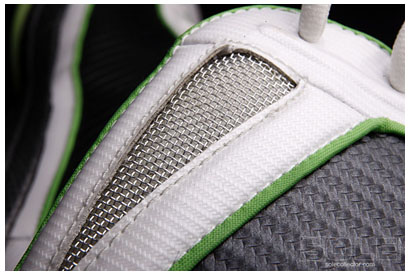 Aside from just increasing your vertical, APL also touts the Concept 1 for its ability to help decrease fatigue. It only makes sense that a shoe providing such a large level of energy return would also help keep your legs fresh. These parameters are obviously much harder to measure though than a simple test like seeing how high on the backboard you can touch from one jump to the next. As such, I can't really confirm or deny these claims. I didn't notice any perceivable difference in fatigue. All I can say is that the shoe feels a bit bottom heavy (no doubt thanks to the unusually large amount of technology going on in the shoe's midsole), and also picks up water weight due to its lack of breathability. So, it's possible that any potential increases may be offset by these factors. Not that offsetting those negatives isn't a good thing, but it's important to note them.
As for whether or not this shoe is worth it will completely come down to a personal decision. Can you buy a better basketball shoe for a third of the price? Absolutely. Can you buy a better shoe to increase your vertical for any price? Not that I'm aware of. Are a few inches (your results will obviously vary) worth $200 or so of premium pricing? Again, this will come down to the individual. If gaining those potential few inches of vertical is worth it to you, you'll be rewarded with a shoe that's as playable as it is well made. Price aside, I have no trouble recommending the Concept 1 as a great hoops shoe. The entire package is well designed, well made and yes, it even works.