...we'd all be born with a pair of these shoes on our feet. To find out why, read our in-depth review of the Nike Air Jet Flight.
by Professor K, posted March 11, 2001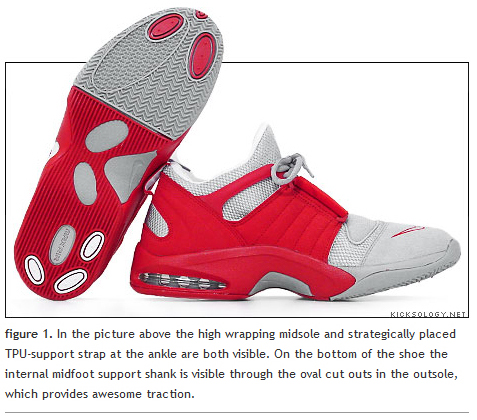 This hoops season we've seen several very interesting shoe releases from Nike. Of course there was the SHOX BB4, which introduced an entirely new cushioning technology, and the Air Zoom GP III, which introduced Nike's new MORF concept. Both of these shoes represent new ways of thinking about athletic shoes that may very well "revolutionize" (I know, I know, I should be disbarred from professordom for using the word revolutionary in relation to shoes, but work with me on this) athletic shoe design and development, but only time will tell. The Nike Air Jet Flight, on the other hand, represents evolution at its best. No new breakthrough technologies to be found here. Just the same old stuff done about a hundred times better than it had been before.
First off, let me come right out and say that I love these shoes. That's right, L-O-V-E. If I played basketball professionally the Air Jet Flight would, without a doubt, be my everyday practice shoe and I'd even wear them to drive to practice in my 911 (hey, I can dream can't I). Can you tell that I am enthusiastic about the Air Jet Flight? I don't usually gush like this about a shoe, but the Air Jet Flight represents so much of what a hoops shoe should be that I can't help but get charged up about it. So what's so good about it? Well, I'm glad you asked...
The first thing that jumped out at me when pulling the Air Jet Flight out of the box was the weight, or lack thereof. At 14.6 ounces the Air Jet Flight is the lightest hoops shoe from Nike that we've reviewed this year and matches the adidas Mad Handle for the lightest hoops shoe that we've reviewed from any manufacturer this year. Upon putting on the Air Jet Flight I was blown away by how comfortable the shoe was. The combination leather/ Lycra spandex-mesh upper fits like your favorite pair of socks, but without the holes.
The lack of any kind of stiff or constraining material at the forefoot flex point makes the shoe feel great the very first time you put it on, no break in time required. Even people with wide feet should feel great in these kicks. And the shoe fits as well as it feels. The large midfoot strap supplements the hidden eye-stay lacing system to provide a locked down fit that keeps your foot and the shoe working as one. This is a good thing.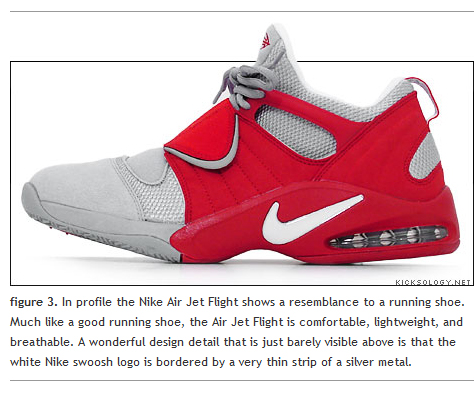 The hit parade continues on the court. The large-volume, visible Air-Sole unit in the heel and encapsulated Zoom Air unit in the forefoot combine to provide excellent overall cushioning. As in the Nike Air Flight Max II, the forefoot Zoom Air units seem to be a bit softer than those employed in other forefoot Zoom Air-based shoes we've tested this year, but this shouldn't be a problem unless you are very heavy for your size (if so, a shoe with firmer cushioning in the forefoot is a better choice).
A large TPU midfoot support shank and high wrapping midsole (see figure 1) combine to provide excellent stability and keep you in an upright position. And to make it all oh so much better, the outsole of the Air Jet Flight provides more traction than you'll know what to do with (the Air Jet Flight uses the same outsole design as the Nike Air Flight Max II).
So are there any downsides to this shoe? Well, I had to play long and hard and the only one that I could find was in the area of ankle support. The shoe does not provide very much ankle coverage, but the combination of a good, stiff heel counter (it's internal so you can't see it on the outside of the shoe) and a strategically placed TPU-support strap provide better ankle support than you would think. Still, larger players or people with weak ankles may want something more in the way of ankle support. That's all I have in the minus column. To sum up, the Nike Air Jet Flight is an exceptionally good all-around hoops shoe. It offers very good cushioning combined with comfort and fit that is unmatched by any other shoe this season. And at $90 it is actually less expensive than most of what Nike has to offer. If you've been looking for a comfortable hoops you can stop looking, the Nike Air Jet Flight is it.
Who's Worn It: Bruce Bowen (G- Miami Heat), Baron Davis (G- Charlotte Hornets), Dirk Nowitzki (F- Dallas Mavericks), Keith Van Horn (F- N.J. Nets), Jason Williams (G- Sacramento Kings), and Sean Jackson (street baller) is seen wearing the Air Jet Flight in Nike's tremendously popular "Freestyle Rhythm" commercial.