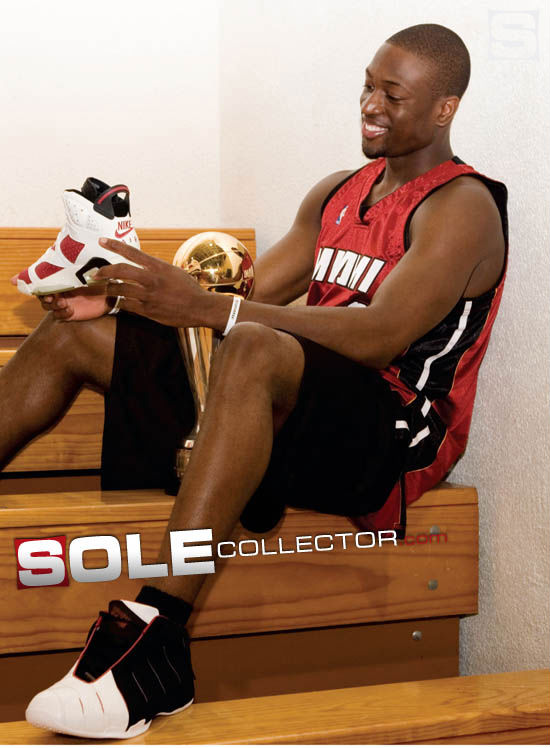 words // Zac Dubasik
In the biggest sneaker company move since Kobe left adidas for Nike, Dwyane Wade is now a member of Team Jordan. Wade's move comes following a season where he seemed to do everything possible to avoid wearing what will now be his last signature shoe with Converse, the Wade IV.
Now calling players like Ray Allen, Melo, CP, and Rip Hamilton his teammates, Wade will find himself wearing some of the most coveted kicks in sneaker history. In a statement, Wade proclaimed that, "For me, the move to Jordan Brand is a dream come true. As a kid, I grew up on the south side of Chicago idolizing Michael Jordan and have worked hard to achieve the same success that he's had on the court. I have enormous respect for this brand and all that it stands for. I'm humbled to be a part of the Team Jordan family and I'm looking forward to a great future."
MJ echoed Wade's excitement for the move. "I'm thrilled to have Dwyane Wade join the Team Jordan family," he said. "In his short time in the league, Dwyane has transformed himself into one of the game's best and is the embodiment of leadership both on and off the court, a signature trait of our athletes. As the Jordan franchise approaches its silver anniversary, Dwyane will become a pinnacle member of the Jordan roster poised to help lead the Brand for years to come."
Wade never kept his love for Air Jordans a secret. Back in Issue 13 of Sole Collector, when asked about memories of sneaker collecting, Wade related this story. "Of course I have to talk about the Jordan XI, that's it! I cried when I didn't get those shoes when I was a kid – I was crying. My cousin had them and I didn't have them. And that's where you want to be in this game …"
Converse had this to say….
"Converse has enjoyed being a part of Dwyane's meteoric rise to the top of the basketball world. We have had an amazing professional and personal relationship with him and we thank Dwyane for his commitment to our brand. As he joins Jordan Brand, we know his Chicago roots and his on-and off-court style will be a great fit.
Converse is focused on creating quality basketball footwear in the mid-level price point range. In past years, we celebrated Dwyane's success by creating higher priced signature shoes and saw great success with our Wade business. With Dwyane joining the Jordan Brand, we are continuing to meet our long-standing objective of offering high performing, functional basketball shoes at a mid-level price point."
This is undoubtedly a positive move for Jordan Brand, adding one of the game's biggest stars to its already stacked roster, but what will be next for Converse? Will any new players fill the void left by Wade, or will Elton Brand be left as the sole signature athlete? And what about Wade's signature shoe status? Will he be wearing a Jordan Brand shoe designed especially for him, or helping support the team line? Only time will tell. Share your thoughts on this breaking news.