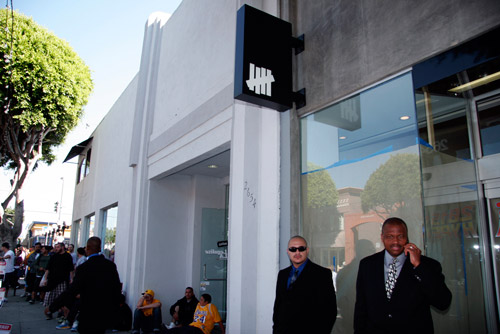 words // Nick DePaula
It's perhaps one of the most hyped up launches of the past five years — for a basketball shoe that is. Second to maybe only the Titanium XX3 Premier colorway and its equally hectic release, the McFly-inspired Nike Hyperdunk caused quite a scene at UNDFTD's Santa Monica location yesterday. Hordes of fans and Nike loyalists camped out overnight for their shot at one of just 100 pairs to be made available to the public, and while there were tons of complaints after the fact about the lack of organization and lack of line control, several lucky campers got a crack at a pair of Hyperdunks for themselves, and ten size 14′s were even signed by Kobe himself, who drop by via a grand entrance for ten minutes.
Coming straight from his Skills Academy morning session that concluded earlier in the day, he arrived in hoop clothes and McFly Hyperdunks of his own, in a true-to-form Back To The Future remniscent Delorean. While he looked fairly cramped inside, seeing those doors fling open as the reigning MVP stepped out must've been a great experience for the countless Laker fans on hand.