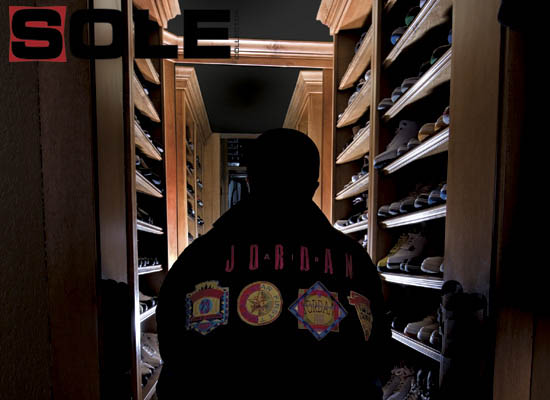 words // Nick DePaula
interview // Nick DePaula & Steve Mullholand
images // Steve Mullholand
Great collections like these don't just amass themselves. It's countless efforts, connections, and perhaps an even greater luck of being just the right shoe size that factor most. Whether you're an avid reader of the magazine and obsessive collector, a casual Jordan fan, or just beginning to learn about the legacy of the game shoe and all that such a rich history could entail, you most likely are already familiar with Gentry Humphrey. Humphrey, Category Business Director at Jordan Brand, is a man who has seen quite a lot over his storied tenure in the sneaker industry. You may not know what's hiding under the red, custom fitted car cover pictured alongside Gentry, that, on this early January afternoon, is used as a prop for a ridiculous fraction of his sample stash, but the pearl blue, early '80s-dated Porsche 911 tells more than enough about the restless pursuit and path towards success he has taken in his life. He bought the car at age 21, caring for and regularly detailing it ever since.
Humphrey got his start working at Nordstrom as just a stockroom employee while going to high school and growing up in Southern California. Over the next couple of years, he moved to sales while in college, and it was his passion and dedication to the customer experience that quickly began to pay off dividends. Working just part-time for four to five hour shifts daily at the commission-incentive department store, he quickly saw his client base grow and expand, and soon found himself earning more than double the average annual income in just half the time. Having the time of his life, as most 20-somethings perhaps tend to do, he unfortunately wrecked his prized Camaro. Rather than hope to repair it, he held onto the insurance check with one goal in mind: "I just had to have a Porsche. There was nothing more to it." As Gentry would prove later on, and several times over in his life, his goals, no matter how far-fetched or lofty, were never unrealistic when he set out to achieve them. Sure enough, by networking with an esteemed client who just happened to operate a Porsche dealership, he was able to attain his dream car. He laughingly admits he had little credit, but because of the trust and relationship he had built with his client through assisting him at Nordstrom, he soon could be often found excitedly zipping around town in his new Porsche.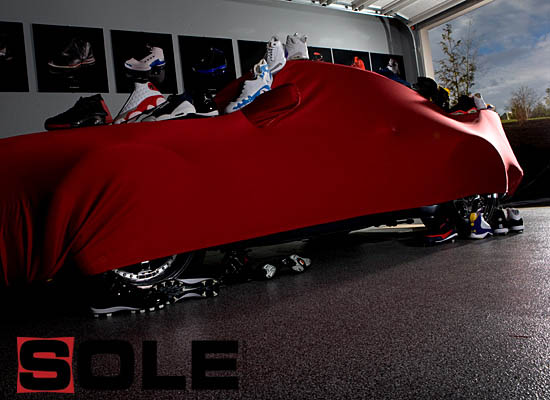 He was a sharp man at an early age, calculating and decisive, with a keen business sense for direction. It was at Nordstrom that Gentry moved on and worked in buying product that the store would stock. Through a discussion with a co-worker, it occurred to him that the company had an empty void on their sales floor: athletic shoes. Over the next year, he helped to establish their entire athletic footwear category, as before the upscale department store was known mostly for its dress shoes and business wear. From there, he continually was promoted, and then got a job working for Nike as a Regional Sales Representative in Southern California. After experiencing early success there, he was brought to campus, working in Beaverton with marketing and product and eventually as Product Line Sales Manager at Nike Basketball – a smaller capacity than his current position requires. He had a hand in Nike's Air Penny line, and sure enough, the Air Penny IV in White/Black/Blue was the only non-Jordan shoe I witnessed as we toured through Humphrey's expansive home in Beaverton.
During his time at Jordan Brand, beginning in the late 1990s, he has helped to expand the Retro division, acted as the key liaison for the team roster of professional athletes, and also worked to grow the brand's equity exponentially. The move to Jordan Brand was nothing but natural, allowing Gentry to take the lead and carry on the legacy of MJ. "It all starts with a great athlete that has great insights, which leads to compelling product and stories," Humphrey says. Inspired by Michael, he set out to build the brand's viability with several key decisions. After being responsible for deciding upon tactical product launch calendars and creating new colorways for all Retro+ models, today Humphrey oversees all of the brand's high-profile campaigns and stratagem, as he has handed the colorway decisions and product reigns down to Josiah Lake and Jamaal Lucas. What this truly means is that he perhaps couldn't have been more lucky to wear a size nine.
Over the years, he has amassed one of the most amazing collections of samples ever seen. There were shoes I had heard about, but not seen, and others I never even knew existed. These extensive amounts of crazy samples that he often wears reside in his custom built shoe closet. Legendary white leather upper and navy patent leather XIs alongside obsidian and white XIs hurt my feelings, as well as handfuls of sample III, VII and IX colorways, each with vibrant colors, contrast stitching or translucent outsole details that never made it to the retail floor. Along one row of his closet lies nothing but sample XIXs, each with a different patent or marbleized toe cap. And yet, no matter how potentially valuable each sample could be, nearly every last shoe in his closet showed some wear. As the 23rd year of the Air Jordan is now upon us, we spoke with Gentry at his home about the latest and most detailed game shoe, his unreal collection, and also the decisions he has made over the years that got him to where he is today.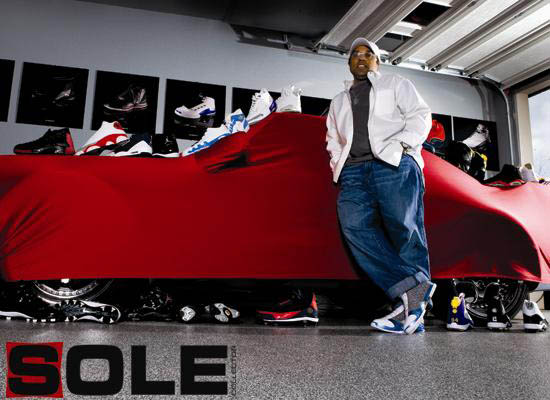 Steve Mullholand: When you look at your shoes, is it kind of like a step back in time, because you're so involved?
Gentry Humphrey: Yeah, you know, like this XX3 here, it's white and kind of an orange, and when you used to watch SportsCenter, you'd see Michael play, and you'd hear them say, "Michael is En Fuego!" you know, "He's on fire!" and so I tried to make this the Fire shoe. The factory didn't execute it quite the way I wanted it to be done. So, I have a lot of brain farts like that here that were things we tried to do that didn't ever come out. So like an XI I did that just had every color on it, where I said, "Let's just have a wild hair at it." At Jordan, we have a certain colorblocking and design language in what we do, and so I asked myself, "If I were to do something totally off the wall and play with it what would it be?" And so I came up with crazy stuff like that.
SM: What's up with this crazy thing? [grabs bowling shoe with "G Money" stitched across it]
When I was growing up, my family used to bowl a lot. We actually had part ownership in a bowling alley, and so in the summers when it was hot, I was inside and we were bowling all of the time. And when Chris Paul got into bowling, we decided to go ahead and design him a shoe for it. Nobody in our group knew much about bowling, but me. I had grown up bowling and had instructed kids and the whole nine. So I had tons of bowling shoes and used some of my older models to show Jason Mayden [Jordan Brand Designer] what we were looking for in a bowling shoe.
Nick DePaula: So you still have fun working with these colorways on all of the Retro models?
To be honest with you, that's still the funnest part of the job. What I do now, my responsibilities now include a lot of the business and strategic planning of the future of the brand. If things go down, the whole team is on the line and ultimately I'm on the line, so I still want to have a lot of input on everything. Fortunately, we have a good group of people that I really believe in and trust in, that I think have the same thought process and mentality that I have. The fun part is still getting grimy, doing cool stuff and coming up with colorways.
In some companies, or in a certain category, they might have a person known as a colorist that does all of the colors, but unless you're of this world, you can do a lot of cool things doing it by yourself. I still love getting together with Josiah [Lake] and Jamaal [Lucas] and working on colorways. We'll sometimes make a mistake and get something cool, or we'll see something in a colorway or colorblocking and it'll trigger something else. Whether it's something simple like working together to come up with a colorway to be different on the XX3, we like to think back about what really represents Michael.
We're able to reminisce through history, use some of those stories or concepts that evolve back around Michael and come up with where we want to take the next thing. Sometimes there's brain farts, and sometimes it works, and sometimes it doesn't. A lot of times, there's some cool stuff that we do that doesn't make it, and then there's also stuff that's really bad and definitely doesn't make it. [laughs] There's also times where we do things, and we're like, "God this is horrible." We'll have stuff lying around the office that we're ready to shred up because we thought it was bad. Then we'll have people come in for focus groups and say, "That stuff is really cool." So you'll start to realize sometimes you can't underestimate shopping the product to the consumer. I like to think we tend to do a better job at that with our consumer. If that happens to us, we haven't gone out there and shopped it enough to make sure we're not off base. A lot of times I think we do things that we know are on point, but it's up to us to go out there, talk to the kids, and validate those things.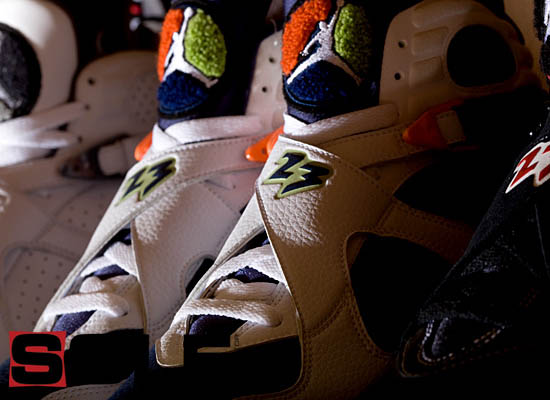 ND: Are there any Retro+ colorways over the years where you think you guys hit it just right and then any perhaps where you missed it?
[laughs] There's a ton that I think we missed. We sample up several colorways every season. Of the ones that came out, I'm actually shocked at some of the lifestyle ones that came out that worked.
SM: The Cool Grey XIs worked.
And that was an easy one. At the time, grey was such a basic color, but nobody was using it and everyone was kind of sick of the blues and navy and reds, so with the success of the Air Max 95 with the faded grey, we thought, maybe we could do two tones of grey along the upper and not have to fade it, and it definitely worked.
The lifestyle one that really jumps out to me is the Black/Altitude Green XIII that we did. People were freaking out over them and that one was pretty crazy. Some of the ones, I never would've done, like the Burgundy/Grey V. Those I never would've done. But those, I call them "shoeman's shoes." They're for guys who really have a lot of shoes and can afford to rock them once in a while and then tuck them away. Those are shoes you shouldn't see on a regular basis. If you see someone wearing those regularly, he really doesn't know what he has. [laughs] You see that cat and if he really dogged them out, either he has a ton of them, or he doesn't know what he's got. There's definitely a few bad ones, what I thought were bad ones, and sometimes it's not our fault and the factory will screw up a colorblocking.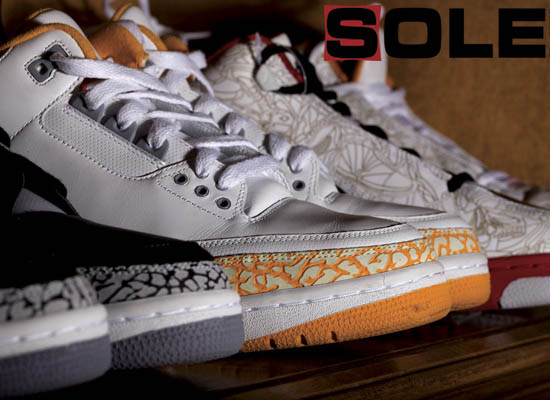 SM: Do you think you have the ultimate sneakerhead job?
I guess; you guys tell me!
SM: Well, you know what, if I had your job, the new sample size would be different. 10.5 would be the new sample size!
[laughs] Well it's funny you say that, because being that Michael wears a 13 when he's just cruising, 13.5 to play in, but 13 otherwise, Josiah and Jamaal [Note: coincidentally both are size 13 wearers] are probably a lot like me now. Now we do a lot of stuff in Michael's size up front somehow. [laughs] I'd think kids would think that, but it's hard for me to say, because there's so much more to my job. Honestly, that's why it's hard for me to say that. People see the collection, but they don't see me at the office every day at 6:30 in the morning. I work a lot, and the great thing is, I like what I do, so it doesn't make work tedious, but there's a lot of people who wouldn't be able to do what I do. There's a ton of 13- and 14-hour days, and last week everyone was gone for the Holidays on vacation, but I was in the office every day. I don't even really sleep at night, I'm always thinking about something. Personally, that's just me. Whatever job I would have or that I do, that's just how I am and I'm always thinking.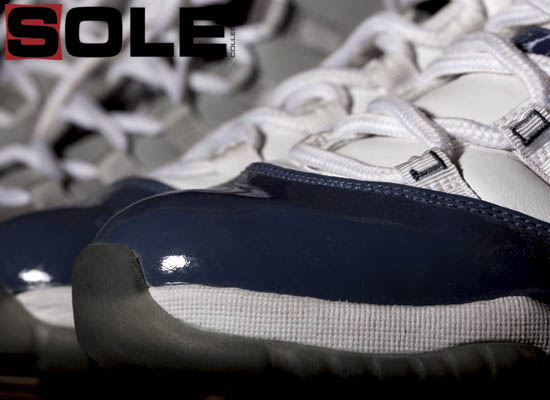 To me, nothing is off limits in this world. You don't know where the next great idea is going to come from, and so I can go to a museum, go to a kid's birthday party or wherever, and I'm always working and thinking. You've got to be able to do that, and you can't get to a lot of places where you need to be if you don't apply yourself. There are things that I try and teach guys on our team to do where some people would think I'm crazy. Anybody can look at a picture and say, "That's pretty cool" or "That's a pretty picture." But, if a designer designs a shoe, that doesn't necessarily mean that you can make that come to life. There's a lot of guys out there that try to be beginning designers and create new things, and while they do have talent, you'll see things that look great and say, "Well, it doesn't make sense, because you can't manufacture it that way." Trying to teach people to see things three dimensionally is an art. I think a lot of people don't get that and don't understand that part of it. It's about challenging people to understand things, and then there's also a lot of politics when you're at a Fortune 500 company. There's a lot of things that you have to do, and people don't see that side. They see the stuff what's on the periphery.
ND: What are some decisions you've made or things over your tenure that you're really proud of?
To be honest with you, I think the thing I'm most proud about is being able to carry the legacy of the game shoe. I think that's what started it all. From there, I think being able to build what we've built has been great. There were a lot of people who said this couldn't be what it has become. More people doubted that we could do what we've done than people who thought it was going to be a success. I guess because I was always one of those kids that believed in what Jordan could become, I saw things in a different light and had more of an optimistic approach. When I became more involved, it wasn't just a job to me, and it became part of my life. I think just to build a brand is something very special.
When you think about it, Phil Knight, when he started Nike, started selling shoes out the back of a car. He didn't really have a name for the company yet. He built shoes basically out of a kitchen with [Bill] Bowerman and just ran with it. Here it is today, this $16 billion company. Fast forward another 20 years from then, and you have Michael Jordan as an endorser to the brand, and he's one of the greatest players to ever play the game. Nike didn't really have that opportunity before as more of a running company that had to do what they had to do. Now you have a Fortune 500 company that's able to back the Jordan Brand. Before, Phil, Bowerman and Geoff [Hollister] each had $500 apiece, and with $1500, they decided to start a brand. … We're now able to look at this in a whole different light. We have a logo that has a whole ton of equity when we started as a brand, whereas the Swoosh had to be made up. When you think about the potential of what this brand can be, it's huge, and that's how I looked at it from day one. Since we started as a separate brand, we've experienced substantial growth in just a short time frame. It took Nike almost 16 years to be a billion dollar business, and so that's saying a lot. To me, I think I'm most proud of being here for the long run and seeing things that some people didn't see as well as carrying out some insights that I and many other people had.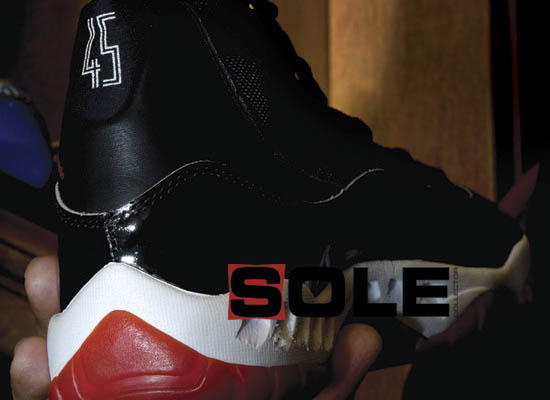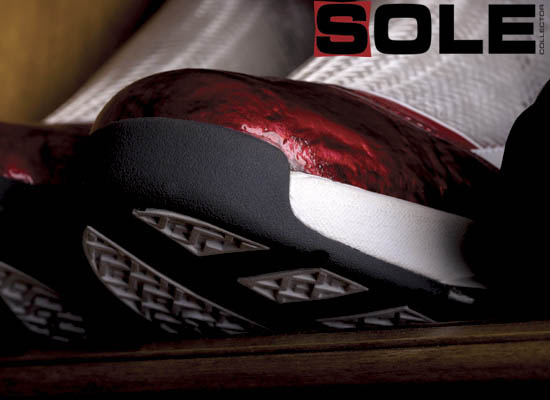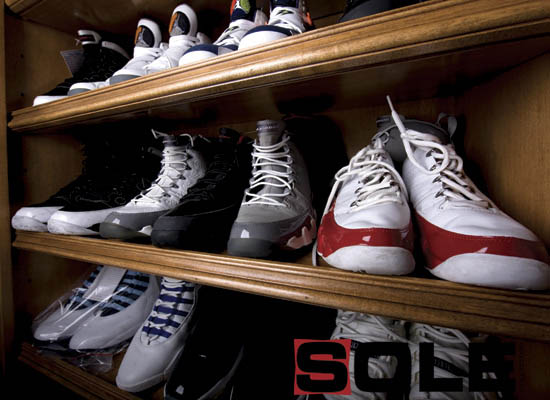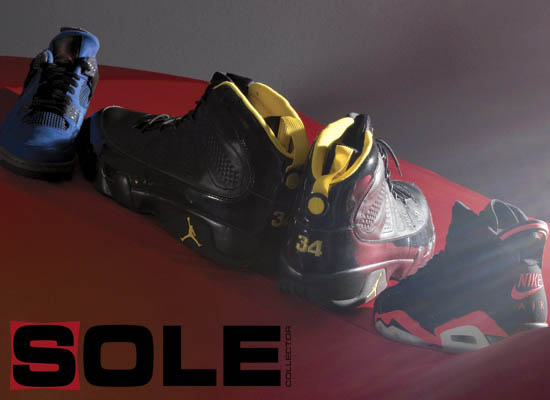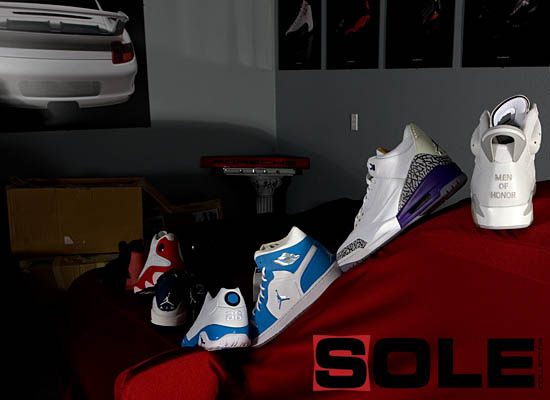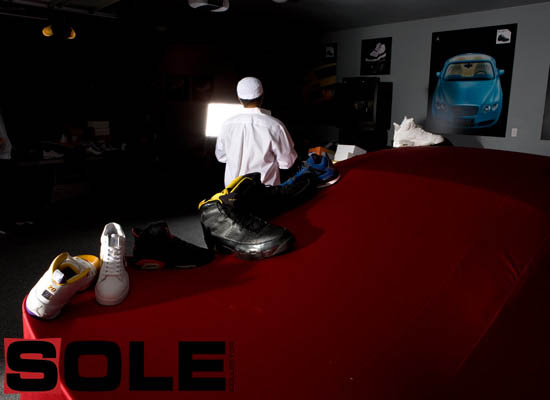 This feature was originally published in Sole Collector's XX3 Issue that released this past February.